Drawn from a number of private collections in Los Angeles, the Getty Center's latest exhibition of 18th-century French drawings, 'From Rococo to Revolution', celebrates the medium and some of France's great artists. We asked the curator, Edouard Kopp, to tell us more.
Click here for a selection of highlights from the exhibition
Can you tell us a bit about the exhibition?
The idea of the show is to celebrate the art of drawing in France roughly from the death of Louis XIV, in 1715, to the Revolution of 1789. This was a period of far-reaching cultural and intellectual aspirations, when drawing perhaps more than any other artistic medium exemplified the creative impulse.
What makes this a distinctive show?
Half of the drawings in the show are on loan from private Los Angeles collections, and so it is a rare opportunity to see wonderful works that are not normally accessible to the public, and also to catch a glimpse of the private pursuits of collectors.
How did you come to curate this exhibition?
My colleagues and I have established good rapports with local collectors who have a special bond with 18th-century French art and culture. This area also happens to interest me a great deal.
What is likely to be the highlight of the exhibition?
There is a fabulous Bust-Length Study of a Young Woman in three chalks by François-André Vincent, a very gifted contemporary of Jacques-Louis David, whose work is being rediscovered at the moment. It is a large, softly expressive head study that Vincent would have used to instruct his students on how to draw.
And what's been the most exciting personal discovery for you?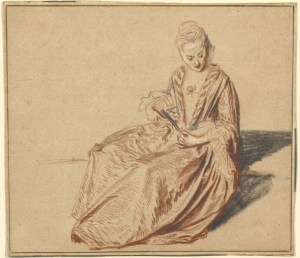 To find in a local private collection a counterproof (mirror image) after an original drawing by Jean-Antoine Watteau, Seated Woman with a Fan, which is in the Getty collection. How likely is that the two would make their separate ways to Los Angeles and then be reunited?
What's the greatest challenge you've faced in preparing this exhibition?
To create a dialogue between the Getty's permanent collection and works from private collections in a way that makes sense art-historically and that is aesthetically pleasing.
How are you using the gallery space? What challenges will the hang/installation pose?
The galleries are united by one warm, elegant wall color (rather poetically called 'Walden Pond blue'), which really does justice to the objects, be they rococo drawings in red chalk or neoclassical ones in grey wash.
Which other works would you have liked to have included?
It would have been nice to include pastels as well, but I consciously decided not to, because as one of the few museums in North America that makes a point of collecting pastels, we display them in a dedicated gallery in order to highlight the specificity of the medium.
'From Rococo to Revolution: 18th-Century French Drawings from Los Angeles Collections' is at the Getty Center, Los Angeles, from 1 July−21 September.
Recommended for you