This review of Gainsborough in London by Susan Sloman (Modern Art Press) was published in the July/August 2021 issue of Apollo. Preview and subscribe here.
In the autumn of 1774, Thomas Gainsborough moved from Bath to London and, in a clear statement of intent, established himself in Schomberg House, Pall Mall, halfway between the court at St James's Palace and Carlton House, the residence retained for the Prince of Wales. It was a felicitous moment for an ambitious portrait painter. Competition was unusually thin on the ground. Having exhibited his full-lengths of George III and Queen Charlotte at the Royal Academy in 1769, Nathaniel Dance had turned his attention from portraiture to history painting. Johan Zoffany, Joseph Wright of Derby and George Romney had all gone to Italy, and Francis Cotes died prematurely in 1770. Only one major challenger remained. Gainsborough and the president of the newly established Royal Academy, Sir Joshua Reynolds, were public and professional rivals until the former's death in 1788. As William Blake had it, they 'Blotted & Blurred one against the other & Divided all the English World between them'.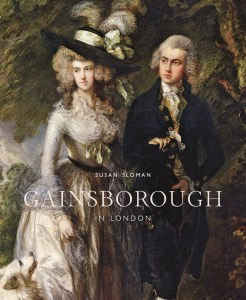 Susan Sloman's book is a successor to her equally comprehensive Gainsborough in Bath (2003), and similarly replete with scholarly appendices, including the artist's banking transactions, previously little-known letters and annual portrait prices by size. It picks up where the previous account left off, tracing Gainsborough's career and development as a portraitist, but also as a painter of landscapes, sea scenes and 'fancy pictures', from the time of his arrival in Pall Mall to his burial at St Anne's, Kew. Reynolds was one of the pallbearers at the funeral and the following December delivered a tribute at the Academy to his departed competitor – personally, at least, the men were on genial terms. Reynolds's tribute ('interrupted by his tears') suggests an appreciation for his colleague's distinctive qualities as a painter. His 'slightness', Reynolds observed, was 'much more laborious to the mind, than any mode of high finishing or smoothness'.
What Reynolds called 'slightness' – characterised by others as 'studied carelessness', or sprezzatura – is central to Gainsborough's work of this period. As Sloman writes, when he arrived in the capital, 'he was master of a technique that was not only original but practical, since it involved working at speed'. Several of his portraits, including the Samuel Linley (1778) now in Dulwich Picture Gallery, are known to have been produced in one sitting ('at once' in the usual English expression), but a similarly 'slight' approach is evident in the luminous fabrics and barely delineated hands of Frances Susanna Basset (1786) and the hasty landscape behind an impish gardener's daughter wearing her mother's hat and cloak (Miss Elizabeth Anne Haverfield of c. 1780).
Though his compositions often lack Reynolds's sophistication, Gainsborough was a master of surface and texture. The quality of his paint might alternate in a single canvas from high impasto describing brocade and lace to wash so streaky it barely covers the ground. The rustle of thick satins is virtually audible in The Hon. Mrs Mary Graham (1775–77), but a dribble of red paint is left to run over the heel of the sitter's left shoe. As his daughter Margaret recalled, Gainsborough frequently worked with colours so liquid 'that if he did not hold his palette right they would run over'.
Never were these techniques more in evidence than in depictions of dress. Having previously lived with his milliner sister, Mary Gibbon, Gainsborough had, Sloman suggests, a detailed understanding of how garments were constructed, and at Schomberg House he was ideally located for milliners, furriers and masquerade costumes. In The Three Eldest Princesses (1783–84), Charlotte, Augusta and Elizabeth are arm in arm, but their sisterly unity is also suggested by the harmonious quality of their clothing, with its gentle transition from pink to yellow to blue, and the gauzy threads of translucent veils enveloping them. Gainsborough felt so strongly about the 'tenderness' of this painting's effect that he requested the Academy hang it below the line (the moulding) in the 1784 exhibition. On being summarily refused, he withdrew all his paintings for the year and never exhibited at the Academy again.
For Sloman, issues of texture and harmony are inextricably linked to Gainsborough's other passion, music, and she makes a convincing case for the significance of the relationship between Gainsborough and the viola-da-gamba player Carl Friedrich Abel, whom he painted twice. Both men, she notes, were celebrated for the 'sweetness' of their productions, their uncomplicated composition and their 'breathy' quality of performance.
Sloman is at her most illuminating when discussing the practical realities of studio practice: the printmaker John Thomas Smith's report that Gainsborough used brushes with six-foot-long handles, her subject's fondness for modelling landscapes with moss, broccoli and cork, and the tendency for 18th-century English portrait painters to work almost entirely in the dark. This latter practice alarmed their French contemporaries, who were noted for their precision and draughtsmanship. Sloman suggests that in London, as in Bath, Gainsborough worked by what Ozias Humphry called 'a kind of darkened twilight'.
In fact, many of Gainsborough's subjects seem to produce their own light: The Watering Place (1775–77) is everywhere overshadowed, but the pool casts a warm glow on the cows who gather there. Queen Charlotte (1780–81) is one of many fashionable sitters who step out of the darkness into an unseen spotlight; her daughters, The Three Eldest Princesses, seem to be lit from within. 'Contemporary observers,' Sloman notes, 'remarked on the "relief" of [Gainsborough's] portraits', and she regrets that 'it is now only through an effort of imagination and half-closed eyes that we can see these pictures as people first saw them'. The suggestion is one of many intriguing invitations she offers to look at these much-studied pictures again.
Gainsborough in London by Susan Sloman is published by Modern Art Press.
From the July/August 2021 issue of Apollo. Preview and subscribe here.
Unlimited access from just $16 every 3 months
Subscribe to get unlimited and exclusive access to the top art stories, interviews and exhibition reviews.
Recommended for you