In 1349 Abbot Hugh of Meaux Abbey, East Yorkshire, commissioned a sculpture of Christ's suffering on the Cross for the lay brother's choir. The sculptor 'looked closely at a nude man standing in his presence, so that he might more suitably decorate the beautiful crucifix according to his beautiful image'. He worked on the sculpture only on a Friday, the day of Christ's crucifixion and, after it was finished and set in place, the carved figure began working miracles. Capitalising on the sculpture's apparent power, the abbey decided to allow public access to the image in order to stir up devotion. Authorisation was sought from Rome, and the choir was duly opened up. The medieval chronicler who recorded this event writes that although many chose to visit the image, their devotion was cold; there seems to have been a right way and a wrong way to interact with the sculpture to activate its miraculous potential. Many of the issues raised by this episode – craft, beauty, intention and affect – are at the heart of Paul Binski's magisterial new book, Gothic Sculpture, in which he explores the persuasive power of medieval carving.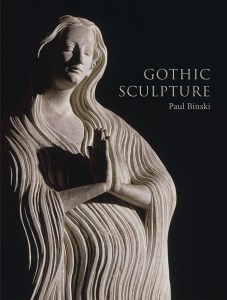 In the course of the last 35 years, Binski has published several of the most thought-provoking and wide-ranging studies of medieval art and architecture. He is interested in big ideas and, while he has been capacious in his approach, he is always rooted in an empirical, but in no way old-fashioned, engagement with the object. Here, he has homed in on sculpture. The reason for this focus is made clear on the very first page: sculpture is 'good to think with'. Binski is quick to show how classical thinkers did so themselves; how, for instance, rhetoricians like Quintilian or Plotinus employed chiselling metaphors for the written word. Quintilian cautioned against rushing one's writing, advising his readers 'to take care from the start and "chisel" this material (silva) into shape accurately'. Their goal was eloquence and it is Binski's too; his stated purpose is to investigate 'the calculated eloquence of Gothic works of art' through sculpture, and throughout the book he offers a way of engaging with sculpture motivated by the idea that it might be read within a rhetorical mode. In this he is building on the work of scholars such as Mary Carruthers and C. Stephen Jaeger, who have opened up new methods for exploring medieval art in relation to rhetoric, eloquence, enchantment and charisma.
At a time when there is a concerted push to make medieval art history more globally orientated, the geographic scope of Gothic Sculpture is unashamedly European and focused north of the Alps. Italy hardly features but is brought up on occasion in the discussion. Although Binski includes several sculptures from as late as 1480, his chief concern is the period between 1150 and 1350. His reasons for beginning around the middle of the 12th century have to do with the new character of gothic sculpture emerging out of the Romanesque: 'What runs riot in the 1100s has been slowed, ordered, smoothed, tightened. The tremendous power and strangeness, wilfulness, of Romanesque art has been tempered.'
Gothic Sculpture is arranged in two parts under the headings 'Stone' and 'Wood, Flesh and Bone'. (The simplicity of these material nouns belies the underlying complexity of thought.) The first part dwells on the 12th-century portals of France. The best of them, those at Moissac, Chartres and Autun, are among the most famous and frequently published works of medieval sculpture. It is not Binski's goal in this book to bring hitherto unknown works of gothic sculpture to our attention, but to reframe our approach to and understanding of the ways in which it functioned. His discussion of portals as social objects 'which may variously guide and dispose, move or create delight' but which require active human participation positions them as artworks demanding 'emotion and thought' from the viewer.
The second part moves away from stone portals towards carvings in or incorporating wood, alabaster, marble, hair, iron and pigment. Still tightly focused on rhetoric, 'Wood, Flesh and Bone' unfolds as a procession of medieval materials and their meanings. Binski delights in the qualities and affordances of these different media. For him alabaster is fleshy, fatty and bloody; onyx stands in for 'a kind of unformed chaotic silva'. He often draws attention to playfulness. The 11th-century columns and pilasters at St Hilaire, Poitiers, for instance, were painted with bookmatched patterns imitating marble. Certain sculptures enchant Binski more than others. The figure of Mary Magdalene from the collegiate church at Écouis, is particularly beguiling. Her hair has overcome and transformed her body into a series of sinuous curves she wears like a cloak. Whatever colour originally covered the sculpture has flaked off over time but surely she was once a combination of two tones comprising skin and hair, the markers of her humanity. Mary is one of a number of equally extraordinary sculptures at Écouis, all commissioned by Enguerran de Marigny. But it is not Binski's intention here to think about patronage or the economic and social structures that underpin it. His interest is in the physical thing, its material and craft.
Gothic Sculpture is short and intended to be readable, but it should not be picked up lightly. It is not a travel companion for the amateur enthusiast looking for a straightforward survey of medieval sculpture. It is beautifully produced, which adds greatly to the pleasure of reading and looking and, especially, remembering. At least one medieval theologian would have approved. In 1349, around the time of the crafting of the Meaux crucifix, Thomas Bradwardine commented on memorable images, saying that 'their quality should be wondrous and intense, because such things are impressed in memory more deeply and are better retained'.
Gothic Sculpture by Paul Binski is published by Yale University Press for the Paul Mellon Centre for Studies in British Art.
From the September 2019 issue of Apollo. Preview and subscribe here.
Unlimited access from just $16 every 3 months
Subscribe to get unlimited and exclusive access to the top art stories, interviews and exhibition reviews.
Recommended for you