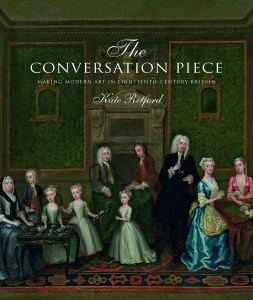 The sub-genre of 18th-century British portraiture known as 'the conversation piece' has almost come to define our visual and mental understanding of how the aristocratic, gentry and mercantile elites looked and behaved, as they relaxed, entertained, and showed off. These complex and nuanced compositions – informal and intimate depictions of small-scale figures set in landscapes or interiors – were mostly made between the 1720s and 1780s, and had a number of prominent exponents. These included William Hogarth, the Lancashire-born Arthur Devis, the itinerant German painter Johan Zoffany, and David Allan, a Scot who was highly attentive to local sensitivities of place and dress north of the Border. However, many other talented artists, such as Mercier, Highmore, Hayman, Gainsborough, Mortimer, and Wheatley, also worked at various points in their careers in this competitive genre.
It was Hogarth, alongside the still too little known Gawen Hamilton, a Scottish rival in London, who dominated the production of conversation pieces during the 1730s and '40s. Hogarth could not resist including subtle or even overt 'interruptions' within the conventions of decorum of posture and hierarchy. Occasionally his all-male compositions merge into overt caricature in which raillery or banter takes precedence over etiquette. This can be seen at its best in Captain Lord George Graham in his Cabin (c. 1745), where the merry, singing companions include a bewigged pug, a servant pouring gravy down the back of the formally dressed companion, and a large, full punch bowl placed on the floor by the rear of another dog. Only the beautifully depicted black servant, beating a gong, appears to have been spared the artist's satirical brush.
The conversation piece reflected the informal 'polite' aspirations of the new gentry and merchant classes in the burgeoning art market of a consumer-driven society. This was an integral part of the increasing bourgeois taste for portraiture of all kinds, from the grand manner to intimate formats such as the miniature. This mania for portraiture, but especially in the more informal subjects and formats, is acutely summarised by a commentator in an article in the Public Advertiser of 3 May 1775 who wrote: 'most Men extend their ideas of Painting no farther, than to get their own Portrait executed, and perhaps that of their Wife, or favourite Child, and if they happen to have a Country House and Garden, they employ a Landscape Painter to draw a Portrait of that too, with a View of the whole Family, Dogs and all, to the full enjoyment of rural Felicity.'
The undoubted master of the conversation piece in the middle decades of the 18th century was Devis, who enjoyed great provincial success with his stiff and stilted depictions of family groups from the local gentry and aspirant merchant class, whether posed awkwardly at home taking tea or positioned in their newly laid out country parks. A typical example of his reticent style and composition is Francis Vincent of Weddington Hall, Warwickshire, with his Wife Mercy and Daughter Ann (1763). The contrast with the cosmopolitan and polished groups produced in the 1760s and early '70s by Zoffany, a Royal Academician who attracted royal patronage, could not be greater. The latter's hyperreal attention to detail of dress, decorative arts, poses, and interiors, laced with gentle wit, can be seen in Lord Willoughby de Broke and his Family (c. 1766).
This rich and immersive form of portraiture, which encompasses social networks of family, kinship, the household, and homosocial bonding, has been analysed recently in sophisticated case studies by Kate Retford, whose related book, The Art of Domestic Life: Family Portraiture in Eighteenth-Century England, was published in 2006. In this new volume Retford revisits some of these topics and expands their meaning into a compelling account, and analyses the origins and development of this type of portraiture, which originated from 17th-century Netherlandish and early 18th-century French models. She is also attentive to the nature and meaning of conversation itself, revealing how this fundamental social activity was depicted by the artists for their sitters, especially in light of the availability of contemporary conduct manuals.
Retford discusses the pictorial contexts for group portraiture both within demarcated interior settings and also in well-manicured park landscapes. She reminds us that these highly appealing and seductive productions, with their great attention to details in dress and props, do not always represent the spaces and landscapes owned by the sitters, but may be constructed by the artist adapting some corner of his studio or some aspect of an ideal form of landscape.
In her perceptive and original discussion of David Allan's work in Scotland during the 1770s and '80s, Retford extends the reach of the conversation piece from being a specifically English genre to a more properly British one. In Allan's composition of The Connoisseurs (1783), which shows three Edinburgh gentleman studying a drawing or print after Raphel's St John the Baptist, the artist seems to display empathy with the homosocial world he is depicting. It is worth noting that all the artists discussed in this volume are male, though a consideration of some of Angelica Kauffmann's smaller scale family portraits would have been a useful corrective from a female perspective.
In the final section, Retford probes the often complex internal meanings of these family and male figure groupings, where minute details of compositional arrangement and dress can be highly significant. She also has much of interest to say about the depiction of household servants and staff such as butlers and gardeners, and also black footmen. The latter are visible reminders of the African slave trade, the brutal foundation of the highly profitable British colonial enterprise in North America and the Caribbean that underpinned much new wealth in Britain. Equally significant are her discussions of Indian servants and landscapes within Zoffany's group portraits of the East India Company officials in Bengal.
Retford's volume represents a milestone in our understanding of this slippery form of 18th-century British portraiture. Her impressive observation, attention to detail, and clear prose remind the reader to look and think about these visually seductive paintings with great care.
The Conversation Piece: Making Art in the Modern Art in the Eighteenth-Century Britain by Kate Retford, is published by Yale University Press.
From the February 2018 issue of Apollo. Preview and subscribe here
Recommended for you