When James Tissot refused Degas's invitation in March 1874 to show in the first exhibition of the Impressionists, as they would soon be known, he would forego unbounded fame – although he couldn't have known it then. 'Look here, my dear Tissot,' wrote Degas, 'no hesitations, no escape. You positively must exhibit at the Boulevard. It will do you good. […] There must be a salon of realists. […] So forget the money side for a moment. Exhibit. Be of your country and with your friends.' But why would Tissot budge from London, where he was doing very well on his own, especially on 'the money side'? His pictures were being shown at the Royal Academy and handled by Thomas Agnew, and his portrait of the swashbuckling adventurer Frederick Burnaby sprawled across a chaise longue was hung in the London International Exhibition of 1872. By the following year he'd made enough money to buy the substantial house at 17 Grove End Road in St John's Wood. He wasn't giving this reality up to support a friend's untested dream.
In the career-spanning 'James Tissot: Fashion and Faith', curated by Melissa Buron at the Legion of Honor in San Francisco, the artist comes across as focused, organised, ambitious and immensely hard-working. His carnet de ventes, discovered while the exhibition was being researched, records the sales of most of his works for three decades from 1857 to 1890. A key resource for the show and accompanying publication, it meticulously lists lost known paintings, unknown paintings, sitters for portraits, changes of picture titles to generate better sales and, of course, sale prices. Two self-portraits on view convey a sense of Tissot's confidence and self-reliance. One, an oil-on-wood panel, depicts the 20-something rising star in Paris, painted with swaggering broad brushstrokes; the other, a delicate watercolour painted on silk in 1898, shows the successful, suave yet reclusive elderly gentleman standing in his Château de Buillon estate in eastern France. It is from the current owners of this estate, which has remained almost unchanged since Tissot's death there in 1902, that this and many other items in the show have been borrowed, coming into public view for the first time.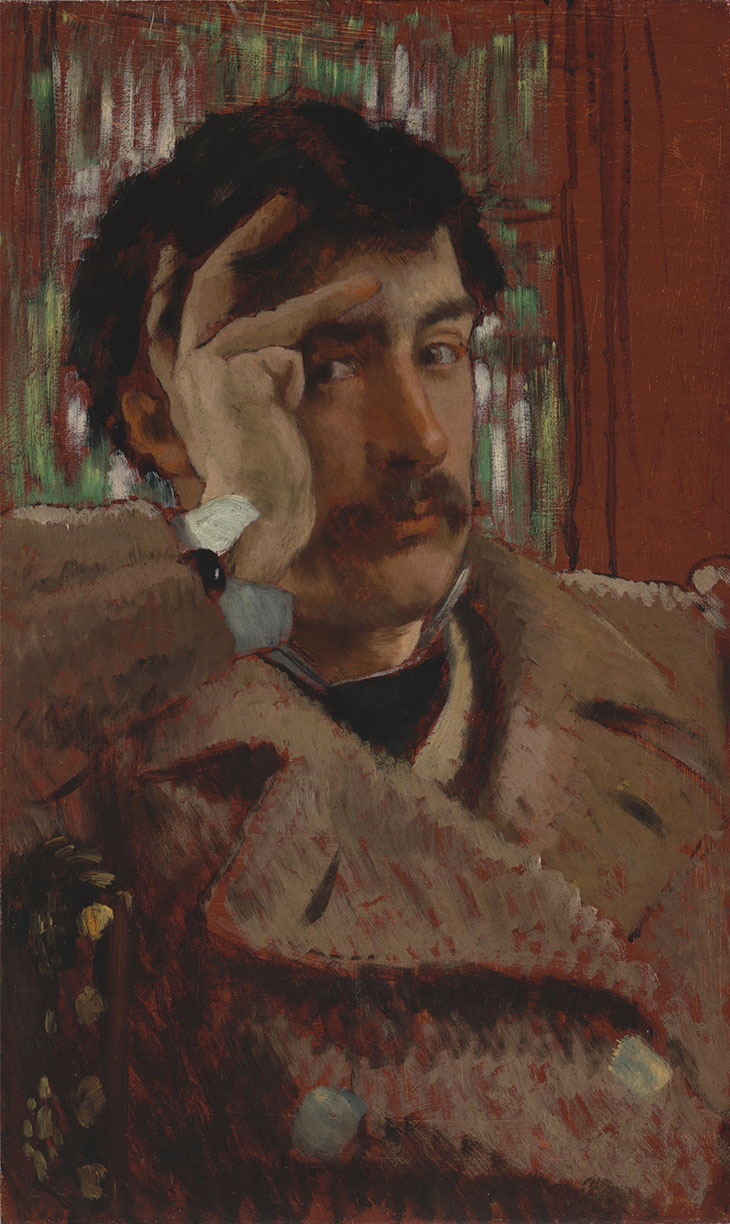 In the year 1874, when the hopeful Degas wrote that letter, Tissot displayed two of his paintings with aplomb in the studio of his London house – a fashionable yet daring move – before successfully submitting them to the RA: The Ball on Shipboard and London Visitors, in which a diligent man pauses on the steps of the National Gallery buried in his guide book, while his wife looks directly out of the picture at the viewer to search for something more interesting. In their detailed depictions of elegant dress, these society scenes are accomplished examples of the work for which Tissot is today best known. In many of them, Tissot sets up an eye-to-eye confrontation in his portraits of women, as if encouraging them to assert themselves as modern independent women.
The show opens with one such work: October (1877). The painting depicts Kathleen Newton, a young Irish divorcee, who had become the love of his life, his muse, and with whom he lived at Grove End Road until her death from tuberculosis in 1882. Here, Kathleen is dressed in black, looking calmly over her shoulder at the viewer as she hurries through a park. Dramatically back-lit through a curtain of glowing yellow and orange leaves, it has more than a touch of Burne-Jones and the Aesthetic Movement. 'She is self-determining, mysterious,' says Buron. 'It draws you in, gives you questions but no answers. What is that book under her arm, for instance?'
A week after Kathleen died, Tissot abandoned London for Paris. The change in direction that followed this move is the most revelatory chapter of the exhibition. It was on his return to Paris that Tissot painted his well-known 'La Femme à Paris' series (1883–85) but his attention was already shifting away from genre paintings of well-dressed women to other fashions – the trend for seances (he achieved contact with Kathleen at one) and the French revival of Catholicism. In 1886, on his 50th birthday, he set off on the first of three visits to the Holy Land where he saw traditions that he believed were little changed since biblical times. Back in France, he retired to his rural chateau and embarked on the massive project of illustrating the New Testament in what would total 350 watercolours. These were exhibited to popular acclaim in Paris, London and then on tour across the US. In 1900, The Brooklyn Institute of Arts and Sciences bought the whole set for $60,000 (about $1.8 million today). The printed version, The Life of Christ (first published 1897), was so popular it was known as the 'Tissot Bible'. He then embarked on illustrating the Old Testament but died before its completion.
As the biblical illustrations toured, they were shown in public halls in sequence like a continuous narrative. These same halls would soon be screening early films, and Tissot's theatrical tableaux would be inspiration for biblical epics. The final room in the exhibition displays eight Old Testament and 14 New Testament illustrations, rigorously selected, plus part of a printed edition of The Life of Christ. Among them is the audacious What Our Saviour Saw from the Cross, which brings the viewer into the scene to experience Christ's perspective, like a camera on a crane would do in a biopic. His The Annunciation, meanwhile, was adopted wholesale by Sidney Olcott for his film From the Manger to the Cross (1912). D.W. Griffith's Intolerance (1916), William Wyler's Ben-Hur (1959) and Franco Zeffirelli's Jesus of Nazareth (1977) all also looked to Tissot for what amounted to ready-to-use storyboard illustrations. As Buron says, 'This is the exclamation point at the end of the show.' One wonders how epic film-making might have developed without the contributions of James Tissot.
'James Tissot: Fashion & Faith' is at the Legion of Honor, San Francisco, until 9 February 2020. It then travels to the Musée d'Orsay, Paris (24 March 2020–19 July 2020).
Unlimited access from just $16 every 3 months
Subscribe to get unlimited and exclusive access to the top art stories, interviews and exhibition reviews.
Recommended for you