Digby Warde-Aldam tours London's sleepy summer shows…
London is now stuck in the August doldrums. I'd complain about it more if only I could muster the energy, but I feel almost as brain-dead as the ideas behind most of the summer shows.
Still, there are (very) low-key pleasures to be had, if you look hard enough. Some galleries are making good use of the summer lull by giving over wall space to their staff. In the basement of Blain|Southern's imposing Hanover Square HQ, the gallery's technicians – a few of whom are represented elsewhere – mounted a short exhibition of their own work last week. It was a mixed bag; Judy Chicago-ish wall hangings by Leon Matis Robin Monies compete with Deklan Kilfeather's delicate charcoal drawings and a single piece of sculpture, courtesy of Jonathan Kipps. Best of the lot were two gratifyingly sinister oil paintings by Jonny Green that put me in mind of a bedsit-dwelling John Currin.
◎
I'm confused by Somerset House's decision to devote its galleries to an exhibition on Mod revival band The Jam (until 27 September). You can see the reasoning – the V&A's David Bowie show was a huge hit, and however grim the prospect of shelling out for a ticket might be, the Saatchi Gallery's Rolling Stones exhibition next year is likely to replicate its success. Even MoMA's widely-mocked Bjork showcase had a semblance of an intellectual framework.
But regardless of whether you like their music, David Bowie, Bjork and the Rolling Stones are all figures of huge cultural importance. Decent though they were, it is hard to say the same of The Jam, a band whose entire modus operandi was plundered from the tomb of a subculture that had expired over a decade before their first release. Their music was fine (their 1978 song Down in the Tube Station at Midnight is a London Diary favourite), but hardly ground-breaking, while their lasting significance is at best deserving of a sentence in the wider narrative of British culture since 1945. To stretch the metaphor, I think a museum show demands at least a paragraph.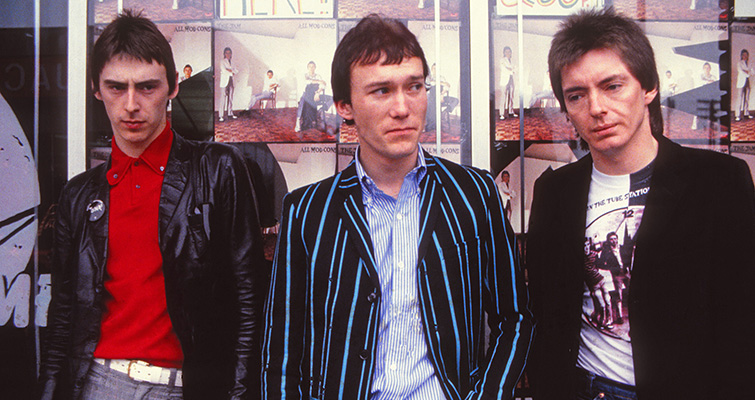 ◎
This is not to say that a niche interest show can't be interesting.
I'm consistently thrilled by the ICA's free exhibitions in its Fox Reading Room. These small shows consist largely of archive materials, featuring films, magazines, photographs and other ephemera. This year has seen exhibitions based on everything from Francis Bacon's inaugural ICA show in 1955 to the story of UK Pirate Radio in the 1980s to the 'happenings' staged by Adrian Henri in '60s and '70s. The current show (until 27 September) is devoted to Bau, an architecture and design journal printed in Vienna between 1965 and 1970. The Fox Reading Room is miniscule, but its programme is an exemplary way of showcasing lesser-revisited cultural histories.
Elsewhere, Broomberg & Chanarin's turn at the ICA's fig-2 last week was a riot. I've always found their work too ironic, too tricksy, and I must admit, more than a little irritating. They play so hard for laughs that by the time they reach the punchline, you've forgotten what they were on about in the first place.
But laugh I did when I dropped by the ICA on Monday night. A performer dressed to resemble something even Bosch might have considered a bit grotesque looned about in front of a green screen to a wild soundtrack of Cuban drums. The whole deranged performance was then projected onto images of tourist spots in the immediate vicinity of the ICA, making Buckingham Palace and the Mall look as sparse and rigid as the set for a Beckett play.
◎
I went for a drink with two artist friends from Cologne last week, and was surprised to hear that both had read my recent blog on the BP Portrait Award. I was more surprised still when I heard their reaction to it; they were amazed that Britain had an entire museum dedicated to portraiture, and that we still took the form in any way seriously. In Germany, they said, the portrait is seen as a throwback, a redundant understanding of art's purpose.
I wonder what they would have made of the V&A's 'Facing History: Contemporary Portraiture' (until 24 April 2016), which I'd seen earlier that day. It's a small show with no gimmicks, but it does its job very nicely indeed. I don't think I've ever been to an exhibition where I've seen so many works before – but the fact that most of them prove to have staying power is gratifying to say the least.
Gavin Turk's Portrait of Something I'll Never Really See, in which the artist is depicted posing for a death mask, is a devilishly simple work that strikes the fear of God into me. Or to be more precise, the fear and underlying certainty that there is no God. Most affecting here on Earth, though, is Tom Hunter's Vermeer-referencing Woman Reading Possession Order, with the said document displayed alongside. Considered in light of the mass evictions wrought by London's development and property booms (see Maggie Gray's excellent article on the city's Brutalist past), it has taken on a significance even more heartbreaking than when it was made 18 years ago.
Search for more exhibitions near you
Recommended for you