Lucian Freud's captivating Landscape with Birds (1940), painted when he was 17, seems now like a summary of roads not taken – first of all, just by being a landscape, showing hills, trees, water and, most of all, sky, strangely marbled with white and grey cloud. It's not unique – there were one or two other wartime landscapes, more often backdrops than subjects in themselves; but after that Freud's work would rarely go further from the house than his own untended garden. The world of his art would be one without horizons, a long succession of interiors, the studio itself a pervasive, even oppressive, presence. The slow worker's need for strict control of light and composition made outdoors too tricky, and only rare patches of sky or street would be seen through the window in a daylight picture (Freud later evolving a formidable routine of night-time and day-time sittings progressing in parallel). Not that Landscape with Birds is in any way plein-air: it's an invented scene, in which a figure in a small boat without sail or oars has launched a much tinier paper boat, which he seeks, with movements of his left hand, to urge on or to bring back. Ten small black-and-red birds, with wings and legs extended, are dotted across the sky, alarmed no doubt by the black-faced boy who runs through the air beside them. The fantasy and the delicately cartoon-like elements of drawing show a debt to Klee; what the painting's symbolic scenario means we may never know. Freud grew to dislike symbolism in a picture as a form of 'mystification', though equally perhaps as the opposite, a kind of interpretative key that simplified or moralised the more complex task of describing things as they are – that observation directly from the model that came to be his raison d'être as an artist.
The early work is fascinating, Freud wilful and unteachable, though he acknowledged a debt to Cedric Morris, whose art school at Dedham he attended at the age of 16: 'He did not say much, but he let me watch him at work.' Then after what seems to be a fallow year in 1942, something extraordinary happened: he started to draw with exquisite clarity and a kind of stylised accuracy – still lifes and portraits, mainly, such as that of Peter Watson, his rich patron, every furrow of his corduroy jacket minutely accounted for. At first it was a peculiarly male world. If Freud had died aged 23 you would have said his work was that of an evidently gay artist, fixated on a particular kind of full-lipped young male beauty. Then the pictures of women begin, and Kitty Garman, his first wife, becomes the subject of a sequence of oil portraits in which the eyes are rendered hugely out of scale, but with the same mesmerising minuteness of description.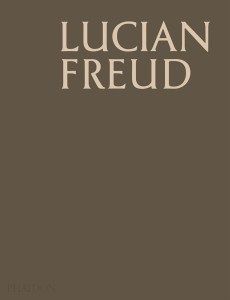 Much has been said about the shift in the 1950s from a graphic-based art to one conceived primarily in paint, the instrumental change from a ductile sable brush to a coarser and more vital hog's-hair one, the move from working sitting down to standing up. The palette remains cool at first, but in the '60s an exuberant freedom of brushwork is matched by the adoption of what would become Freud's inescapable colours, the 'colours of life' (as he saw them): the oatmeal, beige, cream, brown of a naked 'white' body. The 'naked portrait', emerging through these years, is what Freud may be best remembered for – not the 'nude', with its screen of convention, but the painfully exact account of the male and female body in its long transformation from adolescence to middle age, and in his own case, with nothing but boots and palette, into old age. The emotions aroused by such paintings are strong, and pleasingly irresolvable. The obsessiveness of the subject is only emphasised by the startling experiments in composition. It's not clear that work so powerful and so monomaniacal is best seen collected, as it is here – the cumulative glumness of sitters and setting makes it seem, for all its restless exploration, repetitive and claustrophobic.
In Freud's more nearly conventional portraits the picture is as important as the person – often more so. Not introspective by nature, he claimed a zoological interest in the human figure before him; the interior life, which a quicker painter might have captured, interested him as little as the social character of the sitter. There are various accounts of the exacting process of sitting for him, the most detailed Martin Gayford's Man with a Blue Scarf (2010), describing seven months of sittings for a small head and shoulders in the artist's early eighties. Availability and patience seem to have been the key. As a young man Freud drew and painted dead birds and monkeys, the most uncomplaining of sitters. Later he had his mother as the subject of numerous portraits, the last done when she too was dead. She had tried to kill herself after the death of Freud's father, Ernst, and as a subject she was almost exaggeratedly passive. In isolation the portraits are poignant images of depression, but seen en masse in this vast new publication, the effect is more disturbing, a subject marked by changes of time but never of mood. You feel she could easily outdo the painter's own patience. Contrast another frequent sitter, Sophie de Stempel, of whom Freud said, 'It was as if I'd worn her out in my work.' Sometimes there was a compromise: Sue Tilley, the benefits supervisor in a series of gigantic naked portraits of the mid '90s, is always shown fast asleep: she had a demanding day job too.
Lucian Freud is magnificently produced but it is hard to say exactly what it is. Mark Holborn and David Dawson are credited as editors, but not a word is offered as to editorial procedure or the principles of selection. There is no preface and no index. The two slipcased volumes offer generally high-quality reproductions of more than 480 paintings, drawings and etchings, and Gayford's introductory essays to each decade are characteristically readable and illuminating, but this is far from being the complete catalogue one might at first take it for. Still, for now these books are the most lavish accumulation of Freud's work to have been published, and since 90 per cent of the paintings are still in private ownership, it makes a valuable stopgap until the catalogue raisonné of his immense oeuvre starts to appear.
Lucian Freud (2 vols.) by Martin Gayford, edited by David Dawson and Mark Holborn, is published by Phaidon.
From the February 2019 issue of Apollo. Preview the current issue and subscribe here.
Recommended for you