Malcolm Rogers, the director of the Museum of Fine Arts, Boston, has announced his plans to retire after almost 20 years in the post.
Appointed in 1994, Rogers has overseen a string of improvements to the museum – not least the opening, in 2010, of the impressive new Art of the Americas Wing, designed by Foster + Partners. In December 2009, as that development was nearing its completion, Apollo magazine named him Personality of the Year.
In an interview with Louise Nicholson for Apollo's subsequent awards issue, Rogers spoke of his enthusiasm for the American museum model and his vision for the MFA's own collection:
'It's the collectors that can change a museum. They don't want to see their things in store. In the new wing we display more and don't segregate objects – you will see paintings with sculptures and textiles. This is my "one museum" vision.'
He was also was quick to recognise the potential of the internet to open up collections:
'Every catalogue raisonné should be on the web. The first entry can be available 20 years before it's finished, you can change it, you can have a chatroom for discussion. It is critical that museum staff use the potential of modern technology for worldwide understanding and access.'
That commitment has certainly been borne out recently: the museum's first 'crowd-sourced exhibition', 'Boston Loves Impressionism', opened just this month.
Locally, though Rogers is perhaps best known for a more literal 'opening of doors'. In 1995 he reopened the museum's Huntington Avenue doors, which had been closed for five years, and in 2008 the historic Fenway entrance opened for the first time in nearly 30; pragmatic but also symbolic acts, which did much to improve the institution's image and accessibility.
It is this accessibility that Rogers, speaking to Apollo this evening, singles out as his greatest achievement at the MFA – the creation of 'a public, approachable, open and welcoming' space that can bring 'excellence to as wide an audience as possible'. In an age in which the global role of museums is becoming more important, he hopes that the next director will look at how the MFA can open up still further, acting as 'a museum as much outside its walls as within.'
Rogers will not leave the MFA immediately, and will certainly stay long enough to become the longest serving director in the institution's history later this year. Despite buying a house in the UK, he firmly intends to 'remain on both sides of the Atlantic' in the future. We asked him today about his plans:
'I don't like to call it retirement; I prefer to call it the next phase of my life, and I'm not at the moment structuring it… I hope to do some scholarly work and other work, to travel more – all the things that people dream about. In a way I think of it as a sort of letting go; the opportunities are only just sinking in.'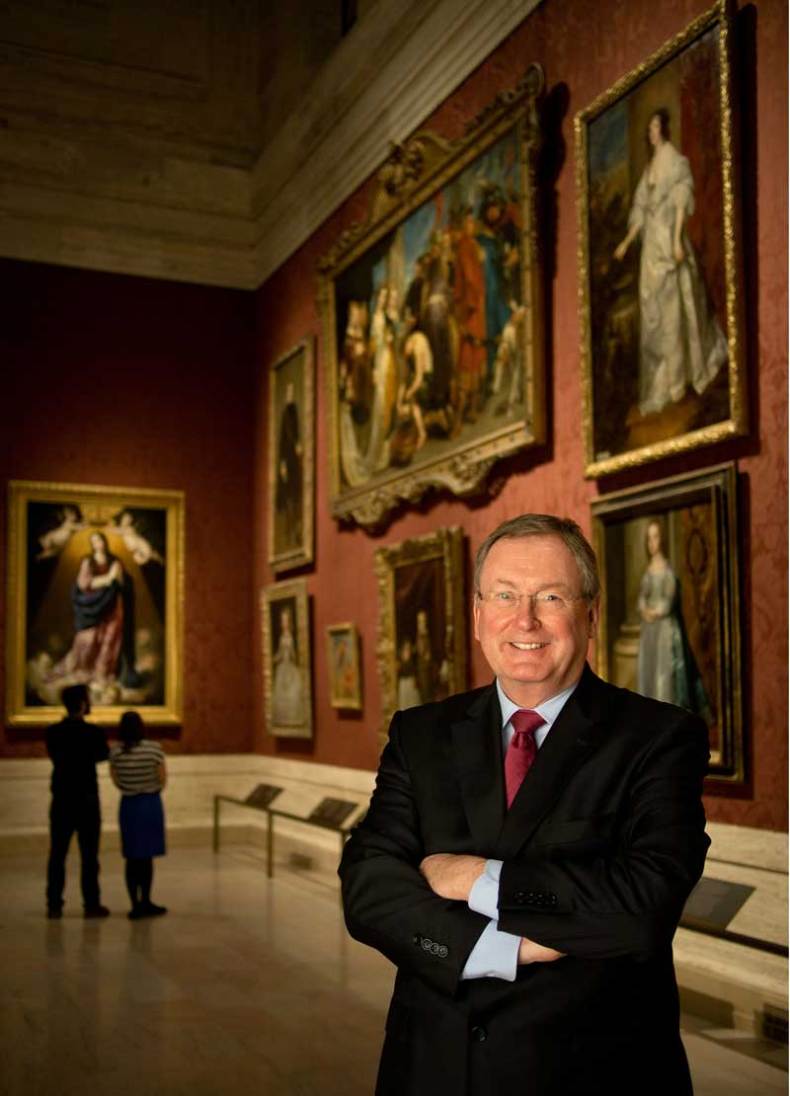 Related Articles:
Popularity Contest: Boston Loves Impressionism
Black Friday sale: 6 months for the price of 3
Subscribe using our Black Friday sale to get six months of the most incisive art writing available for the price of three.
Recommended for you