In the Museum of London there is a white earthenware plate bearing the inscription 'You & I are Earth 1661'. Recovered in modern times from a London sewer, the plate is made of earth; it has come out of the earth and with an unwavering gaze (or glaze) confronts the viewer with their own earthliness. It is a reminder of mortality, at once accusing and sympathetic: not 'as I am, so will you be', but 'as I am, so are you'. For me, this plate has always distilled the shock of recognition and excitement inherent in the study of material culture: the way 'things' can stitch up time, joining two very distant moments and people through a single object.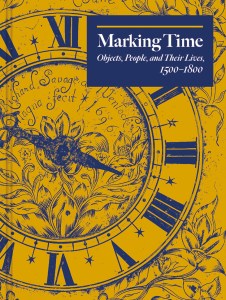 Another plate, inscribed 'Weilcom my Freinds 1661' in the same blue calligraphy, and almost certainly made in the same place, is one of more than 450 objects in Marking Time: Objects, People and Their Lives, 1500–1800 that perform exactly this role of connecting present and past lives. Originally intended as the catalogue for an exhibition at the Yale Center for British Art, cancelled because of the pandemic, the authors Edward Town and Angela McShane decided to publish anyway – leaving the book itself to mediate between the real and imagined timelines of 2020.
The choice of objects is guided by two principles. Most importantly, each is inscribed with at least one date. Secondly, the objects derive from the collection of the late John H. Bryan at Crab Tree Farm in Lake Bluff, Illinois, an imaginative collector of, originally, 'at least one example of every type of object from early modern Britain' and, latterly, dated objects in particular. The period of Bryan's interests happily coincided with the vogue for inscribing dates on objects, which blossomed from the mid 16th century and tailed off after 1750. The fashion affected all kinds of items, from significant, commemorative wares to ordinary utensils in everyday use.
Perhaps the most important point is that, in many cases, the dates do not indicate the moment of manufacture. Even where they do, as Edward S. Cooke Jr points out in one of the excellent prefatory essays, a single date of completion obscures the complex and drawn-out nature of 'artisanal time', which incorporated many years of training and preparation. An example of the multi-layered nature of manufacturing time is the glass goblet probably made in c. 1690s–1700s, but which contains in its stem two silver three-penny coins of Charles II, dated 1670 and 1671: encased there with air that, as Glenn Adamson points out in his essay, also dates to the 17th century.
Many of the dates were significant to their owners: years of birth, marriage and death which anchor them in a newly emerging consciousness of personal timelines. These were, after all, people born in the aftermath of Thomas Cromwell's mandate of 1538 that parish churches keep records of baptisms, marriages and burials, who lived in a world where clocks were increasingly common domestic objects. This point is reflected in the organisation of the catalogue, which sorts objects into thematic groups based loosely on the stages of life. This is not to say that the more traditional cyclical rhythm of seasons and church festivals was eliminated: as Keith Wrightson argues in the book's opening essay, primary sources indicate an ongoing sense of 'temporal plurality', even as people sought to pin their biographies and belongings down to emphatically emblazoned dates.
Oftentimes the reader is startled by the familiarity of the objects and practices represented in these pages. A dog collar, a wedding ring, a workbag for sewing and a drinking glass, all marked with dates and sometimes initials, names or locations, bring into focus lives in many ways much like our own. These scant clues are used to connect items with possible former owners through parish registers and other documents, providing biographical details ranging from the short and poignant (a fountain pen dated 1702 belonging to a William Line, who lived his entire life in Warwickshire) to the well-recorded and scandalous (a sealing-wax case dated 1761 perhaps belonging to John Finch, stabbed by the courtesan Sally Sainsbury at a tavern in Chandos Street, London, in 1722).
Other aspects of these objects will also seem familiar to modern viewers: the global range of the materials used, for example, in the walking stick made of Malacca cane from Sumatra, finished with a whale-tooth handle. The moral ambiguity of many of these products may also resonate: like the user of the sugar bowl dated 1681, consuming sugar produced by slaves in the West Indies, how many in the West, wearing clothes made in Bangladesh from cotton grown in China, are only dimly attuned to, or consciously overlook, the questionable practices that make our consumerism possible?
Other objects make the brutal foundations of early modern material prosperity shockingly clear. The two possible owners of the ankle iron and key inscribed 'Deverall Corn street Bristoll, 1733' are traceable: its wearer, a person of African heritage brought to Britain as an enslaved servant, is not. Many of the items on which owners inscribed their significant dates were manufactured using labour (and thus time) stolen from enslaved people, who might be thousands of miles away in the colonies, or in their own houses.
These are just some of the hundreds of fascinating stories told by the objects in this book. The attention to detail, both in the archival research and in the aesthetic presentation, make it a beautiful object and an impressive resource, one that at the present time, especially, stands as a fitting testament to the ongoing human determination to create, to mark time, and to endure.
'Marking Time: Objects, People and Their Lives, 1500–1800' edited by Edward Town and Angela McShane is published by the Yale Center for British Art
From the January 2021 issue of Apollo. Preview and subscribe here.
Recommended for you