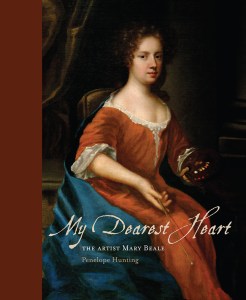 Some of the most striking paintings by Mary Beale, generally considered to be Britain's first professional woman painter, are self-portraits. In a family portrait of c. 1659–60, we see mother, father, and four-year-old son Bartholemew. The son looks up towards his father, the father across to the mother, but Mary herself looks at the viewer, as if to say: I am a painter as well as a mother. Another self-portrait, from 1666, shows her again holding the viewer's gaze. This portrait presents her, once more, as both a woman and as a painter, this time comparing herself both to the most fashionable ladies at court and to the most celebrated portraitist in London: the ringlet that falls down her bare shoulder and the satin fabrics in which she is draped recall the subjects of the Windsor Beauties (1662–65), a set of 11 portraits by Peter Lely, Beale's friend and mentor. But where the 'Beauties' hold flowers, or fruit, or touch the seams of their clothes, Beale's right hand rests on a painting of her own (of her two sons), and her palette is hanging on the wall behind her. A self-portrait of 1672 (reproduced on the book's cover), replays this theme, but now she holds palette and brush in hand, as though examining the canvas we are looking at.
Beale's self-portraits demonstrate the conflicting demands of 'professional' and 'woman' in the 17th century. In her biography of the artist (the first to be written) Penelope Hunting makes clear that, for Beale, this tension was eased by supportive friends and family – and by major commissions. Her clientele included aristocrats, fellows of the Royal Society and even two future Archbishops of Canterbury. Hunting's admirably detailed reconstruction of Beale's networks puts the painter at the centre of London's artistic, literary and scientific life. One sitter was Aphra Behn, Britain's first professional woman writer, and indeed Beale left behind literary works of her own – most notably a 'Discourse on Friendship' (1667), a transcript of which is included in Hunting's biography. Beale argues from the story of Adam and Eve that a true marriage should be a marriage of equals. 'For when God had at first created him, it is not Fit said he, that Man should be alone, so then he gave him Eve, to be a meet help, and what can that imply but that God gave here for a Friend as well as for a wife […].' She later refers to 'a small number who by Friendships interposition have restored this marriage bond to its first institution'. She may have been drawing on the works of earlier women writers, such as Aemelia Lanyer, but it was still a radical proposition for the period.
Hunting's title sums up Beale's harmonious and unusually enlightened domestic situation: it was how her husband routinely referred to her, in letters to friends, and also in the almanac of her paintings that he compiled. Indeed, Hunting's biography is, in many ways, as much of Charles Beale as of his wife, and especially of his commitment to his wife's career. By 1677 he had 'abandoned personal ambitions in order to devote himself to organising and supporting the career of "My Dearest Heart"'.
Bendor Grosvenor says in his foreword, referring to Charles as much as later scholarship, 'Beale is one of the best documented artists Britain has ever produced.' Charles's almanac includes meticulous records of his wife's paintings and descriptions of the pigments, canvases, and techniques she employed. Scholars have used the almanac to reattribute works to Beale and an accurate appreciation of her achievement is finally becoming possible. Beale's debt to the scientific culture of the time also stands out. Charles Beale experimented with numerous new pigments and Hunting's descriptions of how they were made show how scientific and colonial expansion transformed artistic practices of the period.
One of the most impressive aspects of the Beales was their ability to survive and even prosper during the religious, political and economic upheavals of the mid to late 17th century. In the 1660s, Beale painted both royalists and republicans. After the Glorious Revolution of 1688, she had friends among both the supporters of the new monarchs and their opponents. However, in the 1680s, her star began to wane. Lely died in 1680 and she had to compete with his successor as court painter, Godfrey Kneller, and a new generation of artists. She supported herself in part by producing copies of Lely's more famous paintings, though she continued to receive commissions from longstanding patrons. Fashions, however, had changed. In all her works we see Beale drawing out the character of her subjects, instilling her portraits with a sense of realism that is unusual for the period. The sympathy and humanity with which she treats her sitters is particularly evident in a portrait of her son as The Young Bacchus (c. 1660–65).
Beale's work continued to be admired into the 18th century, notably by historians and collectors such as George Vertue and Horace Walpole, and it never entirely disappeared from view. Many of her finest works, however, were misattributed to men (including Lely). An exhibition at the Geffrye Museum, London and Towner Art Gallery, Eastbourne, in 1975, began a rediscovery of her art, and Hunting lists the collectors and scholars who contributed to her change in fortunes, such as Richard Jeffree and Elizabeth Walsh in the 1970s, and Christopher Reeve and Tabitha Barber in the 1990s. Hunting's own achievement can now be added to this. The detail and sympathy of her biography make it a fitting tribute to a woman who is again being recognised as a major figure in 17th-century British portraiture.
My Dearest Heart: The Artist Mary Beale (1633–1699) by Penelope Hunting is published by Unicorn.
From the November 2019 issue of Apollo. Preview and subscribe here.
Recommended for you