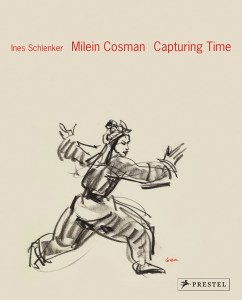 Milein Cosman, who died in late 2017 at the age of 96, was born into a Jewish family in Germany shortly after the First World War. She was largely oblivious to the rise of Nazism in her early years, and spent a happy childhood in Düsseldorf. Her parents encouraged her passion for drawing, and during long walks along the Rhine she liked to sketch them as they walked in front of her. As a teenager she confessed to following people on the street, sketchbook in hand, 'to try and catch the peculiarity of their walk'. Drawing from life became an abiding habit for Cosman and her skill at it formed the basis of her later success.
In 1937 her parents, worried for her safety, sent her to finish her education in Switzerland, after which she enrolled at the Slade School of Fine Art, just as war broke out. Britain became her adopted home. She spent the war years in Oxford (where the Slade had relocated), earning money by way of the congenial task of fire-watching at the Ashmolean (the city was never bombed), then moved to Hampstead, where she spent the rest of her life. She did not like being labelled a refugee. She was, she insisted, a British citizen born in Germany.
Her career took off when she became a regular illustrator for the Radio Times during its heyday after the war, specialising in music and the stage. Her introduction to visiting troupes of Balinese and Japanese dancers in the late 1940s and '50s was revelatory, allowing her to hone her ability to catch people in motion; her fluid sketches of dancers on stage (there is one on the book's cover) are exemplary in conveying a sense of physical movement and remain among her most impressive work. Today she is best known for her portraits of illustrious cultural, especially musical, figures in action: Igor Stravinsky conducting, Mstislav Rostropovich playing the cello, Ralph Vaughan Williams at the piano. She drew Henry Moore and Barbara Hepworth in their studios, T.S. Eliot watching a rehearsal of The Cocktail Party, Peter Ustinov directing a play… and there were dozens more. She had personal connections to many of these people, often through her husband, the music writer and broadcaster Hans Keller. They moved in elevated cultural circles, but she was equally happy drawing strangers; she loved to sketch people on the London Underground or members of a concert audience. Observation of the world around her was what she valued, though this occasionally counted as a limitation, as when she struggled with a commission to illustrate J.R.R. Tolkien's Farmer Giles of Ham in 1947, eventually losing out because she took so long and couldn't get to grips with dragons.
The subject she returned to most often was Keller. Lacking the vanity or introspection to be interested in self-portraiture, she fell back on the one model who was always available, and drew him hundreds of times, almost always while he worked at his desk. She called him her 'Madame Bonnard'. He, like her, was a Jew who had fled the Nazis in his youth, in his case from Austria. His public persona was combative but in private, especially with Cosman, he could be extremely tender. They collaborated often, producing several books about music together (he wrote the words, she drew the pictures), most notably Stravinsky at Rehearsal in 1962. His distinctive features – moustache, high forehead, long face – came to dominate her work, including several oil paintings and a life-size sculpture of his head in bronze.
Keller died in 1985 from motor neurone disease. Cosman's work thereafter became, unsurprisingly, more sombre. Her subject matter was now more varied, taking in still life and landscape, and she experimented with printmaking. Skulls and skull-like features begin to appear in her images. But she remained, as she had always been, vivacious and sociable, and she could not resist making spontaneous sketches of people around her well into her eighties. She was, Schlenker writes, 'a stranger to boredom'.
Schlenker's beautifully produced study of Cosman's life and work contains an array of fine images, including an impressive gallery of mid 20th-century cultural luminaries. Here, Thomas Mann eyeballs us disdainfully from the centre of the page; there, Cosman's friend the poet John Heath-Stubbs, half-blind and dishevelled, leans against the wall like a kind of seer, his mouth open. In terms of the text, however, this is a frustrating work. It contains no index and the chapters are arranged thematically rather than chronologically, making it hard to use for reference. The structure means that as a biography it lacks continuity; episodes in Cosman's life are scattered unevenly through the book, with some – Keller's death, for instance – barely dwelt on at all. Schlenker rarely seeks to analyse anything beyond face value, so we gain little understanding of the complexities of Cosman's interior life. For an artist who could make people come alive on the page, in her biography Cosman remains flat. Schlenker provides an excellent first chapter on the artist's childhood and the atmosphere in Nazi Germany but does not have a great deal to say about post-war Britain.
As for the work, Schlenker's knowledge of it is exhaustive. She places it in the context of Cosman's life and extensive travels, and makes thorough use of Cosman's diaries and miscellaneous writings to reveal her attitudes to her art. It's hard to agree with Schlenker, however, when she claims in her foreword, rather grandly and with no supporting argument, that Cosman's work 'must be counted among the finest and most representative of her time'. The same reverential tone continues throughout. We're told that 'the treasure chest of Milein's portraiture is yet to be fully opened', about 'the stunning quality and faithfulness of her images', that 'her portraits were generally considered to be outstanding and received much critical and popular praise', and so on. The lack of critical distance places a load on Cosman's art that it cannot bear. Still, it's hard not to be drawn to Milein Cosman, an energetic and ever-curious woman who left a rich visual record of life as it passed before her – a record which this book preserves.
'Milein Cosman: Capturing Time' by Ines Schlenker is published by Prestel Publishing.
From the July/August 2019 issue of Apollo. Preview and subscribe here.
Black Friday sale: 6 months for the price of 3
Subscribe using our Black Friday sale to get six months of the most incisive art writing available for the price of three.
Recommended for you