A round-up of the week's reviews and interviews…
Sumptuous 18th-century tapestries at the Galerie des Gobelins (Jamie Mulherron)
It was enlightening to see just how good the best French School painters were. Even average compositions such as Natoire's Mark Antony set or Van Loo's Theseus looked great as tapestries, and de Troy's immensely popular Esther and Medea…sets provide one of the high points of the French School association with Gobelins.
Franz West: Where is my Eight? at the Hepworth Wakefield (Emma Crichton-Miller)
As you turn the corner of David Chipperfield's elegant series of dove grey concrete cuboids, The Hepworth Wakefield, to climb the stairs to the gallery's entrance, an enormous white plaster nose stands ahead of you. It is outrageous in its eyelessness. It thrusts into the air, without logic or elegance; with just an appalled 'O' for a mouth. It seems all at odds with the classical serenity of Barbara Hepworth's sculpture…Standing beside the river Calder, with its own ghosts, this head is as good a summary of West's work as one could hope to find.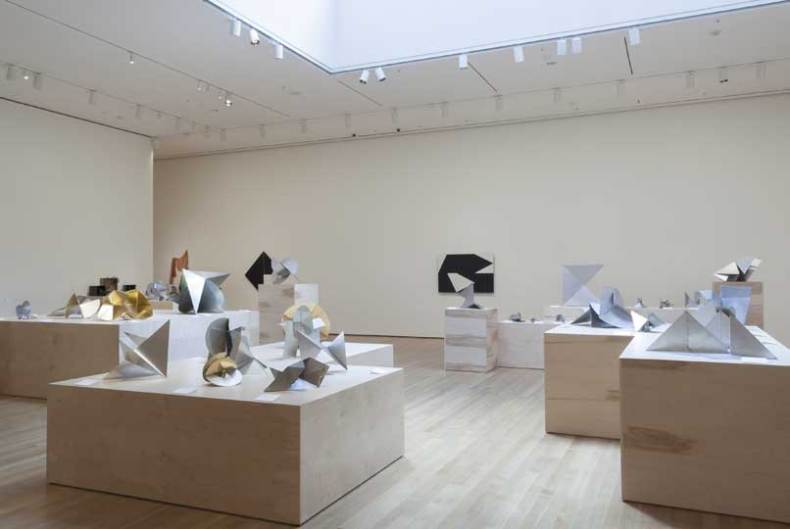 'The Abandonment of Art', Lygia Clark at MoMA New York (Rye Holmboe)
[A] sense of participation would remain a constant in Clark's practice. Her architectural maquettes, for instance, produced in the early 1960s, are composed of a variety of articulated parts that can be moved by the building's residents to suit changing needs…In the late 1960s, Clark moved to Paris, where she developed her own brand of corporeal psychotherapy. This period came to be known as 'body nostalgia'. It is then, we are told, that Clark 'abandoned' art. But it would perhaps be more accurate to see this period as a development in her aesthetic, not an abandonment of it.
Deconstructing 'Jerusalem': Paul Pfeiffer revisits the 1966 World Cup final (Matthew Sperling)
When the match kicks off, the camera pans left and right after the ball, but now the ball and all the players have been digitally removed, and the roving gaze scans the empty field like a paranoid security camera. The players reappear, but now as flickering ghosts in search of a lost ball…
Recommended for you