Last month 15,000 people marched down High Street Kensington to protest the conflict in Gaza. Down the road, an exhibition at the V&A brings together ephemera from similar events of the past few decades. The 'disobedient objects' on display are the products of the conflicts, suppression, injustice and inequality that have afflicted people across the globe since the 1980s.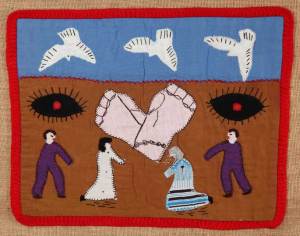 The items vary in scale, medium and character. There are large placards from student protests, a Burmese banknote subtly depicting the features of Anna San Suu Kyi over the face of General Aung San, and handkerchiefs made by Mexican 'Bordamos Por La Paz' groups, embroidered to commemorate missing relatives, strung up in their towns as a cry for action. The room exhibiting these objects is relatively small, the décor and text is minimal and the display boards and plinths are of coarse woodchip. The effort the curators have made to let these objects speak is apparent, and their voices are duly heard.
The opening blurb describes the exhibits as 'art and design from below'. I was curious to see whether these ephemeral items could hold their own in a museum, when the urgency of their message surely took precedence over their design. Would each placard merge repetitively with the next? Thankfully not. Their ingenuity and creativity gave each item the weight to stand on a museum plinth. Many of them are hurriedly made, but their crudeness suggests not a lack of concern for design, but an impassioned and raw desire to express something. Artists for centuries have used their work to articulate and deliver a message when their voice has been stifled elsewhere. Not all of the objects in this exhibition were made as art, but their makers have clearly discovered its power.
The protestors' voices, suppressed and angry, ring out loudly and eloquently in their devices. The cardboard shields depicting classic book covers, made by Italian students protesting budget cuts to education, became a symbol for an attack on learning itself when hit by the police. Small electrical power resistors worn discreetly in Poland in the 1980s were used to express support for political pirate radio stations, and simultaneously form a pun on the idea of resistance. The creativity of the items is never lacking, whatever their medium or production method.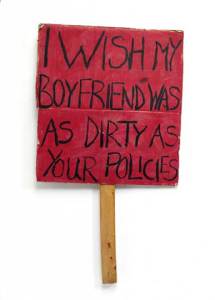 The first half of the room gathers objects of solidarity, which demonstrate how motifs can connect people across continents and social groups. In one woodchip display box a red square of felt is placed below an image of a solider in Quebec who has one pinned to his chest. To the side of this is an image of the red square displayed across Facebook as people's profile pictures. Nearby a board is covered with cheaply made badges of all shapes and sizes, each one with an image or slogan for anti-apartheid. The message of solidarity is clear and the vernacular, everyday items, such as pin-badges and Facebook pages, are easy to relate to.
Rarely in an exhibition have I felt such a lack of distance between myself and the items on display. These objects are not historical and have not been 'museumified' (a word used by curator, Catherine Flood, in an interview), but rather borrowed temporarily for observation. Their active part in movements of protest and change and political struggles will persist after the exhibition closes. A blank square on the far wall of the room is labelled as a 'space held for future disobedient objects', emphasising the notion that these exhibits relate directly and intimately with our contemporary world, and with the visitor.
'Disobedient Objects' is at the Victoria and Albert Museum until 1 February 2014.
Recommended for you