We visit Folkestone Triennial on a bright sunny August day. Now in its third year, the Triennial is part of a wider scheme of cultural regeneration in the Kent seaside town. Using Folkestone as its exhibition space, the event aims to integrate artworks into the urban environment, in some cases permanently.
Lewis Biggs, formerly Chief Executive and Artistic Director of Liverpool Biennial, curated this year's exhibition. The theme is 'Lookout', which refers to Folkestone's historic function as a watch-point over the English Channel, from its early days as a Roman fishing town to its use as a key embarkation point for soldiers during the First World War. 'Lookout' also suggests a fixed location and broad perspective, and invites contemplation of universal matters, like climate and environment, demography and migration, sustainability and urban design.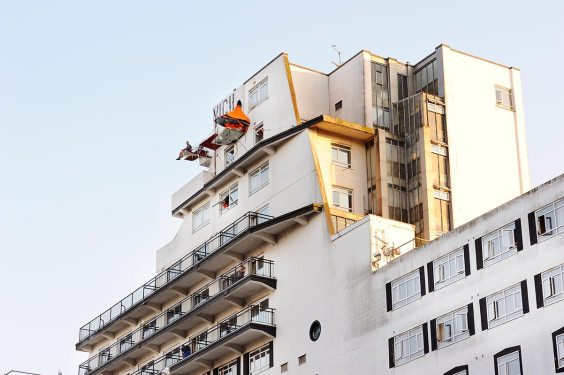 Gallery of highlights from the Folkestone Triennial
Site-specific commissions are placed around the town, and respond to their environment. The modernist Grand Burstin Hotel, fashioned with an ocean-liner inspired design, is the location for Alex Hartley's contribution Vigil. A durational sculpture animated by a single inhabitant, Vigil is lashed to the façade of the building, hanging off the 13th floor like a mountaineer's base, or a protestor's camp. Consisting of two tents and some red stretcher-like platforms, the work offers its inhabitants (volunteers who are encouraged to live in the work for week long stints) a meditative retreat from daily life, as well as playing comically with the idea of a ship's crows-nest.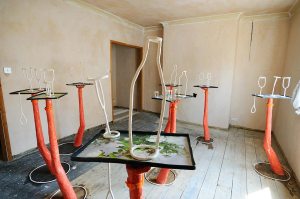 Located on Folkestone's Tontine Street, above a former frame makers is Emma Hart's Giving It All That ceramic installation. A play on the discrepancy between our internal and external selves, the work evokes feelings of anxiety and pressure in the viewer. Downstairs, the sitting room is full of orange, watch-wearing arms that rise from the floor carrying trays covered with ceramic glasses. Around their base, sweat oozes in a ring, emphasised by a white ceramic band. By focusing on bodily discharge, Hart brings to the fore our desire to conceal our true selves.
Upstairs in the bedroom, the same orange arms extend from the walls holding clipboards. Reflective glass eyes peer out, revealing the confusing and random photographic images pasted to the clipboards. Monitoring our every move, they provoke us to become aware of our inner states.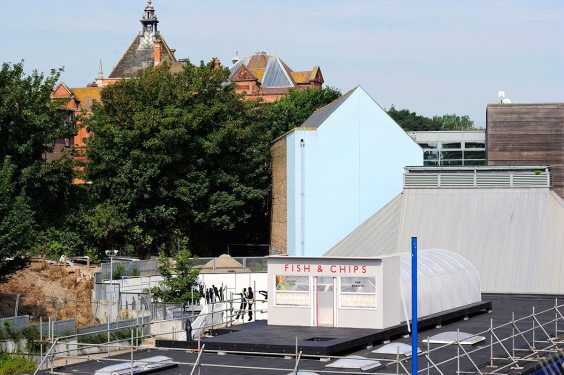 On the roof of the Glassworks Sixth Form Centre is Amusefood, an experimental installation by collaborative team Something & Son, Andrew Merritt and Paul Smyth. From the outside it looks like any normal fish and chip shop, complete with net curtains and fake façade. Inside are tanks full of fish, peas sprouting on uprights, and troughs full of potatoes. These ingredients will eventually be prepared, cooked and made into fish and chips to be eaten by the students below. The waste will be recycled to nourish and sustain the next crop. This eco-friendly piece looks out at the unfolding global food crisis by proposing an entirely self-sufficient method of food.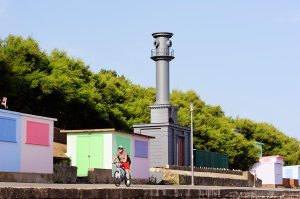 Using Folkestone as a gallery highlights the critical interplay between art, architecture and urbanism, obliging all the artists to work outside the traditional 'white-cube'. Works were also commissioned directly from architecture firms, like muf architecture/art who were awarded the largest budget of £1.5 million to regenerate Payers Park in the town centre. Pablo Bronstein presents a playful take on the traditional beach hut, creating an imposing, slate grey Hawksmoor-inspired structure on the shore. Yoko Ono interacts with the urban environment by creating a series of billboards emblazoned with 'Earth Peace' in large black letters. Adopting a vernacular medium allows her work to express a broad pacifist message embracing the whole town as its canvas.
The Triennial is part of a broader project of creative regeneration in Folkestone spearheaded by the Creative Foundation and funded by the Roger de Haan Charitable Trust. Operating in Folkestone since 2002, the trust has established a 'Cultural Quarter' in Folkestone's old town near the harbour, created 300 jobs and renovated 90 derelict buildings. Not everyone is in support of the programme – some locals argue that the money should be spent on more obviously pragmatic things like infrastructure. But the Triennial is emerging as a vibrant and exciting event, bringing together excellent artists, and placing their work thoughtfully throughout the town. It's a cleverly curated display that will no doubt continue to contribute to Folkestone's establishment as a cultural centre.
The Folkestone Triennial runs until 2 November.
Related Articles
Gallery: Folkestone Triennial 2014
Recommended for you