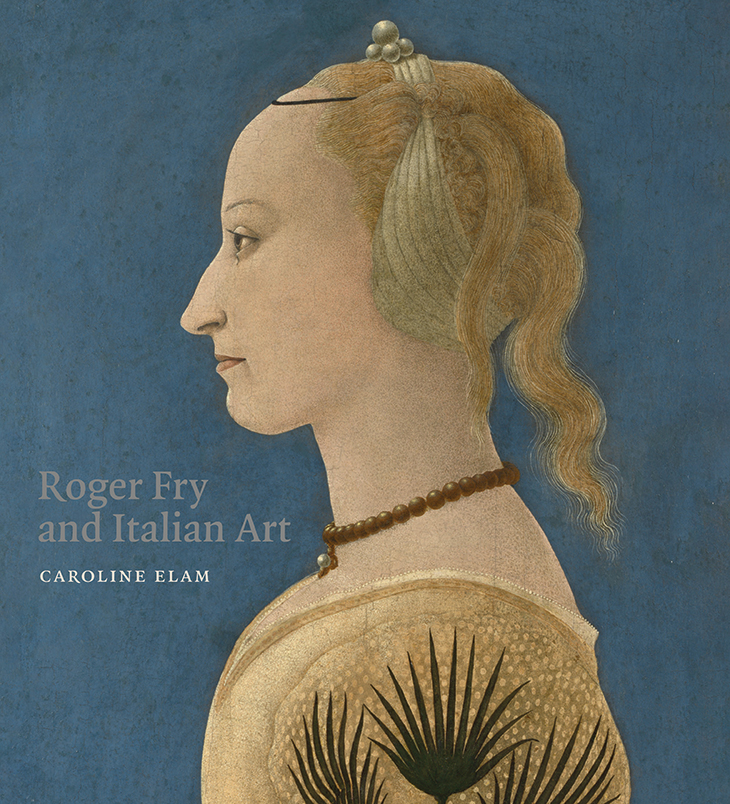 'In so far as taste can be changed by one man, it was changed by Roger Fry.' That tribute of Kenneth Clark's is quoted almost any time Fry's name comes up, and is usually taken to refer to Fry's advocacy of the Post-Impressionists (a label he coined). Caroline Elam quotes it in much the same vein, but her massive, learned, and richly illustrated book suggests a different and more intriguing possibility. If Fry could persuade his own contemporaries, not to mention successive generations, of the merits of modern art, that was due to a critical approach shaped by intensive study of Italian art from Giotto to Tiepolo. To put it briefly: was Piero della Francesca even more important than Cézanne in effecting the revolution in taste associated with Fry's name?
There was nothing conservative about Fry's interest in the Italian art of past centuries. As this volume shows in meticulous detail, serious professional study of the history of art was a new and rapidly evolving discipline in Fry's lifetime. In the seven chapters that make up Part I, Elam situates Fry in precise relation to the contexts, both institutional and intellectual, of his generation. After an undergraduate education as a scientist, Fry took up each of the art-world professions that were available by the end of the 19th century – painter, lecturer on art, curator, picture restorer, and connoisseur, as well as critic and editor. Many of these roles were new or at least newly professionalised. Fry quickly adopted the technology of lantern slides to accompany his popular lectures in the new 'extension' courses designed to widen educational participation. In a shortlived and somewhat vexed stint as a curator at the Metropolitan Museum of Art, Fry introduced New York audiences to early paintings with a new hang on green walls, inspired by the latest experiments in Italian museum display. Throughout these seven chapters, Elam demonstrates how international were the worlds of art history, connoisseurship, and art publishing in the period when Fry helped to found, and later co-edited, the Burlington Magazine.
In view of the variety of his activities, it is remarkable that Fry was able to command credibility as a connoisseur, in the generation of such experts as Bernard Berenson and Wilhelm von Bode. The selection of his writings on Italian art in Part II of this volume reveals the extraordinary range and depth of his knowledge of what was, after all, still an emerging field. The 28 texts include unpublished lectures and articles published in obscure venues, which add appreciably to the well-known writings in Fry's own collections and in Christopher Reed's A Roger Fry Reader of 1996. Better still, they are furnished with superb introductions and notes by Elam; these provide fascinating reception histories of Italian artists from the trecento onwards, and untangle complex problems of attribution and dating with aplomb – a task that requires the most exacting scholarship. It is difficult in this world of connoisseurship to avoid a progressivist mentality, and Elam occasionally slips into positivist claims about 'correct' attribution – sometimes contradicted by the data, as when, for example, a work reattributed to Luini reverts to Fry's attribution, to Solario. Of course Fry knew less in some obvious respects than a recent specialist, but that does not necessarily make him a less perceptive or probing interpreter. As Walter Pater (a writer whom, Elam shows, Fry read attentively) knew well, even 'wrong' attribution can be a way of opening a worthwhile conversation about a work or artist. For example, a work by the artist Fry calls 'Giottino' is credited, in the caption to the illustration, to Maso di Banco, no doubt a more 'correct' (or at least more recent) attribution; but Fry's account of just how the single white column, with its elegant gothic capital, inflects the complicated visual narrative about St Sylvester is electrifying – whatever name we give to the painter.
Is this 'formalism', the knee-jerk term for Fry's critical approach? Elam displays some unease about this. The final chapter of Part I ends on a slight downbeat with the claim that 'The formal analysis of paintings […] is now almost completely discredited.' That seems to endorse the too-easy assumption that 'formalism' is tantamount to a denial of political or social responsibility, something that would have horrified Fry. In fact, as Part II of the volume demonstrates, Fry's writing is only rarely formalist in the strict sense, or what Erwin Panofsky called 'pre-iconographic' – pure visual description without reference to subject matter, ideology, or cultural context. What has been discredited, surely, is not the practice of close visual analysis that makes Fry's writing so compelling – so compelling that, as Elam notes, his volume Vision and Design, in its countless reprintings, was read by 'every aspiring artist, critic and art lover from the 1920s to the 1960s'. The phrasing implies a terminus, but Vision and Design is still in print. Can we afford, in our image-saturated world, to ignore what Fry has to teach us about rigorous looking and precise verbalisation of what we see?
I hope that what has been discredited is the slogan 'formalism', and not the practice of close visual analysis, or of writing about the visual in a compelling way. Indeed, the art history of the future may find new inspiration in Fry's writing. Now that the buzzwords are 'decolonisation' and 'global art history', Fry begins to look more relevant again. Already in a Burlington editorial of 1909 he was calling for more attention to non-Western art, and the geographical reach of his knowledge is just as impressive as its chronological range. This is brought to bear throughout his writings on Italian art, as when he compares a Simone Martini to 'the greatest works of Chinese and Japanese religious art'. More important, though, is the openness to radically different kinds of visual experience that is basic to Fry's critical method, and that is rooted, crucially, in a deep respect for the objects of its attention. The writer who could get to terms with the radical otherness of the Italian trecento, around 1900, still has more to teach us about diversity in the all-important realm of the visual image in our own day.
Roger Fry and Italian Art by Caroline Elam is published by Ad Ilissum/The Burlington Magazine.
From the September 2019 issue of Apollo. Preview and subscribe here.
Recommended for you