At a time when regional museums and galleries are threatened with partial or complete closure, the value of public collections needs to be better promulgated. Founders of cultural institutions customarily understand the opportunities they provide to improve the wellbeing of the state and its citizens. In our age, however, culture is too often obliged to compete for funding from the public purse with health, education, and other fields in which the expenditure of more money seems to produce more immediate and tangible benefits.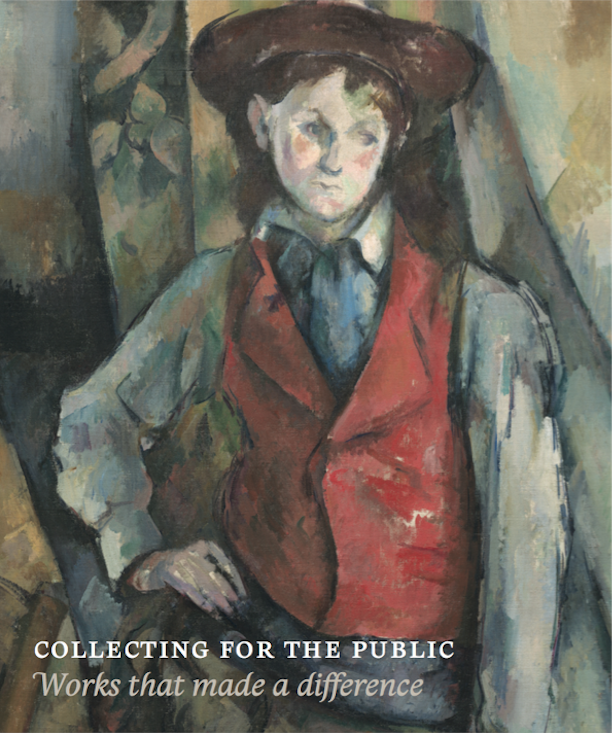 As libraries and galleries see budgets ever further eroded, therefore, a more powerful argument than dismay must be made for their retention and improvement. Currently Professor of Art History at Utrecht University and a regular museum guest curator, Peter Hecht has long been a passionate advocate of public collections. In this new book celebrating his efforts, more than 30 contributors, including curators and scholars who range from the former director of the National Gallery, Nicholas Penny, to the Rijksmuseum's present head of exhibitions, Tim Zeedijk, explore the way specific artworks have made a beneficial difference to the museums and galleries they entered. Many of them, like the honoree, present a cogent and engaging case for adequate fiscal support.
In an entertaining character sketch that closes the volume, Neil MacGregor notes how Hecht is inclined to find links, seemingly obscure but ultimately logical, between a wide range of events, persons, and items. So it is here, as he opens his own essay with a short disquisition on Praxiteles' Aphrodite of Knidos, a work of art so cherished by its citizens that they refused to sell it even when offered a sum large enough to pay off their collective debt. From there he moves on to a more recent but not dissimilar incident in which the impoverished residents of Detroit 'chose in a referendum to pay an extra tax in order to save their museum'.
A city, Hecht proposes, 'is a community, and one thing that binds its citizens together is pride in their art and their history'. On the other hand, he later goes on to express surprise 'that the value of local history and art is still so rarely recognised as a marvellous way of involving residents in the place where they live, and that not every museum, by any means, seems to realise that almost every newcomer or tourist can enjoy the history of the place where they have come to live or are visiting'. Hecht ought not to be so astounded by this want of recognition since, as John Leighton observes in another of the essays, whereas once museums and galleries 'might have been regarded as rather forbidding and austere centres of learning […] today they are more likely to position themselves firmly within the tourism and leisure industry with all manner of food, fun and family entertainment on offer'. When priority is given to ensuring sufficient numbers of visitors pass through the turnstiles, the role of cultural institutions as what Leighton calls 'repositories for collections that are looked after, researched and displayed with knowledge and sensitivity,' risks being compromised.
Other factors can also play a part in changing perceptions, not always intentionally. Frances Suzman Jowell's contribution indicates how easy it is for judgements to become unwittingly distorted. Writing of Carel Fabritius's The Goldfinch, now in the collection of the Mauritshuis in The Hague, Jowell notes how the painting has of late become widely known thanks to its role in Donna Tartt's 2013 Pulitzer Prize-winning novel of the same name. In some respects the notice Tartt brought to a relatively unknown Dutch artist should be welcomed, but as a historian Jowell understandably regrets the picture's use as a plot device, unsupplemented by any substantive information on its provenance.
Of course Tartt is a creative writer and has no obligation to provide such material, unlike Jowell who accordingly does so. Her account, focused on the pioneering 19th-century French connoisseur Théophile Thoré, demonstrates that fact can be just as engaging as fiction. Yet how fact is presented matters more than many art historians appear to understand. 'Sometimes it is history that gives us art,' writes Hecht, 'and sometimes art that gives us history. Plotting their relative positions, in time as well, is increasingly what it is all about as far as I am concerned.' The best essays in this book demonstrate the veracity of his observation. Esmée Quodbach's piece, for example, considers the first work by Vermeer to be given to the Metropolitan Museum of Art in New York. Young Woman with a Water Pitcher was part of a larger donation made to that institution by banker and railway financier Henry Gurdon Marquand in 1889. At the time Marquand was famous, but Vermeer relatively little known: just 12 years before being given to the Met, the painting had been offered for sale in London as a Gabriel Metsu. Today the two artists' respective positions are reversed, which gives a particular piquancy to Quodbach's account.
Other contributors testify to how it is still possible, with enough fervour and funding, for museums to add to their collections. Jan Piet Filedt Kok writes of the acquisition by the Rijksmuseum of three portraits by Jacob Jordaens in 2002. Showing the Flemish merchant Rogier Le Witer, his wife and his mother, the trio had remained together for almost four centuries. But at the start of the present millennium they were offered at auction in two lots and might have been divided had not the Rijksmuseum decided to buy them all. This was the second most expensive acquisition in the gallery's history and the decision to purchase was taken while the necessary funds had yet to be secured. Fortunately within a few months funds had been found, 'undoubtedly helped by the strength of our conviction and the standard of the paintings'. Kok's enthusiastic narrative, like Peter Hecht's own advocacy, proves that museums can thrive and expand in our era. What they need are propagandists of sufficient passion and eloquence.
Collecting for the Public: Works that Made a Difference, edited by Bart Cornelis, Ger Luijten, Louis van Tilborgh and Tim Zeediijk is published by Paul Holberton Publishing.
From the July/August issue of Apollo: preview and subscribe here
Recommended for you