A silhouetted figure on horseback pauses beneath the halo of the Aurora Borealis, interrupting an endless universe of stars…The sense of opportunity that permeates Norwegian artist Frans Widerberg's large oil painting Rider, Northern Lights (1993), seems apt for a nation that has spent the past year celebrating the bicentenary of one of the most enlightened constitutions in history. Even today, the liberalism of Norway's 1814 Grunnlov (Europe's oldest written constitution) provides a foundation for Norwegian as well as Danish and Swedish attitudes towards freedom of speech, religion, politics and creativity. Egalitarianism may be among the most distinct of Scandinavian traits; it is no less evident in the art it has produced over the last two centuries.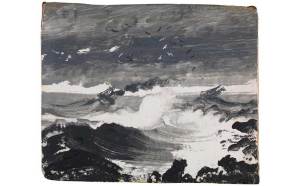 As the National Gallery hosts an exhibition of Peder Balke's 19th-century depictions of northern wilderness, Widerberg's glowing futuristic world can be seen at the King's Place Gallery. The artists are separated by two centuries, yet both experiment with space, colour and form in a manner that has something in common with a selection of other Scandinavian artists on show across Britain this winter.
There are two exhibitions of paintings by the Oslo-based poet and artist Ida Ekblad at London's Herald St Galleries. 'A day of toil among its ruins', and 'A gentle looking little alien of sorts' disclose Ekblad's preoccupation with chance, revealing her as an artist-scavenger. The restlessness of Ekblad's recent work is exposed by a rich amalgamation of blue-and-white trolley tracks, interspersed with cartoon heads which make faces at lurid graffiti tags across the room. Thickly painted surfaces are blasted with puffy ink and heat guns, or left lingering from the lightness of air-brushing.
Ekblad's references to 1990s pop culture add a touch of comedy to her work, just as humour pervades an exhibition of drawings by Jesper Christiansen at the Danish Cultural Institute in Edinburgh. In 'Found Drawings' discarded doodles and scraps of paper loaded with stray thoughts have been resurrected as autonomous pieces of art.
The urge to return to basic forms of creativity can be seen at work in Olafur Eliasson's 'Turner colour experiments'. Eliasson's project, which began in 2009, to make paint in the hues of each nanometre of the light spectrum, led him to J.M.W. Turner's canvases. The results, a series of round pigment studies now hanging upstairs at Tate Britain, are as mesmeric in themselves as they are complementary to the Turner paintings in the galleries below.
The David Roberts Art Foundation has spent six years talking to Nina Beier about an exhibition of her more recent sculptural pieces, which incorporate boxes of green vegetables, garden hoses, flatscreen fireplaces and piles of carpets. At the heart of her current solo show is Tileables (2014), a rambling mosaic of ceramic tiles bearing the patterns of other surfaces.
The work of two 19th-century artists, Prince Eugen and Bruno Liljefors, and their atmospheric depictions of Norwegian and Swedish land, flora and fauna can soon be seen in 'The Scandinavian Eye', at London's Indar Pasricha Gallery. Yet by mixing these works with later pieces from private collections in Stockholm, Copenhagen and Oslo, this survey show suggests that what has always appealed to the Scandinavian was, and is, by no means uniform.
Exhibition details
'Peder Balke' is at the National Gallery, London, until 12 April 2015.
'Frans Widerberg: The Art of Re-Enchantment' is at the King's Place Gallery, London, until 19 December.
Ida Ekblad 'A day of toil among its ruins' and 'A gentle looking little alien of sorts' are at the Herald St Galleries until 16 November and 15 November respectively.
'Found Drawings by Jesper Christiansen' is at the Danish Cultural Institute, Edinburgh, until 2 December.
'Olafur Eliasson: Turner colour experiments' is at Tate Britain, London, until 25 January 2015.
'Nina Beier' is at the David Roberts Art Foundation, London, until 13 December.
'The Scandinavian Eye' is at Indar Pasricha Gallery, London, until 29 November.
Recommended for you