In North America and Europe in the 1960s, colour photography was everywhere: in billboards alongside highways, posters on high streets, displays in shop windows, and in postcards, periodicals, magazines and albums at home. Kodachrome was the film of choice for millions of 'weekend' photographers as well as for the legions of professionals working in advertising and journalism. Colour imagery was everywhere, it seemed, except inside the museum.
Stephen Shore was in the vanguard of an insurgency in the 1970s that was quickly dubbed 'the new color photography'. For a handful of young photographers in the United States and Europe with serious artistic ambitions, colour film, considered vulgar by no less a figure than Walker Evans, was the natural choice. The Italian photographer Luigi Ghirri, travelling around Emilia-Romagna at exactly the same time Shore was making his first road trips across the United States, declared, 'I take photographs in colour because the real world is in colour, and because colour film has been invented.'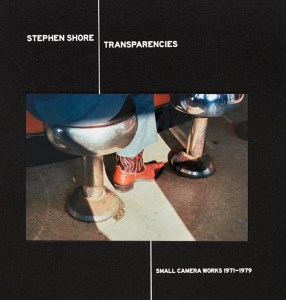 While still in his early twenties Shore had a one-person exhibition at the Metropolitan Museum of Art in New York, followed by another in 1976 at the Museum of Modern Art. This came a few months after the show most often credited with firmly establishing colour photography in the museum, an exhibition of William Eggleston's photographs from the deep south, and the accompanying publication William Eggleston's Guide. For Shore, Ghirri, Eggleston and others, black and white was too artful, too weighted with its history. Independently of one another, they each embraced colour film as their medium of choice.
As a precocious teenager, Shore had dropped out of high school to get an education of a different sort at Andy Warhol's Factory. He has spoken of observing Warhol's 'kind of ambiguous delight' in American culture and his affectless approach, both close-up and detached, permeates Shore's photography throughout the 1970s. In the series American Surfaces, made in 1972–73, he gathered together numerous, seemingly casual snaps made with a Rollei 35mm camera as he travelled across the United States; photos of ordinary streets, suburban houses, hotel rooms, toilets, fridges, plates of food and some of the people he met along the way.
The 35mm photographs featured in Transparencies pick up where American Surfaces left off. They traverse the crucial decade in which Shore was forming his language, and which found a concise and brilliant form in his ground-breaking publication Uncommon Places. Less diaristic than the close-ups and portraits of American Surfaces, the photographs in Transparencies reveal Shore's own ambiguous delight in the common places of 1970s America – its highways, high streets and parking lots, hotels and diners and ordinary stores selling regular things.
After a brief flirtation with serial imagery in the late '60s, and the tight conceptual framework of American Surfaces, there is something decidedly unsystematic about Shore's photography throughout the 1970s, as if he'd determined no single approach could adequately reckon with the range of places and things he wanted to photograph. In a recent conversation with Alec Soth, Shore said, 'I wanted to take a picture that felt natural, that felt like seeing.' In Transparencies we see Shore shaping this way of photographing 'like seeing'. Taken as he criss-crossed America on regular road trips, there are views from above, views from near to the ground, views from close-up and faraway, views through windscreens and windows. Frontal views, and oblique views. Like the eye itself, Shore refuses to settle on one particular way of seeing. His camera alights on the ordinary and the everyday in a consciously casual way. There's no attempt at grandeur or virtuosity, the momentous or the monumental.
Comprising a selection of more than 100 photographs, Transparencies presents a first small group picturing parking lots and intersections from 1971 and larger groups from 1974 and 1977. There are no captions, in marked contrast to the copious information provided in the superb publication that accompanied his most recent survey at MoMA in 2017. Withholding such details may cause some frustration, but it's a clear invitation from Shore, who has written and spoken about photography with great thoughtfulness, to look closely at the pictures. There is also more than adequate compensation in an insightful essay by Britt Salvesen that engages closely with Shore's technique.
In the photographs from 1974 and 1977 that form the greater part of Transparencies, an attentiveness to colour itself begins to shape Shore's work; the colour of cars and street signs, metals and plastics, clothes and skin. He alights on the ways colours are arranged and rearranged, consciously and unconsciously. He finds a green VW Beetle in front of the green and white facade of a shop, or red and pink carnations on the red metal bonnet of a car. The displays in shop windows are another rich resource for showing a colour-world formed by accident and design.
As Shore rides across America, he also rides over genre. You can't name this kind of photography. Though there are many photographs of streets and intersections, many photographs with people in them, and of displays of objects in storefronts, they are not street photographs, portraits or still life. Transparencies shows Shore creating his own open-ended genre as he pursues his singular vision to make pictures like seeing.
Transparencies: Small Camera Works 1971–1979 by Stephen Shore is published by MACK.
From the July/August issue of Apollo. Preview and subscribe here.
Unlimited access from just $16 every 3 months
Subscribe to get unlimited and exclusive access to the top art stories, interviews and exhibition reviews.
Recommended for you