The thing that brings so many of us to Maastricht this week is the promise of excellence, and TEFAF delivers. What follows is a perambulation, an account of the objects that caught this particular private collector's eye.
You can't get a closer impression of an artist's hand than by studying their modelling in a malleable material like terracotta. Master Carriere-Belleuse conceived of, and his assistant Auguste Rodin executed, Vase of the Titans in 1877, at a time when the younger artist was influenced by Michelangelo. The musculature of the figures foretells his later work, the Gates of Hell (Bowman Sculpture, stand 447).
In the age of neoclassicism and its grand monuments, Giuseppe Angelini digressed to create – with close attention to variations in texture – an intimate portrait of an enlightened gentleman with a fine brow and nose (1788) (on view at Alberto di Castro, stand 181). One hundred years later Alexandre Charpentier modelled two children in white plaster with the robust execution of an Impressionist (1892) (Yates • Trebosc • van Lelyveld, stand 182). Later still, in the 20th century, Henri Laurens constructed a pair of concrete abstract forms on the theme of La Terre and L'éau in a rich red terracotta (1937) (Thomas Salis Art & Design, stand 404)
This gold plaque in the form of a recumbent stag, created in the first quarter of the 5th century BC, was used as an embellishment on the armour of a chieftain of the Asian steppes. It is timeless in its stylisation of form, and would be appreciated by an admirer of the Art Deco style (Sycomore Ancient Art, stand 436).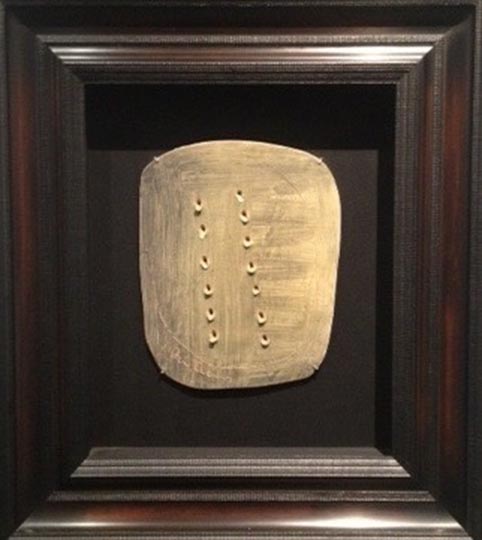 There are the expected Lucio Fontanas – ripped canvases – and then there are his terracotta plaques. The skilful hand that pokes holes in the material pulls the edge of the holes forward like a lip (Kunstzalen A.Vecht, stand 150).
Biedermeier originated as a middle class aesthetic from 1830, but in time it was adopted by the aristocracy. This unique pair of porcelain vases with gentle tapering bodies was commissioned to document still life paintings in the collection of the King of Bavaria (1823–5) (Gertrud Rudigier, stand 238)
For value, look out for examples of work by Picasso's Barcelona circle, who gathered in the Quatre Gats. By the late 19th century the concept of sentiment had replaced narrative as a means of expression: Isidre Nonell's work captures the gritty life of gypsies on the outskirts of the Spanish city (1898) (Artur Ramon Art, stand 705)
Modern for its time is James Nasmyth's black and white chalk drawing on grey paper of the moon's surface (1850). In its way, it is as cutting edge as a Fontana (Lowell Libson Ltd, stand 370)
Impressionism is a popular presence in the market and in exhibitions. Dutch Impressionists like Ferdinand Hart Nibbrig should be given their due. Originating from Laren, the centre of the Dutch style, Spring in Laren (1909) is as good as it gets (Kunsthandel A.H. Bies b.v., stand 314)
Finally, William Kentridge continues his commitment to focusing attention on apartheid injustices in his native South Africa. The symbolism of a delicate iris stem caught in a vice executed on a grand scale immortalises social injustice (2004) (Galerie Bastian, stand 525)
Enjoy these and all the treasures at TEFAF until 23 March.
Recommended for you