It is tempting to imagine that the doctoring of images is a totally modern phenomenon. Long before Photoshop, even before Soviet censors airbrushed Trotsky out of history, artists were called in to paint over, and on, the work of their predecessors. Poor Daniele da Volterra earned himself the nickname Il Braghettone – the breeches maker – after he undertook to paint fig leaves and loincloths to cover the shocking genitalia of Michelangelo's Last Judgment.
Perhaps no major work of art has undergone a more radical transformation than the 15th-century altarpiece attributed to the great Netherlandish master Hugo van der Goes that has swapped the walls of the Metropolitan Museum of Art in New York for exhibition at Christie's, where it will go on sale in the Old Masters auction in the same city on 27 April. As the art historian Claus Grimm put it when he published the painting in 1988, its rediscovery is a 'Cinderella story in which the main figure was so cleverly concealed by rags that generations of art historians ignored it.'
This large panel began life as a Virgin and Child flanked by saints, set under an elaborate architectural canopy in front of a landscape. By the time of its acquisition in the 18th century by the Countess of Pomfret of Easton Neston, Northamptonshire, it was a royal marriage portrait. Virgin and Child had disappeared, replaced by a church interior; St Louis had metamorphosed into Henry VII and the bare-legged St John the Baptist changed gender to become a demure Elizabeth of York. Losing both his cardinal's hat and his lion, St Jerome turned bishop. Claus Grimm reasonably conjectured that the overpainting dated to some time in late 16th- or early 17th-century Protestant England, when violent anti-Catholic sentiment was rife.
Sold by the Pomfret family in 1753, the panel passed to the connoisseur Horace Walpole and Strawberry Hill. In 1842, it was acquired by John Dent of Sudeley Castle in Gloucesterhsire, whose descendants sold it to a New York collector some 140 years later. Its new owner sent it for conservation, and the bold decision was taken to remove the overpaint. The fairy godmother of this tale, the restorer David Bull, revealed not so much a Cinderella as Sleeping Beauty.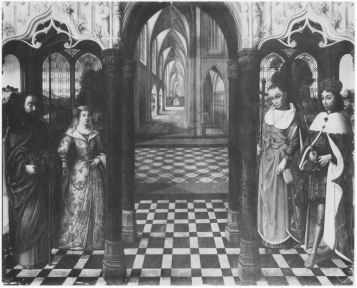 Significant areas of the original paint surface were revealed, including lovely still-life details of the Virgin's open censer and glass vase with the columbine, but also, remarkably, the original underdrawing of the Virgin and Child themselves, preserved under a still-intact layer of protective primer. It is exceedingly rare for the underdrawing of a finished painting to be visible to the naked eye rather than through infrared reflectography, and little wonder that the Met should want to have the altarpiece on public display for everyone to see. (There will, inevitably, be critics bemoaning the use of the Met's galleries as a shop window, although the museum scrupulously erred on the side of caution by labelling the loan 'Netherlandish (Ghent) Painter'.) Grimm made his case for an attribution to Hugo van der Goes, an opinion now endorsed by Peter van den Brink. Christie's Francois de Poortere describes the work as 'one of the most important 15th-century Flemish paintings remaining in private hands', and it comes to the block with an estimate of $3m–$5m.
Once upon a time, such a compromised painting would have been deemed fit only for a museum study collection. To eyes accustomed to the inconsistencies of surface of much modern and contemporary art, however, this panel may well prove an enticing prospect to a certain kind of private collector too.
In January this year, a large, 17th-century study of a horse and rider 'improved' in the 19th century by the addition of a landscape and enhanced colouring, was offered for sale by Sotheby's New York after the overpainting had been removed to reveal it to be a bravura oil sketch by Sir Peter Paul Rubens. Expected to fetch $1m–$1.5m, it changed hands for just over $5m. Finding great Old Masters these days may increasingly involve looking beneath what we already have.
Visit Apollo Collector Services for the best information and advice about managing an art collection.
Recommended for you