This year marks the centenary of the founding of the Bauhaus, and Germany is going all out for the celebrations, with major exhibitions and new museums.There have been celebratory exhibitions across the world from São Paulo to Hangzhou. On 5 July it will also be 50 years since the death of the Bauhaus's first director, Walter Gropius, and it seems that the nature of his legacy is still unresolved. One of the prime movers in European modernism, Gropius built some of the most important buildings of the early 20th century, but subsequently failed to complete an oeuvre half as significant as his colleagues. He founded the Bauhaus but was there for only nine years, and subsequently lived a peripatetic life that included an inconclusive 15 years at Harvard's Graduate School of Design.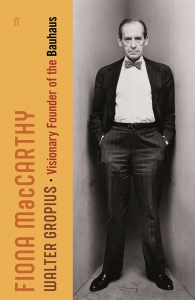 Fiona MacCarthy's new biography pitches itself as a reputational rescue, so what's at stake? For Germans, Gropius is a major figure who kept their culture at the forefront through the industrial century, but also a good soul who didn't give in to the Nazis, and is venerated accordingly. In anglophone cultures more suspicious of modernism, Gropius can represent a triumph of talentless megalomania that, as the cliché goes, did more damage to our cities than the Luftwaffe.
MacCarthy sees her task as putting living flesh on the biscuity bones of Herr Meister Gropius, too often seen as the archetypal humourless Teuton. Indeed a good way in is to focus on his early infamy as the man who made a cuckold of Gustav Mahler. This was in 1910: Alma, Mahler's wife, was a famous beauty ('the loveliest girl in Vienna' in Tom Lehrer's famous song), and a composer and intellectual in her own right. Gropius was at this point a 27-year-old nobody, a bourgeois Berliner with architects in the family, who had only recently been assistant to the legendary Peter Behrens. It was love at first sight, however, and Walter and Alma soon embarked on a passionate clandestine affair, which Gropius exposed to Mahler through an infamously misaddressed love letter.
Alma is of course one of the 20th century's great characters, famed not just for her brilliance and her libido (MacCarthy quotes some eye-opening moments from letters), but also for her complexity and unreliability. Gropius and Alma married during the war, but despite their marriage ending in 1920, MacCarthy depends on Alma rather a lot in the book, even at her more distant moments in the story. This is partly because her character is so extraordinary, but also because MacCarthy wishes to soften the monolithic Gropius through describing him interacting with the characters that surround him, rather than through his works.
Even this more intimate characterisation describes a man of vast inner strength, and this power and drive is evidently what carried Gropius onward as he swiftly joined the elite of progressive German architects. The first of his truly great projects, the Fagus Factory of 1911–13, is a brick-and-glass structure for a shoe manufacturer, and is significant as a leap forward in the sculptural possibilities of industrial construction techniques, with its celebrated 'weightless' corners. As a leading part of the Deutscher Werkbund, Gropius designed a factory for their 1914 exhibition, again demonstrating new possibilities of form and spatial freedom, but this early phase of work, transitioning between Arts and Crafts and modernism, was broken by the First World War.
Demobilised with a distinguished record and pitching for work, Gropius took over a clutch of amalgamated art schools in Weimar in 1919 to form the Bauhaus. His dream was of the unification of art and technology, something like William Morris's goal of the emancipated craftsman attuned to the world of mass-production. The remarkable crowd that he managed to bring in to teach at the school includes Lyonel Feininger, Johannes Itten, Paul Klee, Wassily Kandinsky, László and Lucia Moholy-Nagy, and graduates Herbert Bayer, Marcel Breuer, Josef and Anni Albers – all working on the synthesis of painting, design, typography, weaving, graphics and architecture. MacCarthy also tries to redress the neglect that the women of the Bauhaus have been subjected to, and makes a case against the view that Gropius was a misogynist.
The Bauhaus buildings in Dessau, built after political pressure in conservative Weimar forced the school to move to a more receptive location, provided a spatial manifesto for the ethos of the school, and mark the high point of Gropius's own architectural achievements. But he was only there for a few years, inaugurating the new buildings in 1926 but being forced out through political intrigue in 1928. Subsequently Hannes Meyer and then Mies van der Rohe tried and failed to keep the school alive, the latter under the Nazi regime.
At the halfway point of MacCarthy's book the Bauhaus has already closed, and Gropius's best work is behind him – which could spell disaster for the biography, but from there we experience the unfurling of remarkable lives in the most traumatic of times. There's a fair amount of bed-hopping (Gropius gets a taste of his own infidelity medicine more than once), and personal misfortune, but the key elements are the dispersals caused by the Second World War and the networks they destroyed and created.
A mixture of no work and increasing harassment from the Nazis sent Gropius fleeing to London, where he and his wife Ise (née Frank) lived in the Lawn Road Flats, an attempt at creating an avant-garde commune in Belsize Park. Very little work was available in England, so the short-lived Hampstead exile emigrated to the United States in 1937, again bringing old Bauhaus friends in his wake. In his later years Gropius searched for old friends in Germany (many of whom had been murdered), prepared his legacy, and built some rather unfortunate projects such as the vast Pan Am headquarters in Manhattan.
By the time Gropius died in 1969, his vision of urbanism was outmoded, roundly rejected by a new generation of postmodernists and traditionalists. Today, early modernism is mainstream, but MacCarthy expends surprisingly little energy describing architecture in the book. This is perhaps wise. The work of Gropius's rivals Le Corbusier and Mies van der Rohe, who both also died in the 1960s, speaks for itself. Gropius, however, existed more as a force of connection and possibility than a creative genius in his own right, a fact he wrestled with throughout his life. But by prioritising the people over the work, MacCarthy creates a vivid portrait of artists trying to change the world – and this goes a long way towards explaining Gropius's lasting importance.
Walter Gropius: Visionary Founder of the Bauhaus by Fiona MacCarthy is published by Faber & Faber.
From the May 2019 issue of Apollo. Preview and subscribe here.
Recommended for you