The Virgin of the Pomegranate
(c. 1426), Fra Angelico
Museo del Prado, Madrid
View the shortlist
The Museo del Prado's purchase of Fra Angelico's Virgin of the Pomegranate (also called the Alba Madonna) for €18 million represents an exceptional acquisition by any measure. One of the very last masterpieces of the Florentine quattrocento in private hands now enters a public collection. At the Prado it will find an ideal companion in Angelico's Annunciation altarpiece from San Domenico, Fiesole, similarly painted around 1425–26. Together, they trace a key phase in Fra Angelico's early development, as the Dominican painter-friar digested the revolu-tionary impact of Masaccio's sculptural style and virtuoso perspective. The Virgin of the Pomegranate responds to Masaccio's Virgin and Child with Saint Anne of around 1424, now in the Uffizi, but also emulates the scintillating textiles and luxuriant surfaces of Gentile da Fabriano, Masaccio's greatest rival and aesthetic counterpoint. By 1428 both Gentile and Masaccio were dead and it was Fra Angelico's synthesis of their contrasting visions that would guide Florentine painting through the following decades.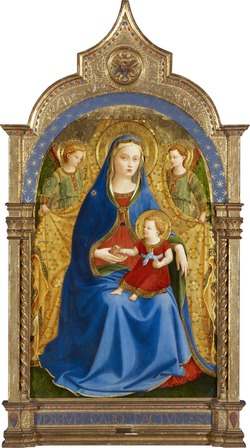 The Virgin of the Pomegranate has been in the Alba family's collection since the 14th duke – whose enthusiasm for the Italian quattrocento was ahead of its time – acquired the picture in Florence in 1817. Removed to Spain, the painting was largely overlooked by scholars until its exposure in the 1955 exhibition in Florence marking the quincentenary of Fra Angelico's death. Seeing the panel first-hand caused John Pope-Hennessy and others to revise their attributions upwards and accept the work as an autograph early masterpiece.
At the same time as overseeing the transfer of the Virgin of the Pomegranate to the Prado, the present Duke of Alba has gifted the museum another Fra Angelico, a predella panel of the death of St Anthony Abbot, whose claims to autograph status have been strengthened by recent conservation.
Donal Cooper
Recommended for you