Some of the most significant works to enter public collections this April
Edlis/Neeson Collection of 42 contemporary artworks
Andy Warhol, Jasper Johns, Roy Lichtenstein, Cy Twombly, Gerhard Richter…the list of artists whose work is included in Stefan T. Edlis and Gael Neeson's bequest is exceptional. The Chicago-based couple's gift, which is valued at around $400m and includes key examples of US Pop art, is the largest in the museum's history. The group will be on permanent view at the museum from early 2016.
Ulf Linde's Duchamp archive
Marcel Duchamp visited Stockholm in 1961 on the occasion of the exhibition 'Movement in Art'. While there he worked closely with the Swedish art critic Ulf Linde, who created replicas of many of the artist's most significant works – which Duchamp then signed and authenticated. This acquisition of the critic's extensive Duchamp archive, which includes sketches, correspondence, books and photographs, underscores Sweden's close association with the artist – something that was celebrated at a recent symposium at the museum.
The Harp Lesson (1791), Jean Antoine Théodore Giroust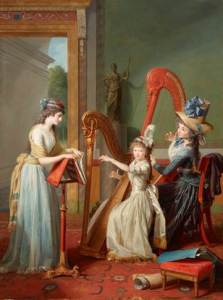 This full-length, triple portrait shows the daughter of Louis Philippe Joseph de Bourbon (the Duke of Orléans, a supporter of the French Revolution who adopted the name Philippe Égalité) taking a lesson from her governess, with an Engish companion. First shown at the Paris Salon of 1791, it's a fascinating record of how the liberal French aristocracy portrayed itself under the National Assembly of 1789–1792. The painting has already taken its place alongside the likes of Joseph Vernet, Anne Vallayer-Coster and Jacques-Louis David in the museum's collection.
Bonsecours Market, Montreal (1880), William Raphael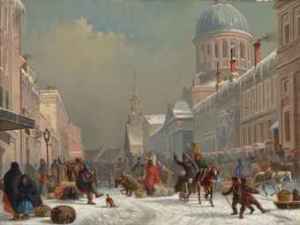 William Raphael's 19th-century depiction of urban life in wintry Montreal has been brought back to its home country. The NGC bought the painting from the Winkworth Collection sale at Christie's, at the beginning of April. William Raphael was an influential figure in his time, and while he was most famous for his portraits, he also produced numerous detailed landscapes and city scenes – several of which are already part of the collection.
Kate Tempest (2013), Dav Stewart
Dav Stewart's photograph of a thoughtful-looking Kate Tempest originally appeared on the cover of the spoken word artist's album Everybody Down, and is currently part of the National Portrait Gallery's touring exhibition 'Picture the Poet'. Now it will take up a permanent place in the gallery's collection.
Dreamhouse (1969), La Monte Young and Marian Zazeela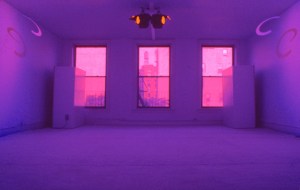 In the 1980s the Dia Art Foundation had to abandon plans to establish a permanent home for Dreamhouse – an atmospheric sound and light installation created by husband and wife duo La Monte Young and Marian Zazeela – because of a lack of funds. It's now the first work to be purchased using a rather controversial acquisitions fund, created by the sale of works from the collection in 2013.
Unlimited access from just $16 every 3 months
Subscribe to get unlimited and exclusive access to the top art stories, interviews and exhibition reviews.
Recommended for you