Apollo is counting down to Christmas by celebrating some of the greatest acquisitions, gifts and bequests of 2013. We'll take a closer look each day at one of the outstanding objects, works of art or collections shortlisted for the Apollo Awards Acquisition of the Year.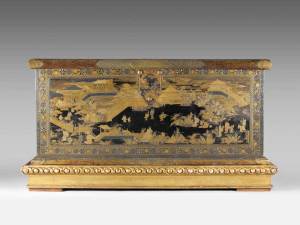 Rijksmuseum, Amsterdam
Maki-e chest, 1630–40
Japan, Edo period (1603–1868)
Lacquered wood, 63.5×114.5×73cm
Purchased at auction with the support of the Jaffé-Pierson Foundation, the BankGiro Lottery and the Rembrandt Association
The maki-e technique flourished during the Edo period (1603–1868), and the courtyard scene on this chest is a superb example of its application, which involved dusting gold powder on to wet lacquer to produce shimmering designs. One of 12 Japanese maki-e chests brought to Europe by the Dutch East India Company shortly before a ban on their export in 1641, it was originally purchased in 1658 in Amsterdam (along with a smaller example now in the V&A) by Cardinal Mazarin. Its later history has been less illustrious. Lost since the 1940s, it resurfaced only this year when it came up for auction in Cheverny, France. Its last owner, who paid £100 for it in 1970 and was unaware of its true value, had been using it as a television stand.
Recommended for you