New acquisitions can significantly enhance museum collections, but the majority are not widely reported – certainly less so than the rare occasions when institutions deaccession work. The Apollo Acquisition of the Year Award recognises some of the most noteworthy additions. The winner will be announced in the December issue of Apollo. Find out more about the Apollo Awards 2014.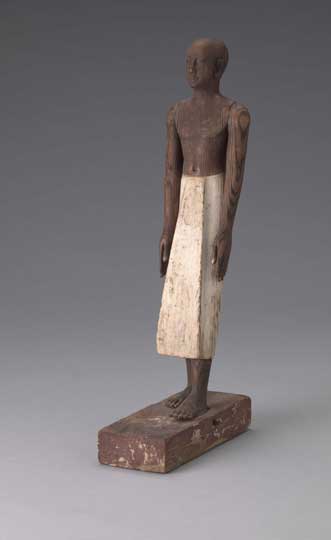 Statuette of the Scribe Seneb c. 1938–1850 BC
Egyptian, early 12th dynasty
Painted wood, ht 27.6cm
Acquired through donations and a fundraising effort led by the Ancient Art Council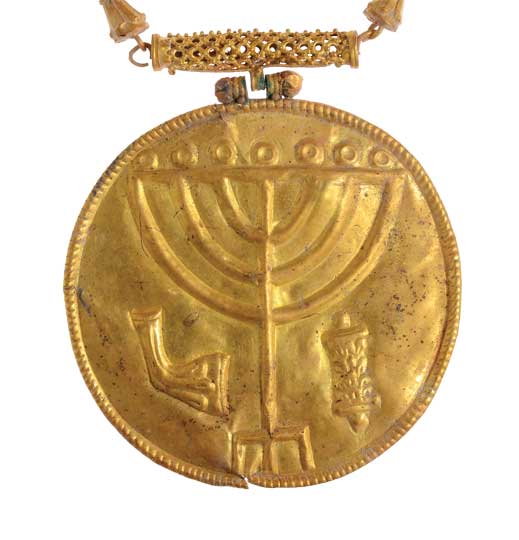 Israel Museum, Jerusalem
A Hoard at the Foot of the Temple Mount, early 7th century CE
Israel, Byzantine period
Pictured: Medallion decorated with a menorah, shofar, and an enigmatic symbol – myrtle branches or a Torah scroll
Gold, diam. 10cm
For permanent display at the Israel Museum, Jerusalem, courtesy of the Israel Antiquities Authority. Excavated by the Hebrew University of Jerusalem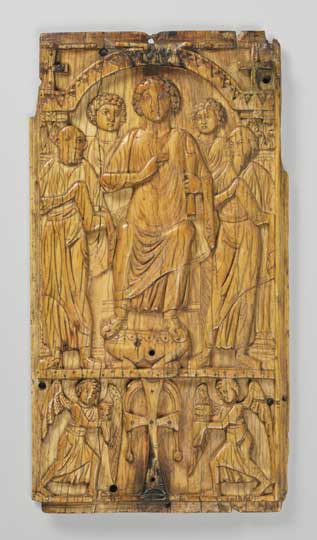 Ivoire de Trébizonde, early 6th century
Attr. to Constantinople
Ivory plaque, ht 21.5cm
Acquired with funds from the Banque de France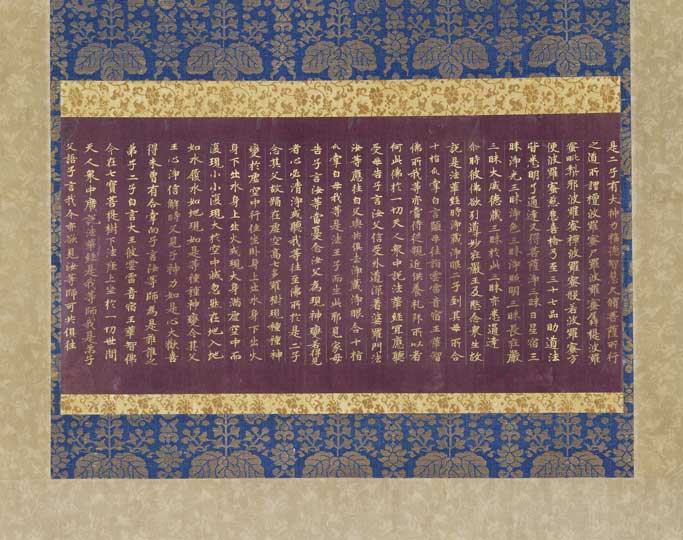 Freer and Sackler Galleries, Museums of Ancient Art at the Smithsonian Institution, Washington, D.C.
Collection of 18 Buddhist Sutras and a Sutra Container, 8th–12th century Japan
Pictured: Nara period Sutra, 8th century
Gold on purple-dyed paper with silver ruling, 25.4×51.4cm
Gift of Sylvan Barnet and William Burto
Crucifixion of Christ, c. 1440–50
Jan Van Eyck or workshop
Goldpoint and silverpoint, pen and black ink on prepared paper, 25.4×18.7cm
Purchased with the support of Vereniging Rembrandt (with thanks to the Dura Fonds), Stichting Museum Boijmans Van Beuningen, Mondriaan Fonds, VsB Fonds 2014
Vetro a reticello charger, c. 1600
Venetian
Glass, diam. 34.5cm
Gift of funds from Beverly N. Grossman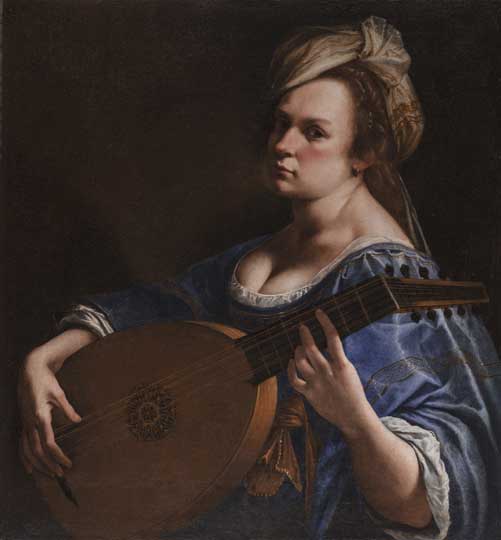 Self-Portrait as a Lute Player, c. 1616–18
Artemisia Gentileschi (1593–1652/3)
Oil on canvas, 77.5×71.8cm
Purchased with funds provided by the Charles H. Schwartz Fund for European Art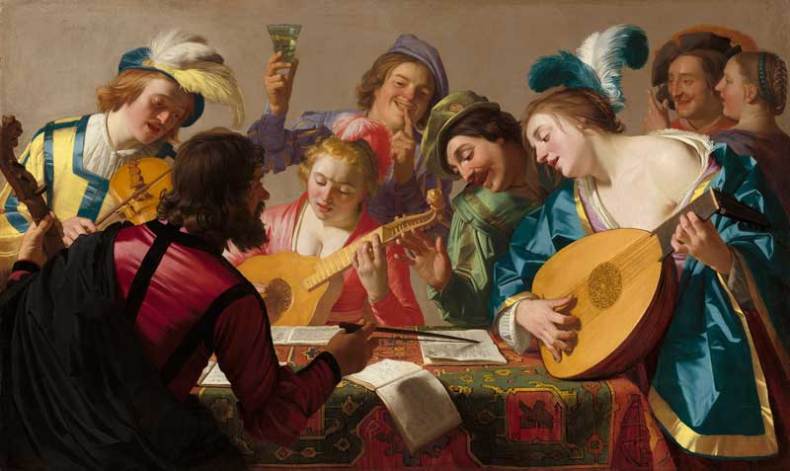 The Concert, 1623
Gerrit van Honthorst (1592–1656)
Oil on canvas, 123×206cm
Purchased with funds from the Patrons' Permanent Fund and the Florian Carr Fund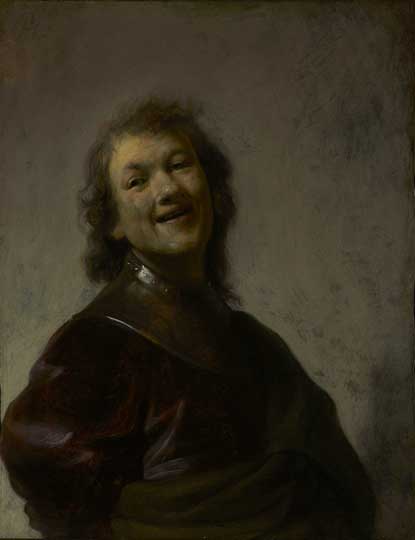 Rembrandt Laughing, c. 1628
Rembrandt Harmensz. Van Rijn (1606–69)
Oil on copper, 22.2×16.8cm
Purchased with funds provided by the J. Paul Getty Trust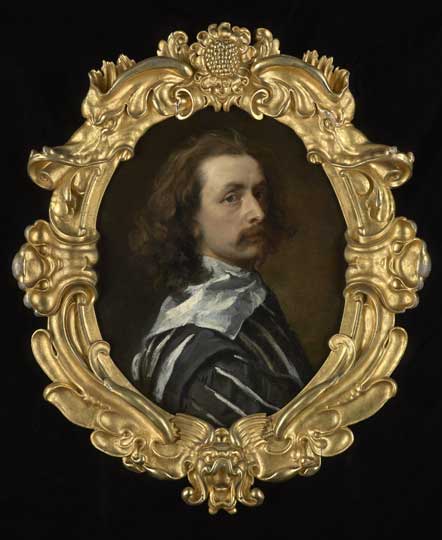 Self-Portrait, 1640–41
Sir Anthony van Dyck (1599–1641)
Oil on canvas, 59.7×47.3cm
Purchased with funds from the National Portrait Gallery, the Art Fund, the Heritage Lottery Fund, private trusts and a public appeal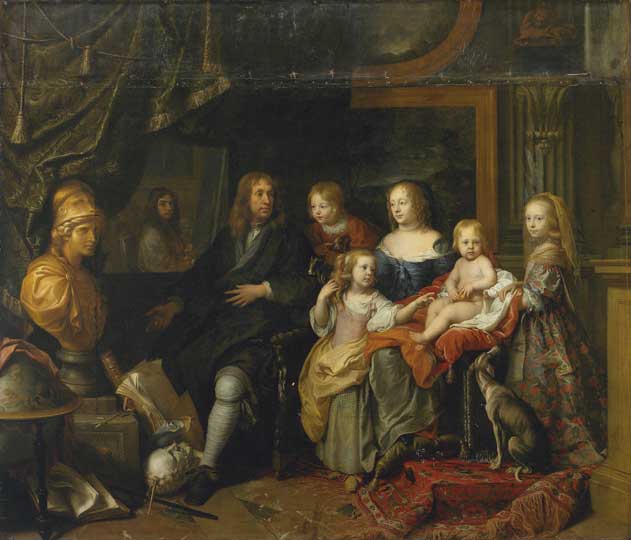 Everhard Jabach (1618–95) and His Family, c. 1660
Charles le Brun (1616–90)
Oil on canvas, 280×328cm
The Metropolitan Museum of Art, Purchase, Mrs. Charles Wrightsman Gift, 2014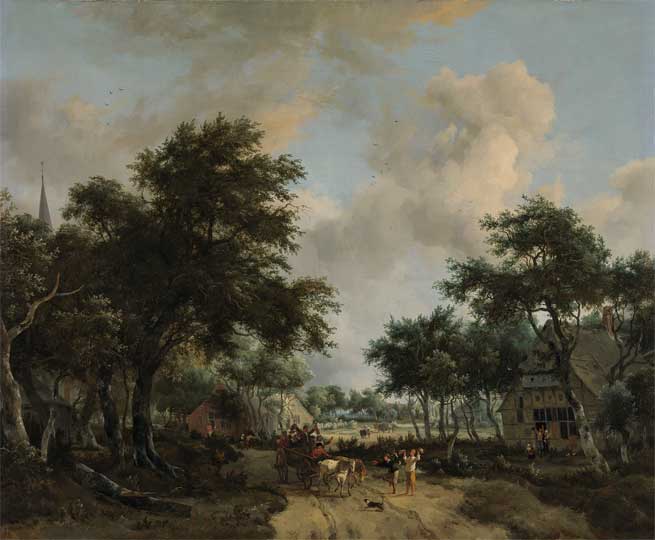 Wooded Landscape with Merrymakers in a Cart, c. 1665
Meindert Hobbema (1638–1709)
Oil on canvas, 90.5×109.8cm
Gift from the W. Baron van Dedem Collection, Richmond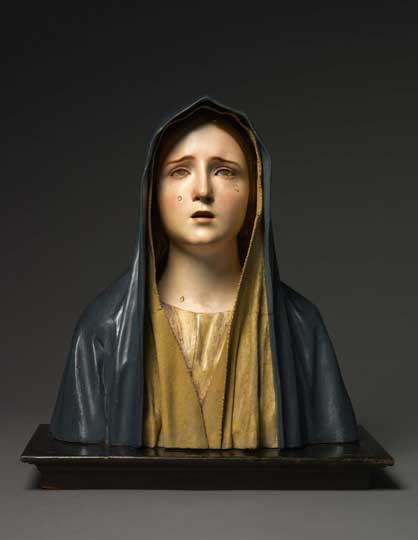 The Virgin of Sorrows (Mater Dolorosa), c. 1670–75
Pedro de Mena (1628–88)
Polychrome wood, human hair and glass, ht 33.6cm
Acquired with the support of the Art Fund, the Henry Moore Foundation and a public appeal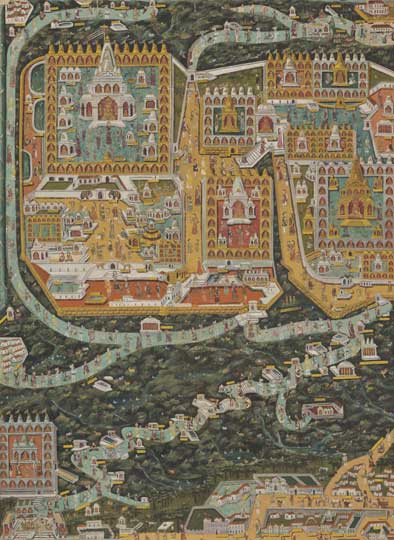 Pilgrimage to Mt Shatrunjaya, 17th–18th century
West India, Rajasthan or Gujarat
Colour on cloth, 24.4×18.3cm
Gift of Dr Narendra and Rita Parson
Two pots à oille with trays from the Walpole Service, 1726–27
Nicolas Besnier (active 1714–54)
Silver, chased and engraved, pots à oille: ht 38cm; trays: diam. 45cm
Acquired with the support of The Society of Friends of the Louvre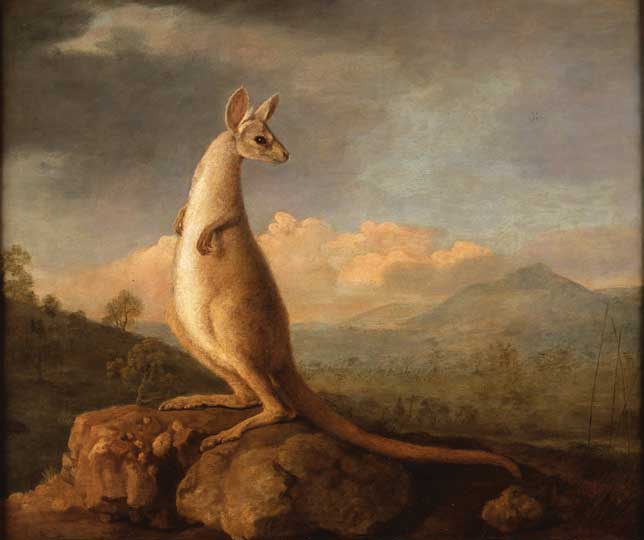 The Kongouro from New Holland (The Kangaroo), 1772
George Stubbs (1724–1806)
Oil paint on two panels, 60.5×71.5cm
Purchased with funds from the Art Fund, the Heritage Lottery Fund, the Monument Trust, the Eyal Ofer Family Foundation and public donations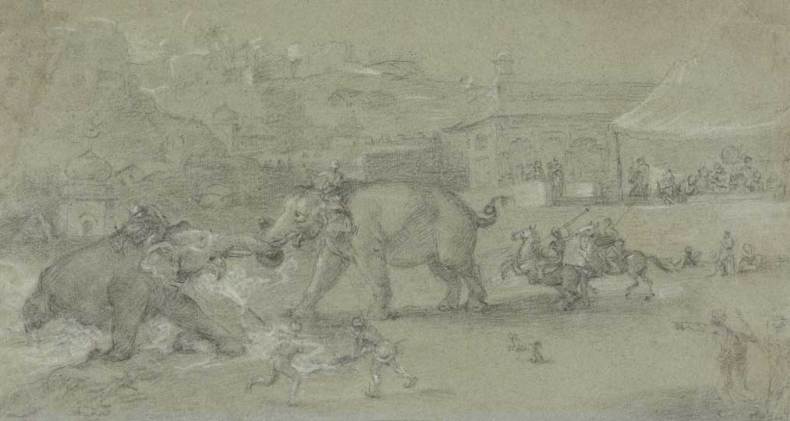 Elephants Fighting, 1784–88
Johann Joseph Zoffany (1733–1810)
Black, white and red chalk on blue laid paper 23×41.5cm
Acquired through the Paul Mellon Fund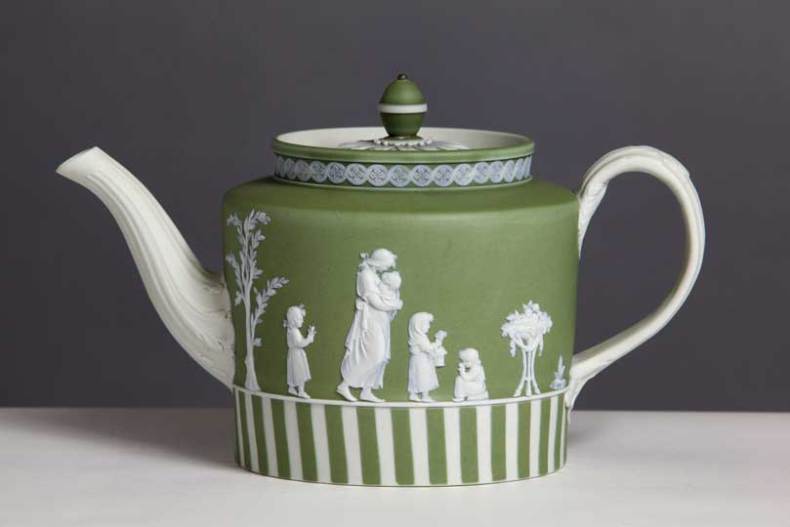 Wedgwood Collection, 18th–20th century
British
Pictured: Brewster shape teapot in white jasper with pale green dip, 1785–90
Ceramic, unglazed
Purchased by the Art Fund following public and private donations; gifted to the Victoria and Albert Museum and placed on long-term loan to the Wedgwood Museum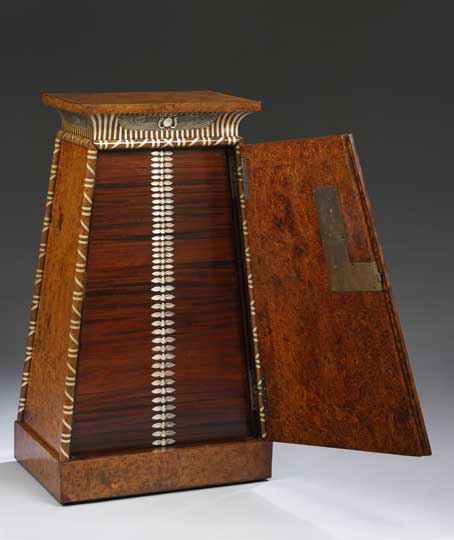 Medal Cabinet, c. 1810
Design attrib. to Charles Percier (1764–1838)
Oak, mahogany, silver, ht 88.2cm
Purchased with funds from the Art Fund, the Friends of the Victoria and Albert Museum and other organisations and individuals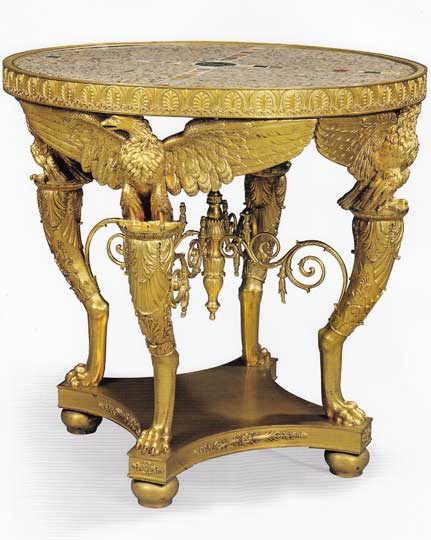 An Italian Empire ormolu guéridon, c. 1814–15
Attrib. to Wilhelm Hopfgarten and Benjamin Ludwig Jollage
Ormolu base with a granite top, ht 94cm
Acquired with museum funds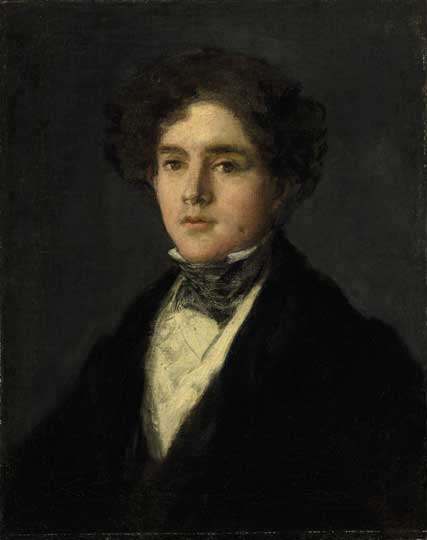 Portrait of Mariano Goya, the Artist's Grandson, 1827
Francisco José de Goya y Lucientes (1746–1828)
Oil on canvas, 52.1×41.3cm
Purchased with funds donated by the Meadows Foundation and a gift from Mrs Eugene McDermott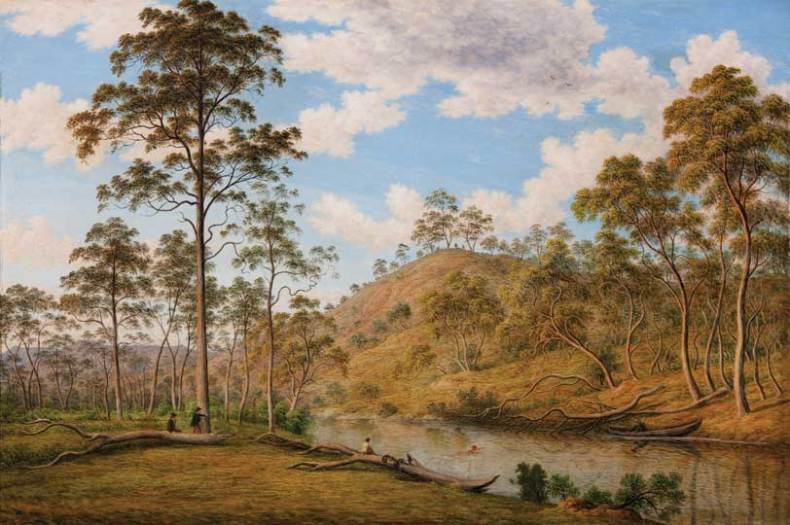 Baptism on the Ouse River by Rev. Henry Dowling, 1838
John Glover (1767–1849)
Oil on canvas, 76.2×114.3cm
Donation from M.J.M. Carter, AO through the Art Gallery of South Australia Foundation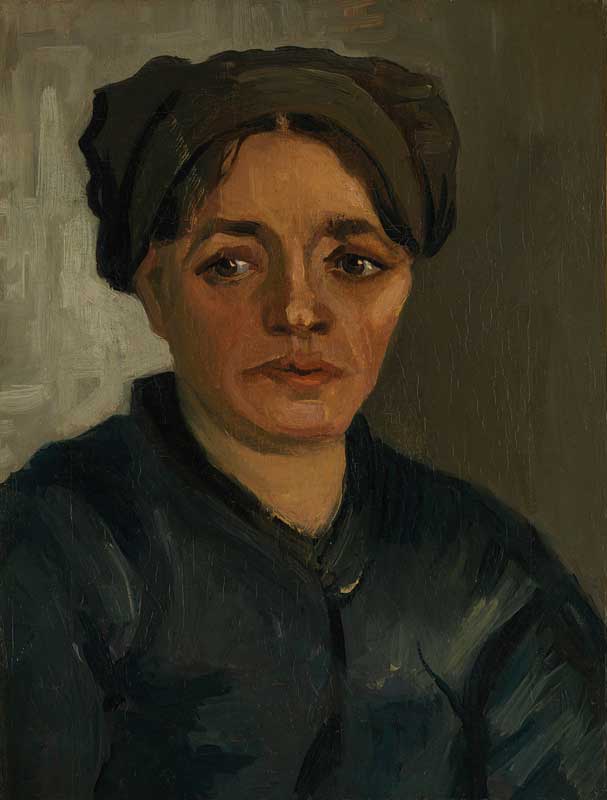 Head of a Peasant Woman, c. 1884/5
Vincent van Gogh (1853–90)
Oil on canvas, 40.3×30.5cm
Accepted under the Cultural Gifts Scheme by HM Government and allocated to the National Gallery
Green Wheat Fields, Auvers, 1890
Vincent van Gogh (1853–90)
Oil on canvas, 72.4×91.4cm
Gift of Mr and Mrs Paul Mellon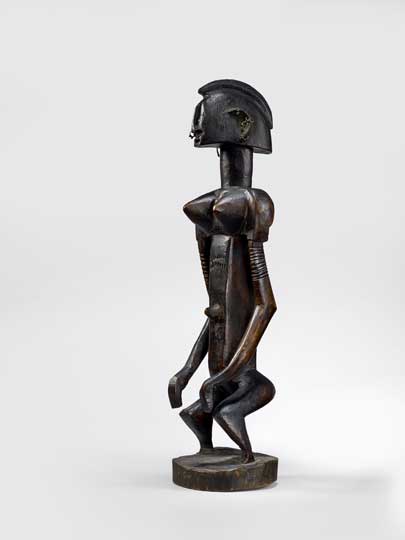 Female Dogon sculpture, late 19th/early 20th century
Mali
Wood, iron, copper alloy, glass beads, ht 69cm
Gift from the Friends of the Musée du quai Branly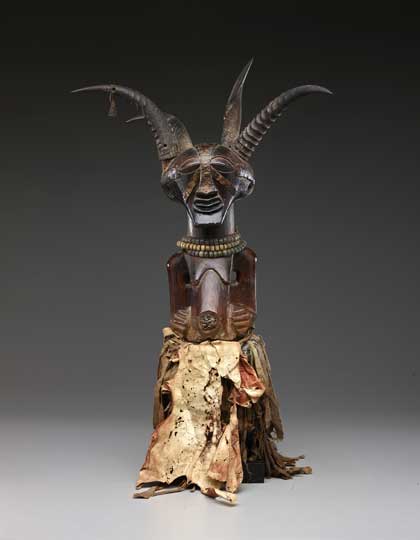 Songye 'four-horn' community power figure (nkishi)
Late 19th/early 20th century
Democratic Republic of the Congo
Three antelope horns and one domestic goat horn, antelope and African civet hides, wood, copper, metal, fibre, beads, organic materials, ht 55.9cm
Purchased with funds from the Eugene and Margaret McDermott Art Fund, Inc.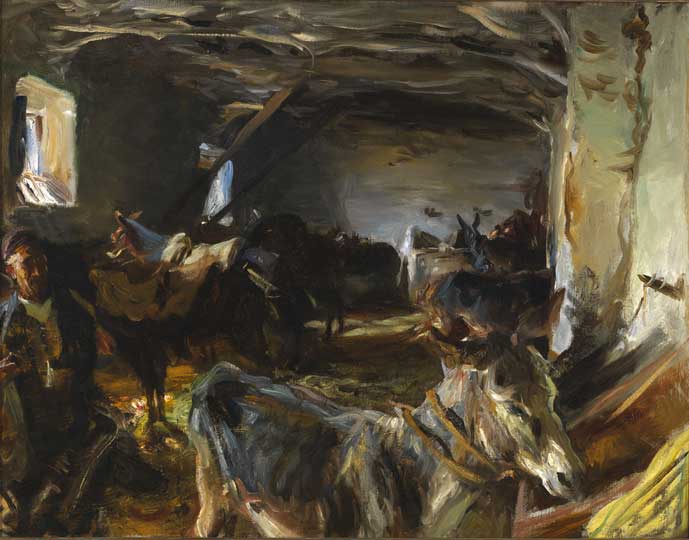 Stable at Cuenca, 1903
John Singer Sargent (1856–1925)
Oil on canvas, 57.2×72.1cm
Museum purchase made possible by the American Art Forum, and through the Catherine Walden Myer and Luisita L. and Franz H. Denghausen endowments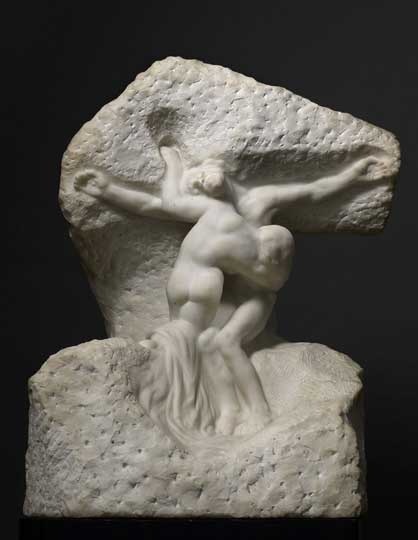 Christ and Mary Magdalene, 1908
Auguste Rodin (1840–1917)
Marble, ht 109.2cm
Purchased with funds provided by the J. Paul Getty Trust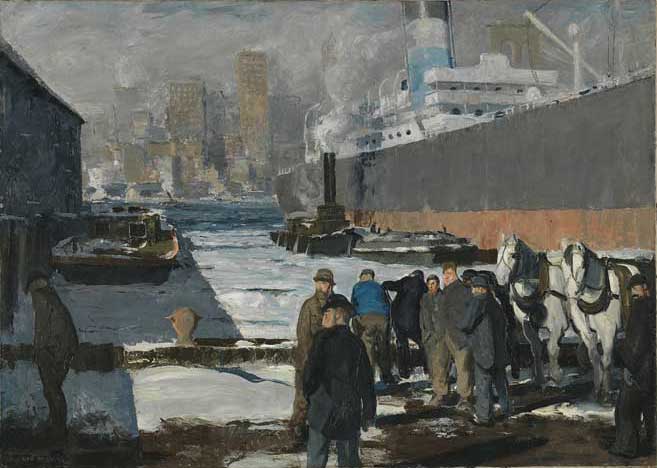 Men of the Docks, 1912
George Bellows (1882–1925)
Oil on canvas, 114.3×161.3cm
Purchased with a grant from the American Friends of the National Gallery, made possible by Sir Paul Getty's Fund, and by private appeal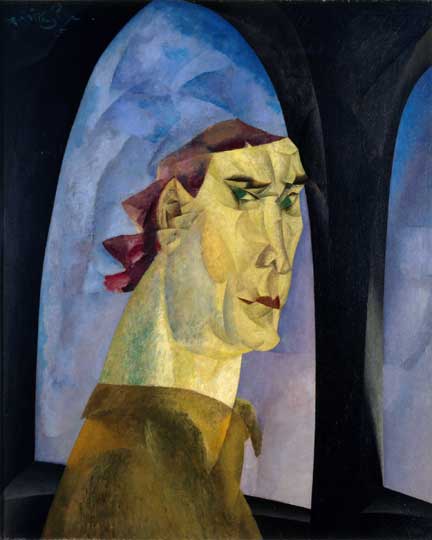 Self-Portrait, 1915
Lyonel Feininger (1871–1956)
Oil on canvas, 100.3×80cm
Purchase funded by the Caroline Wiess Law Accessions Endowment Fund
© DACS 2014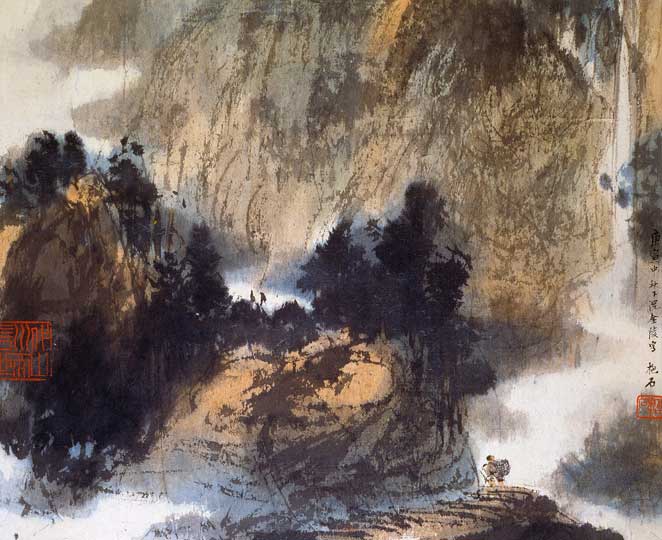 The Sullivan Collection of Modern and Contemporary Chinese Art
1940s–present
Bequest of professor Michael Sullivan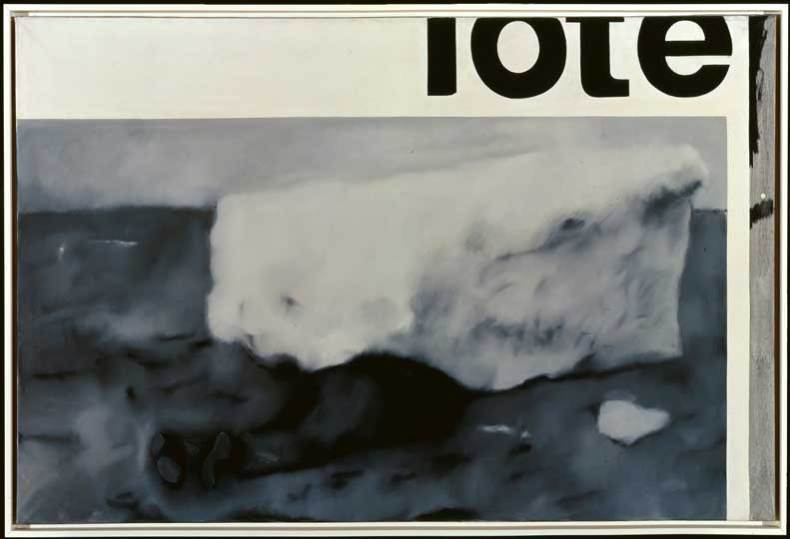 Tote, 1963
Gerhard Richter (b. 1932)
Oil on canvas, 101×151.1cm
The Sidney and Harriet Janis collection (by exchange)
© 2014 Gerhard Richter
Twenty-one sketchbooks and two early drawings by Roy Lichtenstein
Mid 1960s–1997
Pictured: Drawing for Nude with Blue Hair, drawing from a 1993 sketchbook
Roy Lichtenstein (1923–97)
Graphite and coloured pencils on paper, 10.5×6.7cm
Gift from the Estate of Roy Lichtenstein
© Estate of Roy Lichtenstein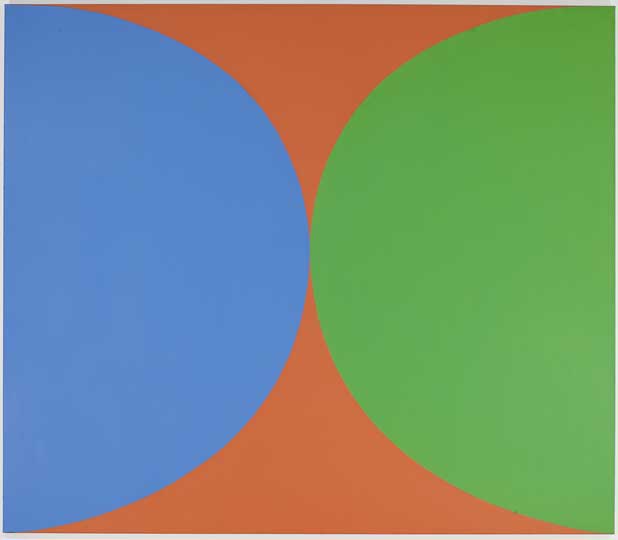 Wright Collection of Modern and Contemporary Art, 1950–present
Pictured: Blue Green Red II, 1965
Ellsworth Kelly (b. 1923)
Oil on canvas, 223.5×259.1cm
Gift from the Virginia and Bagley Wright Collection
© Ellsworth Kelly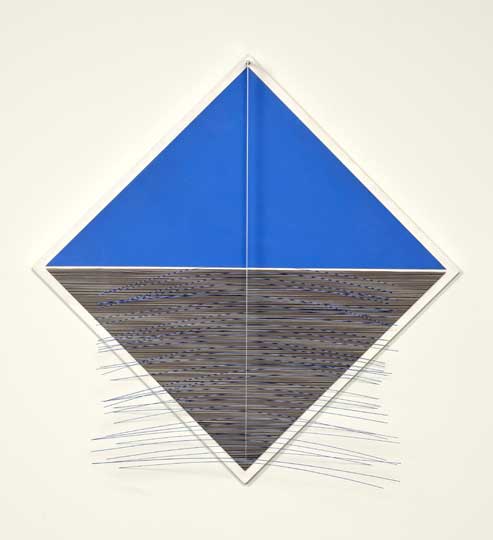 Approx. 120 works from the Tate Collection of Latin American Art
Late 20th/early 21st century
Pictured: Cobalt Rhombus, 1968
Jesus Rafael Soto (1923–2004)
Paint on wood mounted to fibreboard with metal and monofilament, 141×141×24.9cm
Gift of Judy S. and Charles W. Tate
© 2014 Artists Rights Society (ARS), New York/ADAGP, Paris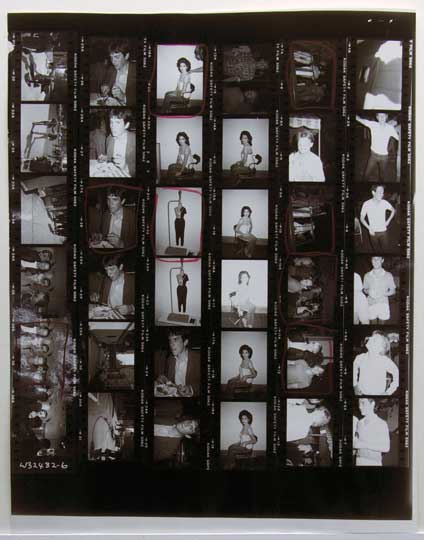 Andy Warhol's archive of 3,600 contact sheets and negatives, 1976–87
Pictured: contact sheet (Andy Warhol, unidentified men, street scenes), 1982
Gelatin silver print
Gift of the Andy Warhol Foundation for the Visual Arts
© The Andy Warhol Foundation for the Visual Arts, Inc.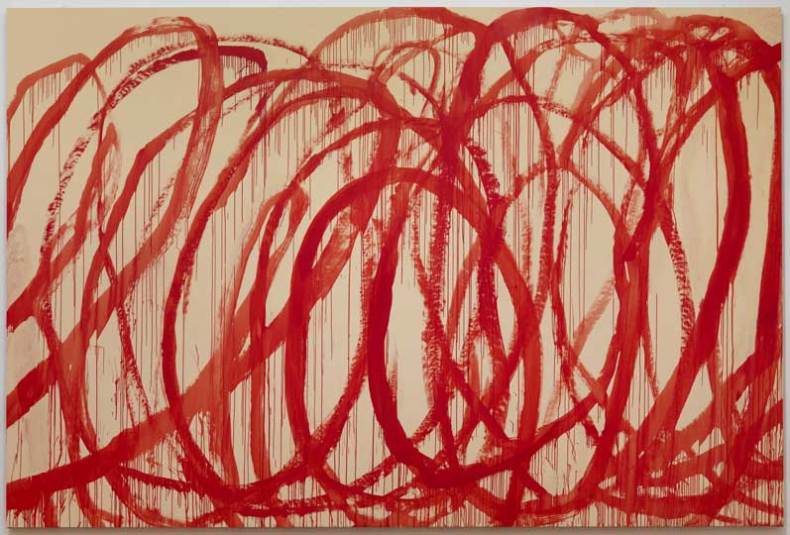 Three paintings and five sculptures by Cy Twombly
Pictured: Untitled (Bacchus), 2006–08
Cy Twombly (1928–2011)
Acrylic on canvas, 300×465cm
Gift of the Cy Twombly Foundation
© The Estate of Cy Twombly
Which would you choose as the Acquisition of the Year? Let us know in the comments…
Recommended for you