Tom Jeffreys reports on art from the Baltic region
What kind of work is art? And who should pay for it? As such questions gain prominence in the UK – through the Paying Artists initiative, Artists' Union England's Rates of Pay document, and recent events like Ideas Through Art: Labour at the Serpentine – they are also being asked with increasing frequency in the rest of Europe and beyond.
Here in Finland, work has been a front-page issue in recent weeks. Following April's election of a centre-right coalition led by IT millionaire Juha Sipilä, and Moody's revision of the country's economic outlook from stable to negative, national broadcaster Yle has led with stories on pay cuts, pay freezes, and proposals for a longer working week. Finland is now in its fourth year of recession.
As a 2014 paper by three Finnish economists argued: 'The state should focus on…safeguarding for the business community the best possible operating conditions…Government funding can serve as a risk bearer and thereby as a catalyst for private growth funding and expertise.' The narrative is a familiar one. Hard work, innovation, the knowledge economy, tourism: this is the neoliberal future. The welfare state is over.
It seems appropriate, therefore, that one of the shortlisted concepts for The Next Helsinki (an alternative to the Guggenheim) proposed a Museum of the Welfare State. By coincidence, in Belgium, the Museum of Modern Art, Antwerp, is currently showing 'The Welfare State' (until 27 September) including pieces by British artist Stephen Willats and Sweden's Kajsa Dahlberg, whose work explores 'the changing status of labour'.
Is the status of labour really changing? It is now nearly 50 years since artists in the US such as Carl Andre and Hans Haacke began to identify themselves not as garret-dwelling Romantic geniuses but as 'art workers'. In 2009, Julia Bryan-Wilson published a book about this period under the title Art Workers. Clearly the struggle continues today: as I mentioned in April's Baltic Diary, a book has recently been published that examines the material conditions of artists working in Sweden, Finland and Estonia. It too is called Art Workers.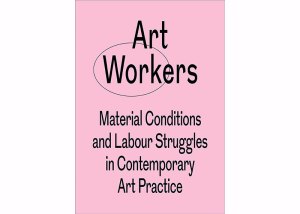 Since the publication of the latter, artists have been meeting in Helsinki to discuss ways to improve their working conditions. Problems to overcome include declining public funding, lack of economic security, Finland's gallery rent model, and oversupply of labour. Are there simply too many artists? As Minna Henriksson, co-editor of Art Workers, says: 'Artists and other precarious art workers should be the ones defining these questions, not people who have permanent employment and are not involved in the art labour and exhibiting system.'
The arts funding body, Taike, which distributes €32 million in grants and subsidies each year, do seem to be trying to address such worries. They recently published their strategic targets for 2015–20 which include 'a more functional social security and pension system for artists', according to director, Minna Sirnö.
Meanwhile, Finland's Artists Association (a kind of watered-down union) has been discussing the implementation of a MU-style agreement in order to encourage museums to pay artists for their work. As covered in April, this has not worked in Sweden, so looks unlikely to work in Finland, or in the UK, where the Paying Artists campaign similarly 'aims to secure payment for artists who exhibit in publicly-funded galleries'. As Finnish artist Merja Puustinen points out, however, even were such an initiative to be implemented properly, the impact would only be felt by those artists who are already successful enough to be showing in such institutions. Without an increase in public funding across the visual arts, the result would be even less money available for those artists whose work does not pay.
This is where difficulties begin to arise. In a world of limited funds, more money for one means less for the other. In the Nordic countries, public funding for the visual arts has always been limited compared to architecture in Finland, literature in Denmark, or music in Sweden. (That said, artists in the UK would be extremely jealous of the kinds of long-term no-strings-attached stipends available to Finnish artists.)
Besides, as Puustinen and others have argued, in a small country with no commercial gallery system, any increase in arts funding is difficult to justify without appealing to national branding initiatives, the economic impacts of culture tourism and associated consumer spending – i.e. the very logic of neoliberal market economics that has contributed to this situation in the first place. Puustinen expresses fear that, in Finland, 'art becomes increasingly instrumentalised in the service of national competitiveness within the global marketplace'.
It is interesting to note in passing that while Helsinki's artists are largely opposed to the Guggenheim, the city's hotels have pledged €3 million to the project. 'No culture without industry,' says Mikael Backman, CEO of Restel hotel group.
Such logic is also already at work in the country's higher education institutions. In April, one art student refused to take part in a show at a gallery run by the University of the Arts Helsinki after apparently being told to help invigilate the exhibition for free. Following the arrival of Belgian curator Barbara Vanderlinden as Professor in Exhibition Studies and Spatiality, the gallery in question has been renamed from Kuva Tila (Image Space) to the much more innovation-friendly Exhibition Laboratory. More recently, the university has been hit by the sudden departure of rector Tiina Rosenberg. Rumour has it the desire is to replace the gender studies academic with somebody more business-oriented. As predicted by Bill Readings in his 1997 book The University in Ruins, the tyranny of 'excellence' is upon us.
It is timely to ask, as JJ Charlesworth does in an otherwise problematic piece for ArtReview, 'does contemporary art do anything that is valuable or significant for its public…?' If so, are they willing to pay for it? Otherwise, as artist Jussi Kivi, who represented Finland at the Venice Biennale in 2009, says in Art Workers: 'There is some kind of idea that the artist, after all, is not working.'
Related Articles
Browse the Baltic Diary series
Letter from Helsinki: Finland's changing art scene (Tom Jeffreys)
'The Next Helsinki' and the Guggenheim Helsinki are as bad as each other (Crystal Bennes)
Unlimited access from just $16 every 3 months
Subscribe to get unlimited and exclusive access to the top art stories, interviews and exhibition reviews.
Recommended for you