This week's competition prize is Woven Gold: Tapestries of Louis XIV, by Charissa Bremer-David (Getty Publications, $49.95). Click here for your chance to win.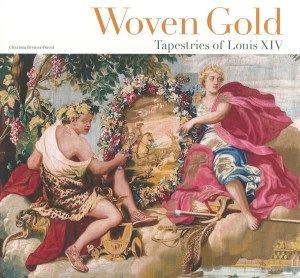 Meticulously woven by hand with wool, silk, and gilt-metal thread, the tapestry collection of the Sun King, Louis XIV of France, represents one of the highest achievements of the art form. Intended to enhance the king's reputation by visualising his manifest glory and to promote the kingdom's nascent mercantile economy, the royal collection of tapestries included antique and contemporary sets that followed the designs of the greatest artists of the Renaissance and baroque periods, including Raphael, Giulio Romano, Rubens, Vouet, and Le Brun. This catalogue accompanies an exhibition of 14 examples of the former royal collection that are on display at the J. Paul Getty Museum at the Getty Center until 1 May. Lavishly illustrated, the volume presents for the first time in English the latest scholarship of the foremost authorities working in the field.
For your chance to win simply answer the following question and submit your details here before midday on 19 February 2016.
What was the name of the royal factory that supplied tapestries to Louis XIV?
This competition closes at midday on 19 February 2016.
For our last competition prize we offered The Vanishing Man: In Pursuit of Velázquez, by Laura Cumming (Chatto & Windus, £18.99)
Which Spanish king appointed Velázquez as his official portrait painter?
Answer: King Philip IV
Congratulations to the winner, Katherine Bayard.
Recommended for you