Tom Phillips – 'picturesmith, wordsmith and occasional musicsmith', Royal Academician, translator of Dante and creator of A Humument – tweets in verse. On December 20 he tweeted an announcement:
For tiny items on your xmas lists,
At last the Britten 50 pence exists!
This followed from earlier tweets tweeted in June and September:
Our best composer yet? He may well be,
At any rate he's well worth 50p.
The Elgar banknote ditched in twenty ten
left cash composerless. So welcome Ben!
I trust my Britten coin, as well as pleasing,
Might play some part in quantitative easing.
All of which is to say that the new 50p piece, designed by Phillips to celebrate the centenary of Benjamin Britten's birth, has finally been minted, to make its way into a cash till near you any day soon.
We heard a lot in 2013 about the historical figures represented on English currency, with the announcement from the Bank of England that Winston Churchill will shortly replace Elizabeth Fry on the £5 note, and the subsequent decision, restoring some gender balance, that Jane Austen will replace Darwin on the tenner. The banknotes are designed and issued by the notes division of the Bank of England itself, and follow fairly strict design conventions, but the sterling coins issued by the Royal Mint have been open to a much greater degree of artistic innovation in recent years.
The seven main denominations were given new reverses in 2008 after an open competition won by graphic designer Matthew Dent, and the reverse of the 50p has been used to celebrate important events with specially commissioned designs from prominent artists, like the vine-encircled pagoda on the 2009 coin that marked the 250th anniversary of Kew Gardens, designed by Christopher Le Brun, current President of the Royal Academy.
The Britten coin is the second 50p Tom Phillips has designed, after his 2005 coin in honour of the 250th anniversary of the publication of Samuel Johnson's Dictionary of the English Language. That earlier 50p used text from Johnson's dictionary's own entries for the words 'fifty' and 'pence', drawing on the elegant typographical tradition of English lexicography to give an economical suggestion of the wealth of knowledge that a dictionary holds, about sense-definition, etymology, pronunciation and grammar.
The Britten 50p is likewise economical and suggestive. I heard Phillips explain the thought that went into the coin, at a symposium on artist's books held in Sheffield in November:
When you make a coin for Her Majesty the Queen it comes out in an edition of 18 million. So there were 18 million 50p coins commemorating Dr Johnson's dictionary, and now, only just about to come out, 18 million coins celebrating the 100th anniversary of the birth of Benjamin Britten. Which is a new kind of coin because I didn't want to put Benjamin Britten, who wasn't a looker anyway, on the coin – and who wants two heads on a coin when you're trying to decide who's going to serve in tennis, or who's going to bowl or bat in cricket?
So I just put a stave on it, and Britten's name, and the words 'Blow, bugle, blow, set the wild echoes flying'. If you now go to Google you can put 'Benjamin Britten' or 'Blow, bugle, blow', you'll read a poem by Tennyson, 'The splendour falls from castle walls', and you can hear [sings] 'Blow, bugle, blow, set the wild echoes flying / Echoes, echoes answer; echoes, echoes dying dying dying dying', with Peter Pears singing Benjamin Britten – Peter Pears his life partner. So I thought, this a new way of doing a coin, to give people a set of references, so they can find out what the hinterland of the celebration is. […] And all that because you had a 50p in your pocket. Who's this? What's that? Google: off away you go, a journey, an adventure.
So the coin becomes the centre of a network of references that draws in music, poetry and the history of performance. Once you have discovered the 'hinterland' that lies behind the design, Pears's rendition of 'Blow, Bugle, Blow', with Dennis Brain on the tenor horn, becomes a sort of earworm, summoned up each time you see the coin, breaking in upon the drab exchanges of everyday life. The bloke in the newsagent gives you your change and suddenly this poem and song setting of strange and flashing beauty are recalled.
Grasping the allusive hinterland of the coin relies on having the initial curiosity to google the words that appear on it. Perhaps a future step would be to move from an intertextual coin to a hypertextual one, by casting a QR code on the back of the 50p, which people could scan with their smart phone and be taken directly to a web page.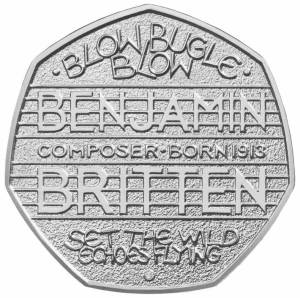 The sense of a 'journey' or 'adventure' set off by reference to other texts is consistent with Tom Phillips's work in other media. He long ago pointed out that A Humument, begun in the late 1960s, was 'not unaware of what then occupied the pages of Tel Quel' – the journal of French poststructuralist theory, where the ideas of intertextuality and deconstruction were first ventured – and that it could be considered a work of 'bricolage', the force of which partly lies in its continuous reworking of prior texts.
A coin is a particularly good medium for a work whose mode is intertextual reference. A coin is a sort of marker which signifies a value, rather in the way that a word signifies a thing or concept. The value of a 50p coin doesn't remotely approach 50 pence, in any intrinsic sense; each coin contains eight grams of copper-nickel alloy, worth a fraction of a penny as scrap metal. But it may be exchanged for commodities to the value of 50 pence because of the shared understanding that it signifies that value. Thanks to Tom Phillips, the 50p now has an extra layer of signification on its reverse, promising to pay the bearer's way into the rich hinterland where the wild echoes of Britten, Peter Pears and Tennyson are still flying.
Related Articles
Open Book: Art, Poetry and the Making of the Book (Matthew Sperling)
Recommended for you