Among Paul Cézanne's most radical and memorable canvases are portraits. As such, they have appeared in virtually all retrospective surveys of his work, beginning with the first, at the Paris Salon d'Automne of 1907, the year after his death, an exhibition that decisively influenced Henri Matisse and Pablo Picasso, among other artists. In 1910, Ambroise Vollard, who had been the artist's dealer, capitalised on the burgeoning interest in Cézanne's work by showing in his gallery 24 'Figures de Cézanne'. That, however, remained the only previous exhibition devoted to his portraits when, some half dozen years ago, I was approached by London's National Portrait Gallery about organising a more comprehensive one. The result, 'Cézanne Portraits,' is on view there this autumn as a 50-work survey (which was previously at the Musée d'Orsay and will be at the National Gallery of Art in Washington next year). It spans the artist's career, including such famous works as Madame Cézanne in a Red Armchair (c. 1877), from the Museum of Fine Arts, Boston, to little-known ones, such as Girl with a Doll (c. 1895) from a private collection.
Cézanne would not accept portrait commissions. He mainly painted himself, his family and friends, and local people in Aix-en-Provence. As a result, there are a good number of two or more portraits of the same person painted around the same time. Curators of Cézanne retrospectives, generally not having the space for much repetition, reasonably chose the single works they preferred. Therefore, Cézanne's creation of complementary pairs and series of versions of the same subject was never comprehensively explored.
Since loan exhibitions comprise the art of the possible, some pairs and series could not be reunited for the present one. However, sufficient of them have been, in whole or in part: among them, several of the early, palette-knife portraits of Cézanne's Uncle Dominique from 1866; a great pair of self-portraits from 1885–86; and groups of canvases from each of the three series of portraits of Madame Cézanne made in that same decade. These works tell us how Cézanne's methodical method of painting – 'one stroke after the other, one after the other,' was how he described it – readily became a practice involving the creation of one painting after the other of the same subject.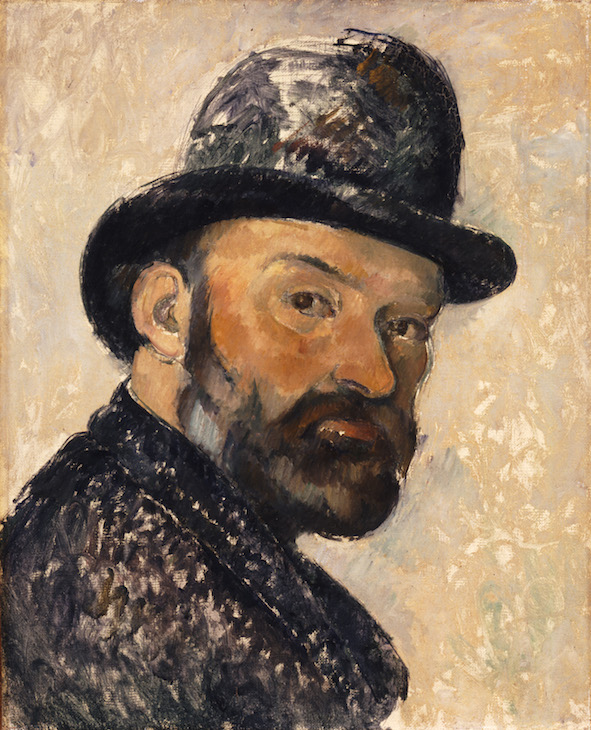 His 'one stroke after the other' approach links the aggregated paint-patches of the early palette-knife pictures to the 'constructive brushstrokes' of the self-portraits of the mid 1880s. Painting was a series of deliberate operations for him, which is why some portraits took so long to complete. Vollard's claim that Cézanne required 115 sittings to paint his portrait of 1899 is probably exaggerated. However, bringing this canvas together with contemporaneous works allows us to see that it is not alone in showing encrusted pigment with multiple revisions, some clearly on top of a paint film that had already dried – while other works were visibly done in a relatively short time. An aim of this exhibition, like my preceding ones devoted to Matisse and Willem de Kooning, was to reveal pictorial practices.
Still, the content of these paintings matters. One reason, I think, why there has never previously been a survey of Cézanne's portraits is that his reputation, as it developed in the early 20th century, was as someone who had transformed Impressionism into a newly structured art, paving the way for modernist abstraction. This meant that critics paid more attention to style than subject-matter; and, therefore, that paintings of mute objects and natural scenes – still lifes and landscapes – seemed more central to his achievement than paintings of actual, individual people.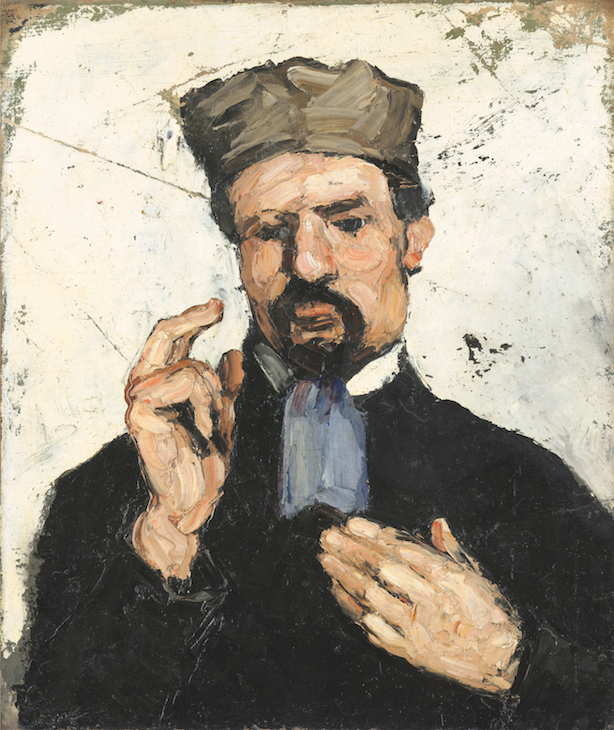 The portraits were less readily embraced for another reason. The poet Rainer Marie Rilke observed in 1907 that what people found offensive, even comical about them was Cézanne's 'limitless objectivity, refusing any kind of meddling in an alien unity' – that is to say, into someone else's 'personality,' 'character,' or 'psyche', long thought to have been necessary aims of portraiture. Cézanne wanted simply to paint the objective, permanent presence of someone seen. He refused to be flattering and wouldn't paint people who expected it. He wouldn't make men look important or women beautiful, and didn't allow anyone to smile: no acting, nothing demonstrative, no eager-to-please poses, was his rule. As I worked on this exhibition, I came to realise that Cézanne's approach seems even more radical – and refreshing – in the era of selfies; and hope that it will catch on.
'Cézanne Portraits' is at the National Portrait Gallery, London, until 11 February 2018.
From the October 2017 issue of Apollo: preview and subscribe here
Recommended for you