Museums should not exist in isolation. This maxim is increasingly at the core of museum and gallery ideologies. Whether by becoming a focus for local community activities, sharing collections that are normally kept in store with other museums, or forging partnerships with other cultural organisations, museums are now inextricably connected with the wider world. By and large they represent far less intimidating, elitist institutions, and are increasingly seen as diverse social spaces.
Digital media is, in particular, providing a promising means to make such connections. Many museums have been quick to take up the opportunities offered by various digital platforms, especially social media. Now that so many visitors have smart phones, museums can use digital tools to encourage engagement beyond the gallery walls. Apps and mobile-enabled websites are one, fairly simple, means of doing this.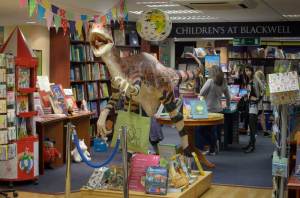 The Oxford University Museum of Natural History has been closed this year while the glorious Victorian building undergoes roof restoration. In order to keep their collections active, museum staff have created Goes to Town, a mobile website that allows you to follow 12 exhibits that have 'sneaked out' into the city.
The famous dodo, for instance, can be found checking out the 'Ark to Ashmolean' gallery in its fellow university museum, while the bookworm has made himself at home in the Oxfam Bookshop. The simple website tour allows you to follow these intrepid objects on a map, listen to relevant podcasts by university academics or curators, and enter a competition to find the species with the highest danger and rarity rating.
In Bloomsbury in London, you can barely move without stumbling across a museum. The 13 collections within this square mile have teamed up to create a simple trail, Museum Mile, which takes you into each collection to visit one key object.
Podcasts from a range of commentators discuss each object. Stephen Fry, for instance, introduces you to Sir John Soane's Museum by focusing on an Egyptian burial crypt. The idea is, of course, that having been drawn in by one object in each collection you'll be inspired to stay and see more. While walking between the different collections you can learn about the history of parts of Bloomsbury itself. I wonder if there might now be scope to join this trail up with apps like the Museum of London's Street Museum, which allows you to see images of historic London as you move around the city.
101 Obras Maestras (101 Masterworks) is a mobile guide to Madrid, which I think unites the best parts of all these ideas. With a simple map as the main page, a series of subject tabs allows you to find and learn about connections in science and art across all the major museums and libraries in Madrid. Short, lively articles by a range of academics and commentators bring out the links that run across collections.
Themes include 'Exoticisms', 'The Human Body', 'The Faces of Science' and 'The Cosmos' and take you from the Palacio Real to Chamberí Station via the Prado. You might learn about the painting of Charles III's anteater, from the circle of Anton Rafael Mengs, in the Museo Nacional de Ciencias Naturales and then head off to discover a view of the Royal Observatory of Madrid at the Biblioteca Nacional, a building developed under the same monarch's patronage.
What brilliant ways to connect single objects, collections, museums, ideas, themes, out into the urban space and between different institutions. With your smart phone you can engage as little or as much as you want. Why not start by following these different initiatives on Twitter and seeing how much more mileage you can get out of a museum?
Unlimited access from just $16 every 3 months
Subscribe to get unlimited and exclusive access to the top art stories, interviews and exhibition reviews.
Recommended for you