Enrico David is hugging a big blow-up Santa Claus, is dwarfed by it really, while a second boy holds his brother's hat up for the camera. 'It was gigantic,' David says, still tickled by this picture of his three-year-old self, which he stumbled on while sorting through family photographs at Christmas. The conversation moves on, but not that far, as I start to tell him about how vast a teddy bear had seemed to me at that age. 'Would you like to see my teddy bear?' he asks, and heads across the room.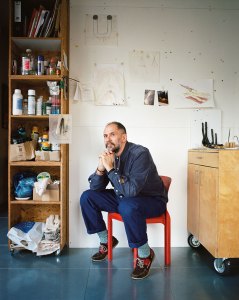 On a bright day in January, we are in David's studio, a large first-floor space in a modern brick-clad building near the Regent's Canal in Hackney, where the artist has lived and worked for more than six years. The door to the studio opens on to a modest working area, unmistakably a place for making things: rolls of material are propped against the walls, Stanley knives keep guard over a table, and on the floor are a handful of drawings and a short, curved length of metal rod – an offcut, probably, but perhaps waiting to be used. Beyond a partition is a comfortable living space, somehow more stylish for its slightly improvised feel, apart from but still part of the studio. On a run of chipboard cupboards stand various small sculptures and other items that David has acquired here and there, some of which will accompany a display of his own sculptures, intermixed with works by Liliana Moro and the late Chiara Fumai, in the Italian Pavilion at the Venice Biennale this summer. David rummages in one of the cupboards and retrieves a much-loved bear with one ear.
David's sculptures, with their contorted, often monstrous bodies, and their strange apposition of the polished and the precarious, seem a world away from fond reminiscences of childhood. But there is a playful innocence about him, albeit alloyed to a great deal of knowledge, that finds its expression in the mixture of charm and disquiet that characterises so much of his work. David's forms and compositions are often beguiling, even familiar, with their rich range of art-historical quotation and their graphic restraint, but they body forth our darkest thoughts, fears and desires: 'There's nothing wrong in quoting or evoking a feeling of recognisability, because it's a good starting point,' he tells me. 'Where that takes you is another story.'
In Fortress Shadow (2017), for instance, the two Jesmonite figures aslant an architectural plinth – seemingly plucked from De Chirico – look like dolls dreamt up by Giacometti, but with their mouths scratched out; they are condemned to strain in their impossible limbo dance forever, or are perhaps forever falling. The woman in Life Sentences (2014) is calmly reading, as poised as any of David's figures; but she is a grotesque, hybrid creature, her balance dependent on the chain gang of limbs that recede down her tail. Perhaps, like dark playthings, these are objects that can help us better understand ourselves, how our equilibrium may be contingent on what we repress: 'I imagine them as tools to grow with,' David says. 'I think of them as toys. A lot of them actually make me think of the playful nature of a child with a thing.'
In its scale, certainly, David's work is easily relatable. His sculpted figures, if never entirely human, tend to be life-sized or smaller, while his textile works and paintings may be large but are never monumental. Other works through the years have riffed on, and roughed up, furniture: Untitled (2011) is a console table whose surface is borne up by an angular stick figure or figures, as though an Italian design classic had been displaced to the lower terraces of Mount Purgatory. 'I tend to think that the dimension of the works that I make should never exceed the dimensions of a domestic environment, maybe,' David says. 'As a habit I think that there is a sense of almost organically integrating the work, or the thinking of the work, and the language around the work, in the life that I live.
'It comes from a time when I couldn't do otherwise,' he continues. 'Working from home was a necessity, and I developed a way of working that was somehow congenial to the domesticity of the place.' Born in Ancona in 1966, David first came to London in the mid '80s, drawn by the music scene and, having enrolled to study modern languages in Bologna, the desire to learn English. 'I really had this sense that I needed to get away from my home town,' he says, 'or get away from my environment, to find myself and to find a life I could make for myself. London was a logical destination.' He returned to Italy, but soon moved back, establishing himself in Brixton. Having started to paint at home, he signed up for a foundation course in south London for unemployed people, run by the feminist artist Kay Fido. 'She was great. I became aware of things like Greenham Common – activism happening in this country, linked to creativity […] We had amazing people coming to give lectures, like Stuart Brisley and Mark Wallinger.'
From there, David was encouraged to apply for a BA at Central Saint Martins, which gave him the intellectual breathing space to develop his own idiom. In the early 1990s, with the YBAs roistering away at Goldsmiths, Saint Martins 'was such a kind of cradle of irrelevance […] there were no expectations unless you were a fashion student. There was a clear divide between different practices […] We were looked down on as being naff – wearing overalls.' Of his contemporaries on the fine-art course, only Thomas Houseago has gone on to have a high-profile career, and while David remembers soaking up the insight of his tutors, he also describes the period as 'an incredible self-education'. He discovered the work of Martin Kippenberger, Georg Baselitz and others while haunting bookshops in central London. David was never part of any group or movement – hence, perhaps, the breadth of historical company that his work seems to keep. In 1999, Charles Saatchi acquired one of his works from an exhibition in Glasgow, and he gradually rose to prominence; in 2003, he was included for the first time in the Venice Biennale, curated by Francesco Bonami.
David's Italian upbringing had also been formative, however much London represented a break from it. Critics have noted how the faces of his sculptures seem to draw on the fresco cycles of Giotto, their saintly retinues twisted or fused into bouquets of grimacing heads – in works such as Racket I and Racket II (both 2017) – or a jawbone of cowled teeth (The Assumption of Weee, 2014). David acknowledges that 'a sort of folkloric aspect' of Italian art may have seeped into his work, but points out that even in Ancona he had begun to develop his own personal canon: 'There was a shop that sold posters and art books, and that's where my very first brush with art came from. It must have been in 1979, 1980, that I saw a book on German Expressionism. That was the thing that was just "Oh my God" – Kirchner and Schmidt-Rottluff and so on, that was my first wave of visual enrichment. I had been contaminated with something.'
David's care for materials, and the fact that – working with only one assistant – he continues to be such an insistent maker of things, coincides with the creative proclivities of his family. His mother was a skilled dressmaker, his father a furniture maker for Neon Ancona. Today, his brother is a leather craftsman, and his sister, with whom he has collaborated on textile pieces, restores antique fabrics. 'My father's car was full of bits,' David recalls. 'Whenever I was sitting in the back of the car there were samplers of Perspex and pieces of Formica […] Making things, handling things… there was an element of naturalness about it.' He has employed a wide range of traditional techniques throughout his career – painting, carving, casting, working with textiles ('a familiar medium'), and even marquetry (as well as collage and photography).
It is with writing and drawing, though, that the work begins, not so much with sketches of objects to be realised as with explorations of the recesses of the mind. 'I think of my work primarily as a linguistic apparatus,' he says. 'So much of what happens in and around it has to do with my linguistic endeavours. Writing has been a very important part of my work, though I've never necessarily made it public.' Speech – the opportunities and obstacles it creates, and the fear that it will be stymied or worse – often haunts David's images and objects: wire sculptures of heads from 2010 have massy phallic thoraxes, seemingly choked by what makes them most substantial; on one, razor-clam shells perch where there should be lips. In Restless (2017), a face in extreme pain, trapped in a cage of wire, crests what looks like a flying arrow; from its shaft sprout more loops of wire – a hopeless single wing, perhaps, or a set of empty speech bubbles.
Drawing, if anything, has an even more direct relationship with the sculptures. 'My sculptures try to somehow represent the drawings,' he says, 'and the drawings end up being the representation of something that cannot quite be described.' Making the sculptures, then, is an investigation of how to give plastic form to things apprehended but not fully comprehended: 'The attempt at representing something is definitely pre-thought.' Many of the recent works, cast in the dull white of Jesmonite, translate that intuitive moment, captured on the page, into three dimensions: 'The whiteness that I found in Jesmonite reminds me of the space that the paper has, and then the adding of the graphite brings the drawing element to the sculpture.' Indeed, the strange meeting of the finished and unfinished, so palpable in many of these sculptures, seems to evoke the open-endedness of drawing. 'Sometimes there is something that looks unfinished, but it's totally finished,' David says, 'it's just that the work needs that space in between its elements.'
There is intuition at play, too, in how David selects the drawings that may become sculptures: 'I trust the fact that there is a sense of urgency about what I end up picking.' He is not drawing much at the moment, he says, but for him the medium represents a continuum that stretches back through his career, every drawing 'part of one massive drawing' that he can return to or mobilise as source material for works in other formats. 'The relationship between writing, reading, making, drawing, it's all part of this weird dance,' he says.
That David's work progresses by looping back on itself is emphasised in an exhibition that opened at the Museum of Contemporary Art in Chicago last autumn, and has now travelled to the Hirshhorn Museum and Sculpture Garden, Washington, D.C. (until 2 September) – his largest US exhibition to date, with pieces dating from as early as 1999 (see cover). Its subtitle, 'Gradations of Slow Release', borrowed from a sculpture of 2015, foregrounds both the lyrical, non-linear logic of David's body of work and how individual pieces insinuate themselves, gently but unnervingly, in the viewer's mind. In Chicago, for instance, Untitled (Ombre Rosse), a wool-on-canvas work from 2017, hung above two earlier graphite rubbings of human figures on tan paper, their arms raised in resistance, and curling from the wall like plaster citizens of Pompeii transformed into fortune-telling fish. The lines of the later work reprise those of the earlier, those bodies and their torments returning with new life.
Our thoughts and bodies, such works remind us, slip effortlessly – and unpredictably – from the presentable to the perverse, the poised to the abject. In the art of Enrico David, for all its allure, we may recognise aspects of ourselves that we would prefer not to. 'We're not that different, deep down,' he says. 'Ultimately you're as freaked out about things as I am.'
'Enrico David: Gradations of Slow Release' is at the Hirshhorn Museum and Sculpture Garden, Washington, D.C., until 2 September.
From the May 2019 issue of Apollo. Preview and subscribe here.
Black Friday sale: 6 months for the price of 3
Subscribe using our Black Friday sale to get six months of the most incisive art writing available for the price of three.
Recommended for you