Fiona MacCarthy, who died last month at the age of 80, was for the past quarter-century an outstanding biographer of cultural figures, as well as a champion of contemporary design and craft production. Her best books were lives of Eric Gill, William Morris and Walter Gropius, all artist-makers with utopian dreams.
As a biographer her hallmark was judicious assessment of her subjects' aspirations and acts. Thus, the impulse that led the architect and designer C.R. Ashbee to transplant his Guild of Handicraft from Whitechapel to Chipping Campden – the ideal of egalitarian self-sufficiency in rural England – involved much spadework, literal and figurative, as MacCarthy chronicled in her first book The Simple Life (1981). Doomed to failure, it was nonetheless 'a heroic period while it lasted, and in all its ironies and forlorn hopes, extremely poignant'.
MacCarthy discovered Ashbee through the silversmith Robert Welch, at the time working in the Guild's former premises. Sculptor, Catholic convert and commune-leader Eric Gill, whose biography she published in 1989, proved more challenging, as she learned through his diaries. Was it possible to reconcile the 'extraordinary contradiction' of the creator of such aesthetically pleasing art and graphic work with the patriarchal abuser? Listing the sexual activities of a devout man who habitually wore a girdle of chastity, through successive adulteries, incest and bestiality, she calmly noted that though none was especially horrifying, their occurrence in an ordered, pious household was 'disconcerting'. So too was the realisation that Gill's previous biographers had suppressed these facts to present a saintly, charismatic artist. The book was attacked from both sides, Gill's family and supporters protesting against the revelations, others angry that they were not forcefully condemned. MacCarthy refused to allow moral disgust to cancel admiration: Gill remained 'a great artist-craftsman'.
Her lasting love was fine craft, primarily the valorisation of the designer-maker as that practice evolved over the past two centuries in conjunction with and in opposition to industrial and electronic production. After a couple of flawed heroes (and her subjects were all heroes) she found William Morris, whose aspirations towards a fulfilling blend of creative work and political campaigning made him a reliable hero and beacon, as portrayed in A Life for Our Time (1994). MacCarthy endorsed Morris's vision of a harmonious society, a protected environment and well-crafted possessions. His close friend and colleague Edward Burne-Jones was less congenial, although The Last Pre-Raphaelite (2011) did not confess to a lack of sympathy with the self-absorbed artist.
She herself was born (in 1940) into privilege, as great-granddaughter of Sir Robert McAlpine, of concrete-construction fame; but also into war, the daughter of an army officer killed in action. An unsettled childhood involved some time living in the Dorchester Hotel, built by McAlpine, followed by education at Wycombe Abbey school and Lady Margaret Hall at Oxford, with a year in between among the last cohort of debutantes. Briefly married into a 'county' family, she escaped to Condé Nast and the glossy magazine House & Garden – then under the editorship of Robert Harling – where she progressed into 'what would soon be known as lifestyle features'. In 1963 MacCarthy became design correspondent for the Guardian; interviews with figures ranging from Alvar Aalto to David Hockney nurtured her interest in contemporary arts – and led to marriage with the tableware designer David Mellor and the birth of their two children. Together they renovated Broomhall in Sheffield as workshop and home, before moving in 1990 to Hathersage and the Round Building, a converted former gasworks which again served both their work and domestic life.
Immaculately coiffed and dressed, usually in stylish black, Fiona presented an imperturbably professional self that belied generosity and warmth. Despite links to the swinging sixties, she was not beguiled by swirling psychedelic designs, preferring the more austere satisfactions of modernism. She was a valued president of the Twentieth Century Society and of the William Morris Society, and welcomed the latter's members to the Round Building after a recent AGM in Sheffield. She resisted invitations to become a public figure or celebrity author, typically entering writing purdah when engaged in research and composition. As biographers our subjects intersected, and she freely shared knowledge. Without false modesty, she claimed intellectual diffidence, later writing of her methodology as patient 'whittling away at received opinion, listening, watching, reassessing, hoping to get closer to the way things really were'.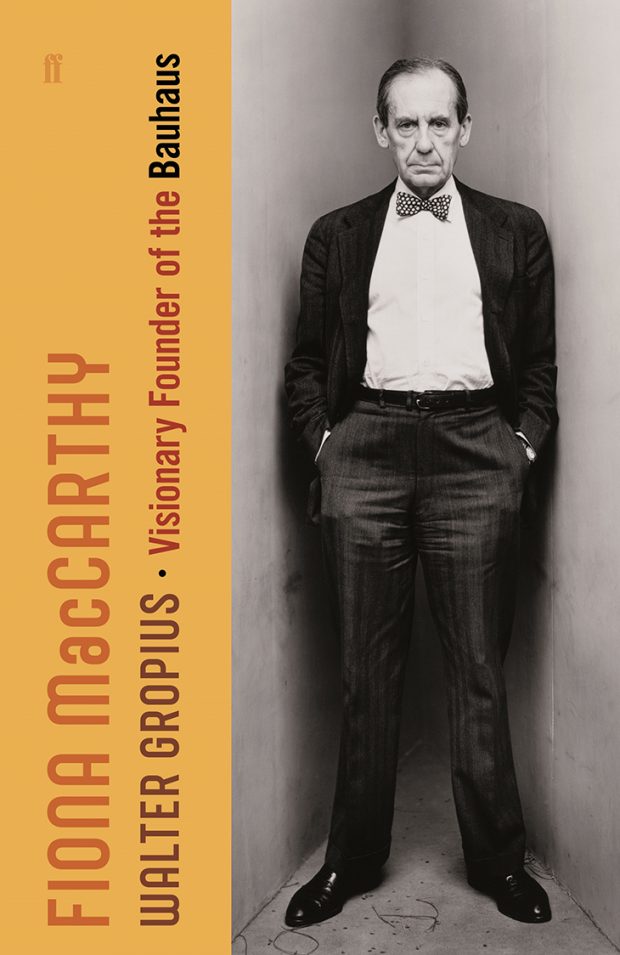 Her ability to evoke a historical world from available fragments was demonstrated in her autobiographical Last Curtsey (2006), proffering a line-up of double-barrelled debs and events of the social Season to lure the reader into the era of court presentations and Sloaney snobbery, always with her trademark objectivity. Mellor died in 2009, his last years having been clouded by dementia, and with typical self-discipline MacCarthy embarked on what proved her final doorstop project, the life story of Walter Gropius, Visionary Founder of the Bauhaus (2019) and godfather of modern design, rounding up her own career with a return to where she first started.
Thanks to assiduous research, scrupulous scholarship and a smooth style, her books have deservedly become classics. In an age ready to issue a 'new life' of a famous name every other year, they will not soon be eclipsed.
Recommended for you