Daniel Crouch Rare Books is the first books and maps dealer to take a stand at Frieze Masters.
Tell us a bit about the history of your business
I have always had a passion for rare books and maps. I have worked as a bookseller since the age of 16, starting at Sanders of Oxford on weekends and holidays whilst at school and university. Daniel Crouch Rare Books was founded in 2010 with my business partner Nick Trimming: we had worked together previously at both Bonham's and Shapero.
We are niche dealers in antique atlases, maps, plans, sea charts and voyages dating from the 15th to the 19th centuries, as well as navigational instruments and globes, and a selection of cartographic reference books. Our particular passions include rare atlases, wall maps, and separately published maps and charts, and we strive to acquire unusual and quirky maps that are in fine condition.
How did the idea for your stand at Frieze Masters come about?
We wanted to illustrate the mapmaker's art alongside paper scientific instruments in a contemporary setting, to highlight that these objects, whilst functional, are also works of art.
What, for you, is the most interesting or significant piece in the display? And the most popular one?
The most interesting for me personally is the map screen by Thomas Willdey. Willdey was a toymaker and – to be truthful – a commercially unsuccessful mapmaker. The screen, one of two recorded, is an interesting example of an 18th-century businessman's attempt at diversification – he turned his apparently incomplete atlas into a piece of decorative art.
The most popular item is undoubtedly Petrus Apianus' Astronomicum Caesarum – one of the earliest books to use moving parts and a compendium of instruments that show and predict the movement of the planets, together with time and date.
The head of the Courtauld Gallery also chose the Astronomicum Caesareum as one of his Frieze Masters highlights.
How has the market changed in your field since you started dealing?
Maps are sexy. It's our mission to convince more people of this fact, but, fortunately, people seem to be realising. More people travel and emigrate than ever before and so, I think, there is a newfound interest in and respect for travel and the idea of 'place'. This has made maps and atlases more popular.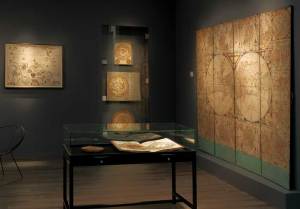 The top of the market has been performing strongly for many years now, with a focus on a small number of set-piece art fairs (TEFAF, Frieze, Masterpiece London etc.). This is predominantly the area in which we deal. The lower end 'collectibles' side of the business now has a natural home on the internet, with a price depressive market, on sites such as eBay and AbeBooks: the 'squeezed middle'.
Do you collect yourself?
Yes. I collect maps, prints and books relating to Oxford and Oxfordshire. I have a habit as bad as any of my customers!
If you could take home one artwork from Frieze Masters, which would it be?
Am I allowed to choose something of my own? Sorry, but I really am an obsessive…I would like to take the three sea charts of by Blaeu and Doncker that grace the back of our stand!
If you weren't an art dealer, what would you be?
It is inconceivable, but, if pressed: a chef. I LOVE cooking.
Daniel Crouch Rare Books is at Frieze Masters (Stand B10) until 19 October.
Related Articles
The greatest hits of London cartography: 'Mapping London' at Oxo Tower Wharf (Peter Watts)
Recommended for you