Introducing Rakewell, Apollo's wandering eye on the art world. Look out for regular posts taking a rakish perspective on art and museum stories.
Strange goings-on in North London, where Rakewell hears an American 'street artist' has created a work commemorating the record reign of Queen Elizabeth II. The work shows her Britannic Majesty posing provocatively in front of the Union Flag, her bum bared in the direction of unseen onlookers. Behind her, the word 'HISTORY' is daubed in splattered lettering.
The culprit, who goes by the name of Pegasus, professes weighty ambitions: 'I have been fascinated by the transition in the Royal Family from monarchy to celebrity over recent years', he told Mashable, perhaps not quite grasping that the monarchy is still, erm, a monarchy. '(I) wanted to add a bit of modern day celebrity influence into the piece, hence the nude bum'.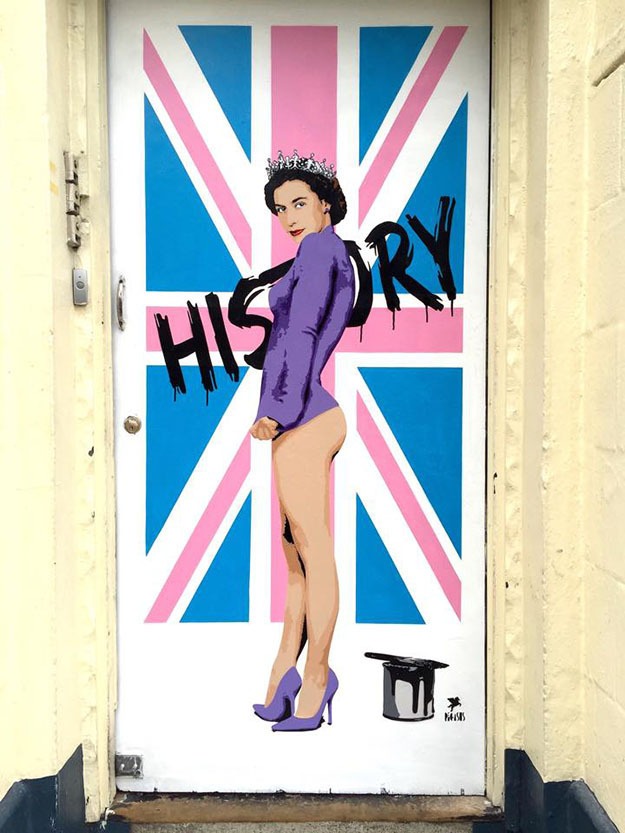 The Queen has suffered similar (though arguably not quite as flagrant) artistic indignities before. A 2001 portrait by Lucian Freud was described as a 'travesty' by the Sun, and when Vanity Fair's Annie Leibovitz photographed her six years later, the hapless snapper described the monarch as 'perturbed' by the experience. 'I'm not changing anything. I've had enough of dressing like this, thank you very much', she was filmed telling a lady-in-waiting. As for erstwhile TV personality Rolf Harris's Royal portrait, the less said, the better.
Pegasus himself has past form and celebrity fans. Last year, the actor Johnny Depp – an aspiring artist himself – spent an alleged £25,000 on the artist's portrait of a nude and heavily pregnant Kate Middleton, also purchasing a similarly saucy rendering of the Queen for a reportedly identical sum.
For his part, Pegasus acknowledged his lapse of taste. 'I should be sent to the tower', he said. At least he's got one thing right…
Got a story for Rakewell? Email tips to rakewell@apollomag.com
Recommended for you