I last visited an art gallery on 25 February 2020, more than a year ago. In that time I've looked through all of my photobooks, re-hung my limited selection of reproductions and posters and gaffa-taped a banana to my wall, but none of these have replicated visiting an actual gallery.
Luckily the curator Hans Ulrich Obrist has a solution for me – and for anyone feeling deprived of art. The 'Do it' initiative he started in 1993 along with the artists Christian Boltanski and Bertrand Lavier has been expanded for lockdown times, with more artists adding to the project. Each artist's contribution takes the form of a set of instructions, some more conceptual (Virgil Abloh's asks us to 'Understand the nature of man'), some more concrete (Thao Nguyen Phan asks us to 'Dig a hole, plant a seed'). These instructions are published on the Serpentine Galleries' Twitter page and through a site on Google Arts & Culture. Stuck at home during the third UK national lockdown, I decided to follow through on a few of these sets of instructions; perhaps I could turn my home into an art gallery.
First up: Yazan Khalili makes the most of items in storage.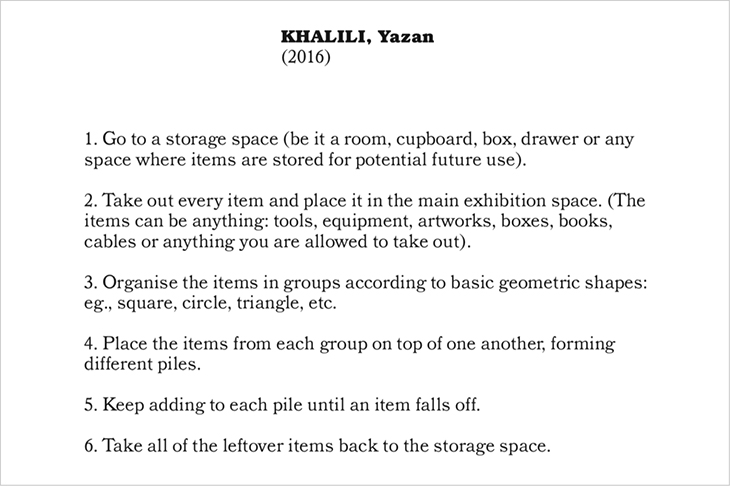 For much of the last year, my girlfriend and I have been renovating a house, so Khalili's instructions came as a welcome reminder to tidy up a pile of DIY bits and pieces. After arranging everything into vaguely relevant shapes I made a tower of circular objects, mostly paint pots, which stood about 5 feet tall in my garden alongside two smaller towers. Pleased with my first artwork I went to go and make a cup of tea. When I returned, the tower had fallen down, knocking the smaller towers down around it too. Mostly this task was helpful as it encouraged me to clear out some old paint pots. It was also quite fun: delicately piling stuff up is stupid and not something you get the chance to do very often. Although the collapse of the tower was disappointing, I'm not sure it would have made for a very attractive garden ornament.
Next up: Oscar Murillo's advice to renters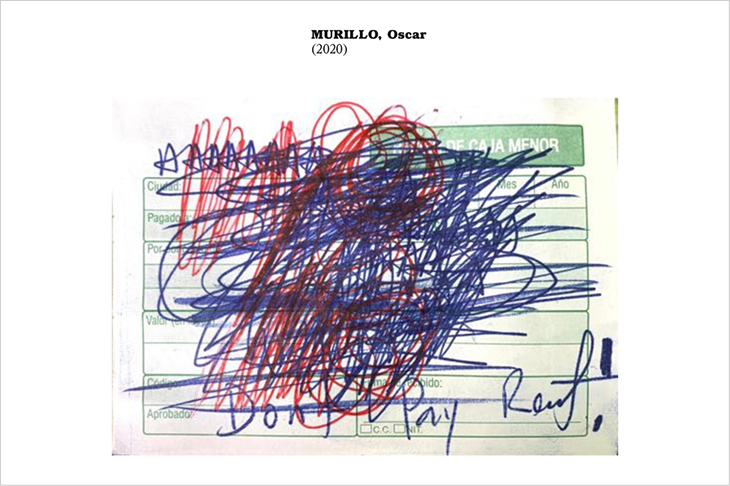 I read Murillo's instruction as 'Don't pay rent!' I pay a mortgage, so does not paying my mortgage count? If so, I can't imagine the creation of this artwork ending in anything other than me apologising to someone at Halifax and letting them know I'll be fixing this issue as soon as I can. Or I make a decision to be homeless for the rest of my life. Is Murillo asking that we reconsider something which is such an intrinsic part of everyone's lives? To consider whether a comfortable and safe place is a human right or something which should be paid for?
I can support this sentiment by not charging my cat Rufus rent. I think this will be a better option than telling my girlfriend that I'll no longer be paying my half of the mortgage.
Next up: let Tracey Emin reorganise your drinks cabinet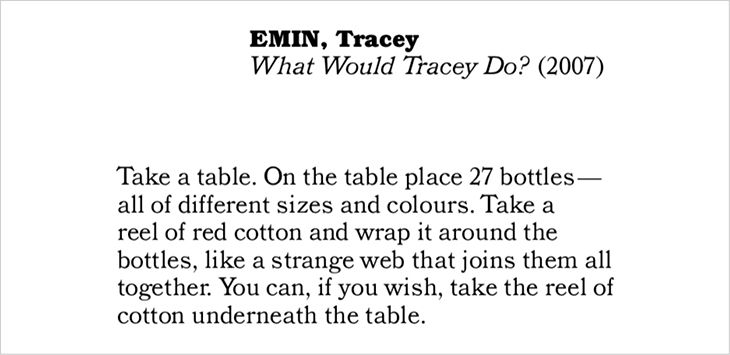 This starts as an exercise in remembering what weird bottles of spirits might be at the back of your cupboard. Why have I never drunk the tiny bottle of gin I was given on a Portuguese airlines flight, will I ever drink the purple bottle of hemp rum? I started with the bottles a little spaced out from one another and the more I wrapped the more they were drawn towards one another. I found myself wanting to include all the bottles into the emerging cluster, even the tiny bottle of gin. After a while you end up with a single structure of bottles and thread bound to your table, none of the bottles drinkable any more. The tension created by wrapping the thread makes for a satisfying object, and the process is more meditative than I thought it would be.
Next up: a task set by the world's biggest boyband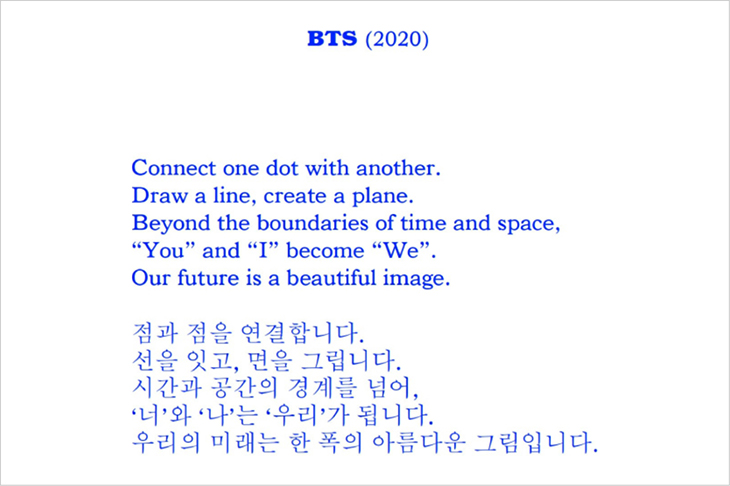 The difficulty of BTS's task is defined by how far apart the two dots are. The further they are apart the harder it is to create a line which connects them. Is 'our future together' ideally a straight line or a slightly wobbly one, which is the more 'beautiful image'? As metaphors go it's hard to think of a more universal or trite one.
Enlisting the biggest K-Pop band to bring contemporary art to a mass audience is a huge success. When the instruction was published on the Serptentine's Twitter the Google Arts & Culture site crashed from the traffic:
Our future is a beautiful image.

Do it by @bts_bighit #BTS
#doitaroundtheworld is a new chapter of @HUObrist's ongoing 'do it' exhibition with @googlearts.

Find out more: https://t.co/IKJnSuSPZD

Do it archive: https://t.co/tbDlO3kt7y pic.twitter.com/Y7vkV61pMg

— Serpentine Galleries (@SerpentineUK) August 18, 2020
As far as encouraging these fans to give the 'Do It' tasks a go, @MINPDSUGA93's comment is representative of the majority of responses:
WHAT IS THIS pic.twitter.com/YrntUvpEeD

— chels⁷🍊 (@MINPDSUGA93) August 18, 2020
Next up: doodling with Torkwase Dyson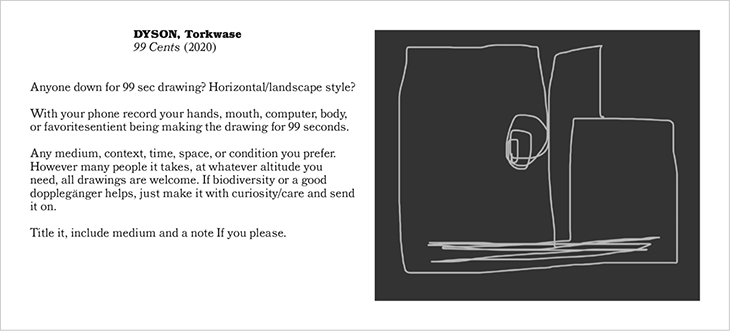 For most people, doodling for 99 seconds is a manageable task. It's a comfortable amount of time to stay away from your phone without feeling anxious. I found it an addictive exercise and ended up doing it quite a few times. There were shapes I found myself returning to, so I pushed myself to draw something new. To know that you are doodling releases the pressure of having to try to draw anything well. You can allow yourself to create shapes and link them together, or not; you can try to fill a space or just draw a single line contorting itself across a page, and then after 99 seconds you can give it another go. It may be a bit of a cliché, but I'd forgotten how much I enjoy drawing.
Next up: cooking with Rirkrit Tiravanija
Despite the lack of a title, it's not hard to work out that Tiravanija's instructions are for a curry paste. It doesn't take long, fills your kitchen with a nice smell and is quite hard to go wrong with. Once you chose to follow the instructions there is a lack of the freedom as to how you might interpret them. 'How is that art?' my girlfriend asked when I told her I was going to be creating an artwork in our kitchen. I didn't have any answer more insightful than 'How is it not art?' But I found it satisfying to make something practical after wrapping thread around a table and piling up paint pots, and the paste you make can be made into a very good curry. As far as my audience (my girlfriend) was concerned, I think this was its favourite piece.
Next up: a less fulfilling task from Rirkrit Tiranvanija
Tiravanija's second contribution to 'Do It' doesn't produce anything as satisfying as a curry. And I feel a lot of people might already be creating this artwork every day without knowing it. Doing these tasks while imagining Tiravanija shouting them at me, as the capital letters seem to imply, added nothing to them for me, although maybe my teeth are a little cleaner than they might have been otherwise.
And finally: Cao Fei keeps an eye on things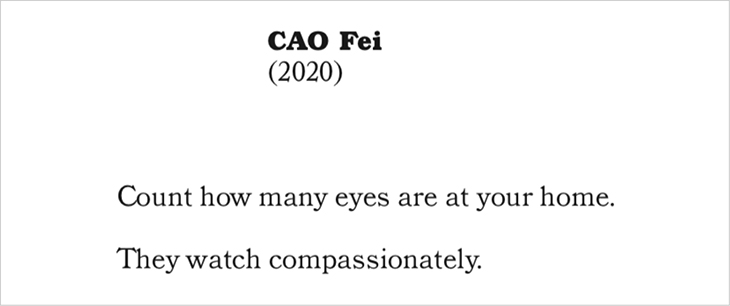 I counted 20. My cat got annoyed with me trying to take a picture of his eyes though so I question his compassion. But this was a comforting exercise: it's nice to imagine these (mostly inanimate) eyes caring about me. I feel a person on the verge of a breakdown might say the same thing though.
Most of my days, as many other people's are now, are spent working online, speaking into my laptop and staring at it; my experience of so much of life comes through my screen. However futile some of the instructions may have been they took me away from my screen. I was reminded that I like drawing and that stacking things on top of each other is fun, even if everything falls over. If a gallery is meant to be a space where you're encouraged to think outside your usual trains of thought then in a way I recreated the experience. But if a gallery is also somewhere where you don't have to worry about tidying up after yourself, then the 'Do it' tasks leave a little to be desired.
Unlimited access from just $16 every 3 months
Subscribe to get unlimited and exclusive access to the top art stories, interviews and exhibition reviews.
Recommended for you