Ruth Scurr's entrancing new book, John Aubrey, My Own Life, stitches together fragments of the 17th-century antiquary's own writing, to create a patchwork diary or autobiography that reads as if it had been composed by the man himself. Aubrey emerges from the book in a moving and vivid portrait. He was learned, compulsively curious, gregarious, frank, modest, and endearingly hopeless at practicalities. Readers of Apollo will certainly be sympathetic to his inveterate collecting, often carried on in spite of unremitting financial bungling and looming crises.
Aubrey was boundlessly interested in an array of subjects, ranging from astrology to biography through linguistics and pedagogy, but I was particularly struck by his writing about architecture. His descriptions of old buildings are evocative and humane. They still feel relevant, and perhaps even inspirational, for how we might think and write about the architecture of the past.
Take this passage, for example – a description of first coming across the stone circle at Avebury, while out hunting:
Then, to my astonishment, we came upon megaliths in a village called Avebury to rival the ones I have known since childhood at Stonehenge. I had not previously heard of these Avebury stones, so when the sight of them burst upon me I reined back my horse and dismounted in wonder. The rest of the hunt passed on, but I stayed marvelling at the bank and ditch and strange stone circles. I tried to picture how they must have looked in olden times. I think Druids erected the circles, and they were complete long ago. I was lost to the present, until suddenly I heard the hounds again and hastened to overtake them… I will return to draw those stones.
There is a freshness to Aubrey's writing, a pointed lucidity that completely eschews the pomposity of so much 17th-century prose. Also notable is his commitment to first hand observation, combining empirical precision with a palpable sense of excitement at discovery through architectural touring. Aubrey's accounts of Wiltshire or Surrey combine something of the scholarly precision of Pevsner's Buildings of England with the evocative delight of Betjeman's Shell Guides.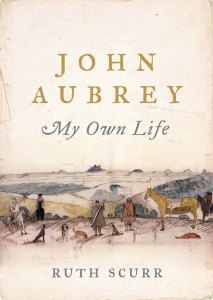 For Aubrey buildings represented a connection with history, providing an imaginative springboard into the past. This is true both for a distant history, as with the druids at Avebury, but also for the more recent past. While wandering around the parkland of Wilton House he imagines himself among the beau monde of the preceding century. At Gorhamby House he uses his visit, despite the fact that the place was by then 'defaced, as though barbarians made a conquest', to gain insight into its previous owner, Francis Bacon – who had died in the year of Aubrey's birth, but was nevertheless a guiding influence.
The way that Aubrey's approach to buildings appears most modern is in his intense feelings of loss at their demolition. Aubrey lived through a period of extreme disruption, especially during the Civil War. His melancholy anger at the destruction of buildings, whether through carelessness or iconoclasm, evokes more recent defenders of our built environment, such as Ian Nairn or Apollo's Gavin Stamp. One of Aubrey's proudest achievements was to have commissioned drawings of Osney Abbey, as it transpired in the nick-of-time. It collapsed soon after, following an explosion from a Royalist gunpowder factory. Such destruction meant the irretrievable cutting loose of a delicate fibre linking the present with the life of the past. As Aubrey wrote in personal valediction, 'I have rescued what I could of the past from the teeth of the time'. He is a tutelary spirit for all those committed to caring for our built past.
John Aubrey, My Own Life, by Ruth Scurr, is published by Chatto & Windus.
Related Articles
For the British modernists' take on Avebury, see our review of Henry Moore at the Yorkshire Sculpture Park, or 'New Horizons: British art and Flight'.
Black Friday sale: 6 months for the price of 3
Subscribe using our Black Friday sale to get six months of the most incisive art writing available for the price of three.
Recommended for you