Loïe Fuller was neither conventionally graceful nor classically trained. Born in Illinois, 'La Loïe' – as she became known – began her career as a child actor, performing in circus and burlesque shows and as a skirt dancer in vaudeville. Her ambitions soon outran American theatres uninterested in her more innovative ideas and she moved to Paris around 1892, at the age of 30, where she began performing with the Folies Bergères.
The exhibition of her life and work currently at La Casa Encendida in Madrid includes several films of her dances – all performed by other dancers – along with photographs, paintings and sculptures depicting her, and documents of her correspondences with famous friends, including Marie Curie, Rodin and Queen Marie of Romania.
Paris audiences were seduced by her intuitive improvisation, which she combined with complex mechanical set-ups involving several electricians who would manually switch on and off lights that Loïe had coloured herself with gels. Lacking the academic technique and poise of a ballerina, Loïe developed her act using stagecraft such as coloured lights, mirrors, and reflective costumes involving hundreds of metres of fabric. However, she eschewed complicated sets, stories or other peripheral content, instead utilising costume and lighting to emphasise the immediate expressions and movements of the body. By emphasising visual effects and abstract forms rather than fictional backdrops, she embodied the contemporaneous desire for a progressive art form that emerged from the inherent aesthetics of modern technology and materials.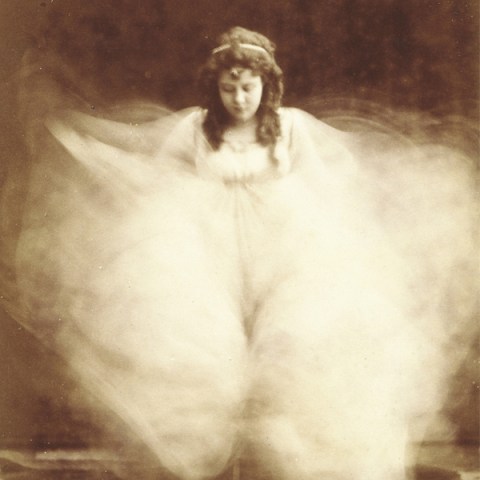 Loïe's career coincided with the advent of film, and her 'Serpentine Dance' appears in early films by the Lumière brothers, Edison Manufacturing, Skladanowsky, Alice Guy Blaché, George Demenÿ, and others. Loïe's dance was ideal material for the demonstration of the new film cameras, as its modern look enhanced the novelty of the technology. Some of the films are beautifully hand tinted to reproduce the effects of the coloured lights. Without these films it is likely that her work, ephemeral as it was, would have disappeared into obscurity.
For Loïe the stage was as much about enterprise as it was art. She was obsessed with new technology, and constantly experimented with innovations for her act, patenting several designs for inventions such as coloured gels and inset floor lighting. When radium was discovered, she wanted to use it to make iridescent fabric, and wrote to Marie Curie to ask her about it. Later she started a school, where she taught her improvisation techniques. A photograph of a trip to Egypt – in fact a collage of two photographs – of Loïe Fuller wrapped in fabric like a mummy, with her teenage protegés dancing behind her at the foot of the sphinx, is a deception typical of Loïe, who, having spent her entire life on the stage, understood that all art forms are based upon the tension between illusion and honesty.
Loïe doesn't fit into traditional categories. She was an artist, inventor, entrepreneur, technician, and dancer. And yet all of these things come to be inseperable in the moment of the dance. That's why they had to call her 'La Loïe'.
'Loïe Fuller' is on at La Casa Encendida, Madrid until 4 May 2014.
Recommended for you