54 Bell Street, NW1 at 6:50pm last Thursday. A wall of flesh and on-trend clothing is blocking my view of whatever constitutes the Lisson Gallery's new Ryan Gander exhibition (until 31 October). So I must apologise in advance. Though I have been – indeed, was invited – to the Ryan Gander show, I haven't actually seen it. The thirsty crowd beat me to it, but I bear no hard feelings.
Gate-crashing – or 'ligging' as adherents refer to it – is not a talent, merely a routine learned through consistent repetition. Two weeks ago, I found myself dusting off this questionable skill in order to get into the Ai Weiwei private view at the Royal Academy. I wanted to see his retrospective – the biggest show in town, if not on Earth at this present moment – while it was still relatively empty (until 13 December).
To be honest, I've always been a bit sniffy about Ai's art. I've seen it displayed countless times in venues across Europe, and nearly always found it unsubtle and insubstantial, a corpus built on borrowed ideas to which no debt is ever fully repaid. His work seemed to pay lip service to what it purported to represent, rather than embodying it. The superstar status granted him by his very real, and deeply worrying treatment by the Chinese authorities only complicated matters, and posed the question: are we celebrating the wrong dissident artist?
I now strongly believe that the answer is 'no'. Even if you think you know Ai Weiwei, the RA show will surprise you. It's a brilliantly coordinated overview of a body of work that adds up to more than the sum of its parts. The trouble is that it's impossible to judge it by the same standards we might apply to a British art star. A degree of cultural relativism is unavoidable here – not least because the show deals with his work since 1993, when he moved back to China from New York. In a sense, he too is looking at his homeland from an outsider's perspective.
Ai's work has told casual observers more about modern China and its failings than any journalist. Everything in the RA show deals directly with China and cultural memory, and unusually for a contemporary art exhibition, the best stuff is the most political. I challenge any visitor to Ai's show not to be moved by Straight, a huge pile of rods salvaged from jerry-built schools destroyed in the 2008 Sichuan earthquake. The names of the dead children line the walls around it – making them public was part of the reason Ai fell out of favour with the state in the first place. It's horrifying, but like the work of Otto Dix and Max Ernst, it is an all-too-rare reminder of what art can meaningfully reveal.
◎
The next morning, I traipsed to the Courtauld and – WHAM! – got hit in the face by the strangest, and possibly the most fascinating Bridget Riley show I have ever seen (until 17 January). It's tiny, just a single room with less than a dozen paintings in it, but it tells us more about Riley and her place in art history than any interview ever could.
Many of our greatest 20th-century painters admitted an admiration for the work of Seurat that verged on idolatry. As a young woman, Riley, apparently, was so intrigued as to what spurred the tragically short-lived Frenchman to paint, that she decided to copy his work in order to find out. Here, we see two of her Seurat copies, labelled so vaguely that you assume they are the work of the man himself.
As soon as you establish what the deal is, though, you begin to understand how Riley learned from him. Essentially, she found her own unmistakeable artistic language through painstakingly copying his pointillist rhythms, figuring out how abstract form could lull spectators into mindless awe. This is an astonishing exhibition. Buy a ticket and spend the rest of the day re-thinking your way round the peerless permanent collection.
◎
I was going to write about Anj Smith's show at Hauser & Wirth (until it's great – go see), but at the last minute I was summoned to the National Theatre for one of the most exciting London experiences I've ever had.
In the last London Diary, I mentioned Britain's growing fascination with concrete architecture. I wondered why we had suddenly become so enamoured of the 'brutalist' style that dominated the period's public projects. I think I've pinned it down to the demolition of Rodney Gordon's multi-storey car park in Gateshead, famous for its ill-starred appearance in the 1971 Michael Caine film Get Carter.
When Gordon's building was knocked down in 2010, the outcry was far louder than might reasonably be expected – it wasn't just architectural historians protesting, but members of the public concerned that we were callously bulldozing the physical vernacular of a more optimistic era. Two years ago, the artist Cyprien Gaillard even devoted an exhibition at Sprüth Magers to the building.
Gaillard captured the poignancy of the demolition perfectly. We tend to think of Brutalism as a forbidding, dystopian style, but its origins were purely utopian. It was a break with the apocalyptic past, suggesting the boundless possibilities offered by a peaceful future. It symbolised hope – and we allowed it to crumble.
The National Trust has finally cottoned on to this. Over the next month, it will be offering tours around various concrete landmarks, including London's National Theatre complex. Having walked through the service tunnels that make up the bowels of the building, all I can say is that you'd be a fool to miss out.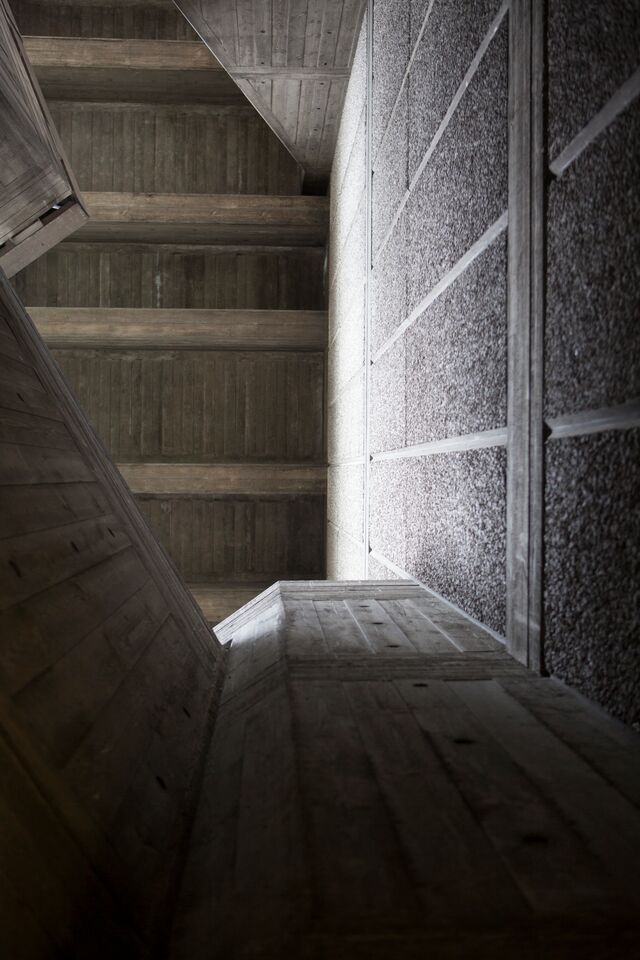 Black Friday sale: 6 months for the price of 3
Subscribe using our Black Friday sale to get six months of the most incisive art writing available for the price of three.
Recommended for you