Digby Warde-Aldam on London's most interesting exhibitions
I've never enjoyed the Royal Academy's Summer Exhibition all that much. There's always an air of forced jollity to it, and more often than not, a fair amount of truly rotten art. At the root of my problems with the event is that there's just too much to look at, and it's almost inevitable that the hang will end up hopelessly confused. If you were landed with the job of working on the selection committee, I suspect you'd wonder what past-life crime you'd committed for the honour.
But to give credit where credit's due, Michael Craig-Martin and his underlings have made a good fist of it this year (the 2015 exhibition runs from 8 June–16 August). Jim Lambie has decorated the Academy's staircase with the sort of colourful Op Art pattern that you might get on a particularly loud dressing gown, and the effect is a gloriously daft initiation to the show. Then, in the galleries themselves, the walls have been painted in a Haribo turquoise that is very much in tune with Craig-Martin's palette; I couldn't help thinking of his Globalisation map.
On its own terms, it's a bit of a triumph. There's a fair amount of dross here, but that's unavoidable, and if anything can be put down to my own prejudices against certain RAs. And no, I'm not naming names – that's for another day.
◎
I'm still puzzling over Agnes Martin. Her work is the last word in artistic subtlety, and more often than not, it is mesmerisingly beautiful. It has a magic to it that is beyond all articulacy, which is why discussion of her paintings often sounds so silly. Much is made of Martin's schizophrenia and her interest in eastern spirituality, but I think those things are irrelevant to looking at her output.
Perhaps it's because the work operates outside the domain of language that it's taken until now to mount a proper retrospective. Tate Modern's huge show (until 11 October) is wonderful, and largely lets Martin's peculiar genius speak for itself. No real attempt is made to dramatise her reclusive life story, and when biographical detail does come into play, it is used judiciously in service to the art. Reading about Martin's obsessive perfectionism – she abandoned almost as many canvases as she completed – made me look at these paintings in a completely different light. I wished I'd brought a foldable stool with me, so that I could sit in the gallery containing her Islands series and marvel at its spectral glory.
◎
London is an increasingly expensive city. Anyone who lives here knows this, as indeed do the not-inconsiderable number who would like to but cannot afford it. It's becoming harder and harder for new galleries to flourish, particularly in the platinum-graded districts of Mayfair and Soho. When Cork Street lost most of its galleries last year, the city's cultural geography was profoundly shaken, and even in the ramshackle East End, where cheap rents and boho attitude fostered the success of the YBAs, artists and dealers face some worrying eventualities as to their future.
Last week, I dropped into the recently-opened Soho Revue gallery on Greek Street for a coffee with artistic director Marine Tanguy. It's a nice space, on the generous side for this part of town, and Tanguy has big ambitions for it. She plans to foster new artists, using the location to showcase their work to collectors who wouldn't be seen dead east of the Tower. The gallery even produces its own magazine, printed on rough, pulpy paper that is anathema to the standard gloss of art publications.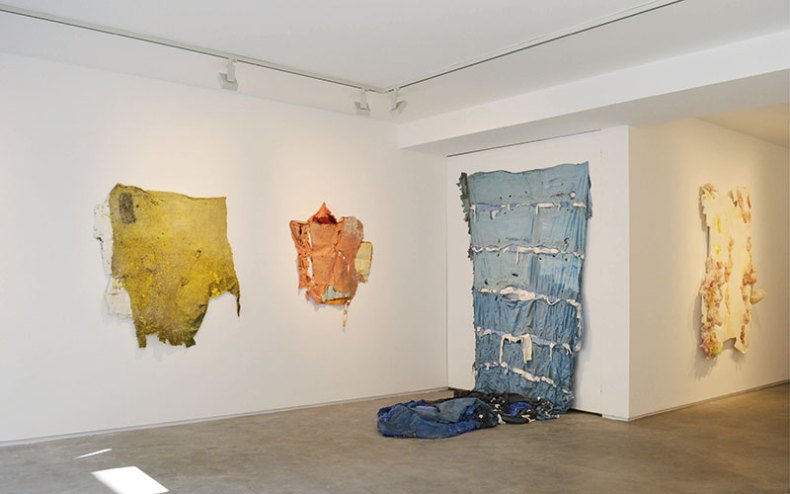 Is it working out? Given that it's been open for only a few months, it's difficult to say just now. But on the strength of the current show (until 22 June), so far, so good. Scarlett Bowman and Georgina Hodgson take markedly different approaches to their work; while the former's art is conceptually-loaded, the latter seems to be concerned more with storytelling, and sees no embarrassment in wearing her heart on her paint-flecked sleeve. Both produce work that owes a heavy debt to Rachel Whiteread and her ghostly negative impressions – not that there's anything wrong with that. The work succeeds on its own terms, even if those terms can at times feel a little self-conscious. In any case, it's well worth investigating their delightful joint show.
◎
Finally, a trudge to Kensington Gardens to check out Duane Hanson and Lynette Yiadom-Boakye at the Serpentine (until 13 September). I didn't know much of Yiadom-Boakye's work, but I liked what I saw. These are mysterious, confrontational paintings, filled with fabulous touches; notice how she renders the tightness of a young woman's bunched hair, or the glistening white bands of a Breton t-shirt in a gloomy room. Hanson is a different – and very amusing – kettle of fish entirely. His picaresque, hyper-real figures are great fun, even if they are a little disturbing.
Twice a year, my art teacher at school would take our class to the Scottish National Gallery of Modern Art in Edinburgh, where we loved Hanson's iconic sculpture of two elderly and unmistakeably American tourists. We loved the novelty of a packed lunch even more. The experiences have stayed with me; I can't look at his work without being hit by the remembered aroma of stale cheese and onion crisps. So much for artistic taste.
Related Articles
The Apollo 40 Under 40: The Artists (2014) including Lynette Yiadom-Boakye
Recommended for you