This review of Luisa Roldán by Catherine Hall-van den Elsen (Lund Humphries) was published in the November 2021 issue of Apollo. Preview and subscribe here.
The publication of Catherine Hall-van den Elsen's monograph on the Spanish sculptor Luisa Roldán (1652–1706) is cause for celebration. Not only is it the first study in English, it is also the first in a new series, Illuminating Women Artists, intended to show, according to its editors Marilyn Dunn and Andrea Pearson, how early modern women 'negotiated, and sometimes resisted, structural constraints in the sphere of the visual arts'. 'La Roldana', as Luisa is known in Spain, began her career in Seville, carving some of the spectacular polychromed wood altarpieces and pasos (floats) paraded throughout Andalusia during Holy Week. But it was her smaller, delicately coloured terracottas – anticipating some of the devotional porcelains produced by Meissen some 50 years later – that brought her fame at the court in Madrid towards the end of her short life.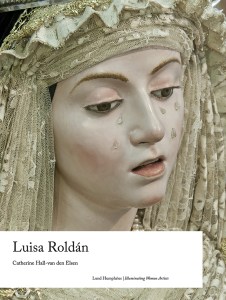 Hall-van den Elsen sets the scene in Luisa's native Seville at the height of the Counter-Reformation, with churches, religious orders, confraternities and merchants hungry for figures of Christ and popular saints and martyrs. She also provides an excellent introduction to the technique of polychrome sculpture. Half a century earlier, Seville had been the birthplace of Spanish naturalism, with sculptors such as Juan Martínez Montañés and painters such as Diego Velázquez working individually and together to bring the Christian story to life and elicit an emotional response from the faithful.
Luisa's father, the sculptor Pedro Roldán, was one of the leaders of the next generation which also included Bartolomé Murillo, Juan de Valdés Leal and the lesser-known Flemish sculptor José de Arce. Pedro ran a busy workshop in which Luisa was one of many trainees, helping to produce, for example, the magnificent Entombment in Seville's Hospital de la Caridad. However, Luisa's gender disqualified her from being formally acknowledged as an independent sculptor and barred her from applying for membership of a guild. It was in her father's workshop that Luisa met Luis Antonio de los Arcos, her future husband and artistic/business partner. Hall-van den Elsen's book opens with an excerpt from proceedings in 1671 at Seville's Ecclesiastical Court, where Luisa was legally obliged to seek permission for a marriage to which her father objected. This declaration suggests a strength of character that no doubt contributed to her appointment, some 20 years later, as the first female sculptor to the Spanish king.
For Luisa, nursing and caring for children meant time away from the studio – there was also the heartache of losing several children in infancy. As a woman she was not allowed to sign contracts and this, along with her exclusion from guild records, means that we know little about her working life. The earliest mention of her in connection with a sculpture is in a note found inside an Ecce Homo in Cádiz Cathedral and dated 1684, which states, 'This work was done by the hands of the esteemed artist Doña Luisa Roldán in company with her husband Luis Antonio de los Arcos'. On the basis of this note and a few other mentions in official documents, it is likely that Luisa worked alongside Luis Antonio after leaving her father's house in 1671. However, the assumption made by Hall-van den Elsen and many others – apparently based on Luisa's later success in Madrid – that she was the principal sculptor of the Ecce Homo and other figures commissioned in Luis Antonio's name is problematic. The Ecce Homo conforms closely to the style associated with the workshop of Pedro Roldán of which both Luisa and Luis Antonio were products. In what sometimes appears to be circular reasoning, the same assumption has led to other attributions involving works for which there is no documentation at all. These works are all dateable to a period in which Pedro Roldán and others were also producing works in a very similar style. As the Sevillian scholar Alfonso Pleguezuelo has recently written, there are 'a high number of works of dubious attribution which continue to result in a confused vision of her authentic production'.
The first extant work signed by Luisa alone is a terracotta Rest on the Flight into Egypt which bears the inscription on its front edge: 'D LUISA ROLDÁN FEB 1691'. Three years earlier, Luisa and Luis Antonio had moved to Madrid to seek the patronage of the Spanish monarchs and benefit from a larger market. In 1692 she was named Escultora de Cámara (Sculptor of the Chamber) by the king and signed another work, the Saint Michael Smiting the Devil in polychromed wood, at the Royal Monastery of El Escorial. Although Hall-van den Elsen acknowledges the lack of documentation for many of the works included in her book, it might have been helpful had she started with signed pieces like this, which are unquestionably by Luisa alone.
The Rest on the Flight into Egypt was one of many similar works Luisa would produce over the next 15 years. Finished works in terracotta were highly unusual, but, like Florentine figures of the Virgin and Child from the early 15th century, Luisa's sculptures responded to the demand for intimate and beautifully coloured works of devotion. They could also be made without a large workshop. Not only were Luisa's terracottas relatively small, but the existence of multiple versions of the same composition suggests that they may have been made using moulds (a possibility first raised by Holly Trusted). The number of pieces she seems to have completed in a short period supports this hypothesis – more than 80 for the palace alone, as she wrote to the king in 1701.
Luisa Roldán's story is full of paradoxes. Despite her success she died in penury. She was remembered as 'an immortal' by the early 18th-century art historian Antonio Palomino but was not the subject of a solo exhibition until 2007. Hall-van den Elsen's monograph makes an important contribution to the existing bibliography, only some of which is included at the back of the book, and to raising the profile of Roldán's enchanting terracottas, which deserve a catalogue all of their own.
Luisa Roldán by Catherine Hall-van den Elsen is published by Lund Humphries.
From the November 2021 issue of Apollo. Preview and subscribe here.
Recommended for you