Married couple D and H are both artists. They live in a house in London, which they are in the process of selling. They both work from the house, indulging in the peculiar activities that make them artists. D spends a lot of time trying to work out how to sit on a chair, doing unorthodox things with tape, hugging rocks, taking photographs of herself. H arranges rectangles on a screen using a sophisticated looking computer program. Slick estate agents visit, bravely remove their shoes as instructed, and make appropriate compliments about the house in their socks.
Childless D and H dress up for parties, and leave with relief, bored by their neighbour's insensitive chatter about their children. They have sex. They worry, they bicker, they guard their independence, and they constantly question and affirm their love for each other. Their house is overtly modernist, their car is silly; as the tactless neighbour implies, they are consciously unusual.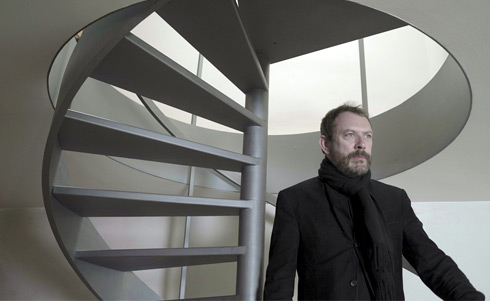 This barely visible plotline is the main action in Exhibition, another candid portrayal of contemporary upper-middle class life from British director Joanna Hogg. Hogg indulges her interest in realism to an even greater extent than usual in her latest film, casting Turner prize nominee Liam Gillick and punk singer Viv Albertine as the lead pair, and making them live together throughout the shoot. Although, alarmingly, these first time actors were cast only days before filming was scheduled to begin, they act with the understatement and unselfconsciousness that is essential to the film's wry, observant humour and fidelity to real life.
Nothing is fully explained, there are uncharacteristic dream sequences and flashbacks, and viewing is often uncomfortable, confusing and frankly, a little bit dull. But this is in keeping with its fearless truthfulness; we are given responsibility for finding threads of meaning, and made to attend carefully to every subtle communication. Like D and H's complicated, deeply felt relationship, which plays itself out within cool, uninviting modernist walls, Exhibition harbours fundamental truths, comfortably contained within a seemingly implacable, utilitarian aesthetic.
Recommended for you