God what a week. London Diary has been on hiatus for the summer, having spent July nominally working on a photographic project in Paris and returning to its spiritual home for an art world August so leaden you could've caught painter's colic just by walking past a gallery. And then, just as I was getting to know inertia – thwack! – everything went berserk again.
With Frieze week coming a good fortnight early, the city's galleries seem to have lost their collective marbles – and I feel I might go the same way too if I'm not careful.
◎
Tuesday kicked off with a toss up between the Tate's Wifredo Lam survey (until 8 January 2017) and a book launch halfway up the Peckham multistorey car park that plays host to the perplexingly named 'Bold Tendencies' project. I chose the latter. Author Stephen Bayley had for whatever reason decided to baptise his book Death Drive with a night of performance art in which guests were invited to destroy a beaten up old Saab with whatever implement came to hand. I am as yet unaware what purpose it served, but I can highly recommend the process should future opportunities present themselves. Honestly, smashing up Swedish sports cars in the name of art (however questionable it might be) is an activity not to be missed.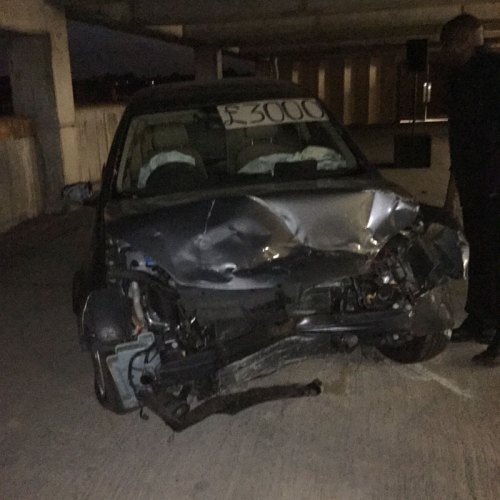 ◎
Destructive urges sated, I started Wednesday with a lunch for the opening of the START art fair at the Saatchi Gallery, where I was placed opposite the artist Sumakshi Singh. Now based in New Delhi, Singh spent years teaching at the Art Institute of Chicago, and has recently been following an international exhibition schedule so hectic that she describes herself as a 'nomad'. Examples of her work on show at Exhibit320's stand were among the highlights of the fair: carpets pulled apart so that only connecting threads remained, leaving a palimpsest of leaf-like impressions. Dazzling stuff, and, surprisingly, only her first showing in London.
Elsewhere at the fair, London's FOLD gallery – an undersung venue that continues to surprise and delight – showed off new work by the terrific painter and sculptor Dominic Beattie, as well as a towering slime-green framework construction by recent Slade graduate Olivia Bax. Budapest's Faur Zsófi was another strong showing, featuring Katerina Belkina's John Currin-esque nudes and photographer Bence Bakonyi's unsettling images of clusters of tower blocks.
The award for most coherent stand, though, went to a joint display by Lamb Arts and Ncontemporary, who decided to focus on a showcase of work by French artist Ruben Brulat. The works in question document his travels to active volcanoes in Ethiopia and Indonesia, where he did some extraordinarily dangerous things to capture the visceral effect of their scorching heat.
◎
Utter the phrases 'contemporary art' and 'Wallace Collection' in the same breath and someone will inevitably remind you of Damien Hirst's disastrous painting show at the Manchester Square museum back in 2009. That ill advised venture, coming not long after For the Love of God, Hirst's most bombastic bit of showmanship, became a byword for curatorial folly. Happily, I do not anticipate a similar fate for The Middle, the institution's intriguing collaboration with artist Tom Ellis (until 27 November).
A long time fan of the Wallace, Ellis has put together a multimedia installation that celebrates its curious MO: it is neither a house museum nor an art gallery, instead falling into a happily eccentric position somewhere in the middle. One of the curators (an old friend, I should confess) likened some of its spaces to a doctor's waiting room, an idea that Ellis decided to run with. He created sliding frames for his studies of paintings in the collection, as well as custom-built furniture that with a sharp jolt can be converted into something resembling abstract sculpture.
Having been aware of Ellis's project since its inception, I'm probably not the best person to give a balanced judgment. But to me, the three installations represent an uncompromisingly intellectual – and surprisingly fun – meditation on the very nature of museum displays. To produce it, the Wallace has worked wonders with the limited resources at its disposal. I have a feeling that in its current state, The Middle is something of a work in progress. I look forward to seeing how Ellis will develop the ideas it has already raised.
Visit our Frieze Week 2016 section for more London art highlights.
Recommended for you