From the November 2022 issue of Apollo. Preview and subscribe here.
The rediscovery of the artist Suzanne Cooper (1916–92) began in March 2018 with a small show of her paintings and wood engravings at the Fry Art Gallery in Saffron Walden. Cooper's work had not been exhibited in Britain since 1947, and the vast majority of it was in private collections. The Fry's show led to Cooper being hailed as a 'lost' British modernist whose career had been interrupted by the outbreak of the Second World War, then ended by marriage and motherhood. In a biographical essay for this handsome monograph, Lucy Hughes-Hallett writes that Cooper never afterwards referred to her time as a young artist with a growing reputation; she simply put this life behind her in the same way that she shoved her remarkable paintings under a bed.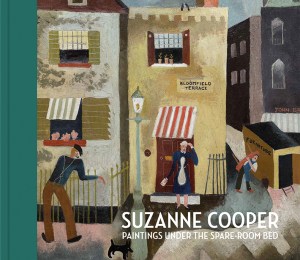 Most of these paintings, and all her wood engravings, date from the brief period 1935– 38. She began exhibiting her work at major West End galleries while still a student at the Grosvenor School of Modern Art in Pimlico, London. As Jenny Uglow explains in her contribution to the book, under the talented wood engraver Iain Macnab, the Grosvenor encouraged individuality and the espousal of modernism, both of which became characteristic of Cooper's work. Macnab's influence is detectable in a number of Cooper's own wood engravings, nicely shown here alongside the original blocks.
In some of these engravings, the stylised, almost geometric representation of houses, gardens and industrial townscapes are very much of the period. The same could be said of Fog (1935; perhaps based on a painting now lost), in which two cars negotiate a residential street at night. This engraving is, however, more delicate, with fine lines and stippling beautifully recreating the beams of headlights and a street lamp that pierce the dark and reflect off cobbles, bare trees and a pillar box. Other engravings, such as Brightlingsea (1935–38), seem more closely related to her paintings, with their playful rendering of human figures and boxy little houses.
The principal influence on the paintings is Christopher Wood, whose work Cooper probably saw at the Redfern Gallery in 1936. It is perhaps detectable in Seated Man, painted that same year, which may have had its origins in the Grosvenor School's life classes but is reminiscent of Wood's chunky male nudes. The influence is clearest, however, in Cooper's maritime paintings, and frankly acknowledged in her pastel version of Wood's Boat in Harbour, Brittany (1929). Wood's foremost patron, Lucy Carrington Wertheim, bought two of Cooper's works; a photograph of the 1948 exhibition of paintings she donated to the Auckland Art Gallery in 1948 shows Cooper's Royal Albion (1936) fittingly hung next to Wood's The Sloop Inn, St Ives (1926).
Whereas Wood had to discover the Cornish and Brittany coasts as an adult, Cooper had spent most of her childhood at seaside resorts. Born at Frinton-on-Sea in Essex, she went to boarding school in Eastbourne and took regular trips to Torquay, where her maternal grandparents owned a hotel. Her paintings of bustling harbours demonstrate an affectionate familiarity with boats and those who work on them, painted in a manner that, like Wood's, seems naive but is highly sophisticated in its use of colour and perspective.
In his commentary on the individual works, Andrew Stewart suggests that the hotel depicted in The Cannon (1938) 'would feel bleak, more military headquarters or reform school than welcoming rural retreat' without the waving figures of a woman and a girl. It is, however, the intense blue of the cloud-filled sky and the various pinks of the hotel's window blinds and gate-pier, and the hills behind, that bring cheer to this wintry picture. Pink is a key, enlivening colour for Cooper. Streaks and dabs of it on a chimney, a roof, a boat and an outsize buoy lighten the otherwise dark and squally Storm (1936–38) and Thames in October (1936).
Used for both the principal building and the street itself, pink evokes the still-warm twilight of a continental town in Street Scene (1937), particularly effective as a foil to the sky's darkening blue.
In the foreground of that painting, the curving rail of a balcony adorned with a potted lily adds an impressive depth of field. Cooper used the same trick in her wood engraving The Falcon, Uppingham (1935–38), where a windowsill pot and net curtains add another dimension to her depiction of the coaching inn and surrounding houses. For all the apparent naivety with which Cooper paints fishermen and gulls in the Renwick Coals (Torquay Harbour) of 1937, the receding perspective of water, boats, harbour walls and sheds and a street of houses stretching up a hill is very cleverly managed.
Very different to her waterfronts and townscapes, The Yellow Horse (1944) is one of four works painted after the outbreak of war, in which Cooper's style becomes altogether smoother. The painting's title, and to some degree its palette, are borrowed from a 1930 work by Christopher Wood; its dismounted jockey dwarfed by an overly large racehorse also belongs to that long tradition of English painting in which proud owners show off their out-of-proportion beasts. Cooper perhaps acknowledges this tradition in a lovely undated pastel, The Prize Ram.
The Mainstone Press has done a beautiful job in reproducing all of Cooper's work that has been traced. Inevitably, not all of the pictures are of the same high quality; in some of the paintings of girls and young women, for example, the subjects' huge eyes and cartoonish features unhappily bring to mind the work of Margaret Keane. At her best, however, Cooper richly deserves the attention that she is now receiving. The whereabouts of at least 19 paintings exhibited between 1936 and 1947 are unknown, and it is hoped that the book will flush some of them out so that they can be added to an already distinguished and idiosyncratic body of work.
From the November 2022 issue of Apollo. Preview and subscribe here.
Recommended for you