From the March issue of Apollo: preview and subscribe here
It's the biggest art and antiques fair on the international calendar, but then the European Fine Art Foundation, the organisation behind TEFAF (13–22 March), has always had big ambitions, as well as the resources to achieve spectacular results. There were record crowds in 2014 – more than 74,000 visitors – with a raft of museum sales and many dealers reporting new clients. This time, the event promises its customary breadth of works under one roof, and with many dealers saving their best pieces for Maastricht, this calendar mainstay remains unmissable.
There's also been a change at the top. TEFAF announced in January that Paul Hustinx is stepping down as managing director after 17 years. Patrick van Maris takes the helm in May, and it will be interesting to see the direction the fair takes in 2016. In the meantime, this year's main features include a loan exhibition presenting works on paper from the Teylers Museum, Haarlem, and 'Private goes Public', a symposium chaired by Apollo editor Thomas Marks on the motivations of private collectors and what drives them to share their works with the public. There's also a guest-curated show entitled 'Night Fishing' complementing the TEFAF Modern section, featuring Georg Baselitz, Tony Cragg and Richard Deacon. All this, alongside the works on the stands – which together encapsulate 7,000 years of art history – make this event one of a kind. Susan Moore profiles the highlights of TEFAF 2015.
Statue of Aphrodite, 1st century BC
Late Hellenistic
Marble, ht 122cm
Royal-Athena Galleries, price on request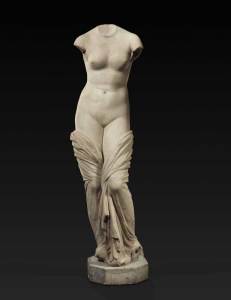 This near life-size, late Hellenistic torso of the goddess of erotic love was carved some 50 years after the Venus de Milo. More lithe and supple than her celebrated predecessor, she was also meant to be viewed in the round, and as such was probably intended for a private home. At first glance it might seem that she is preventing her drapery from falling further by catching it between her thighs, but seen from behind the fallen folds not only reveal but also accentuate the elegant curves of her buttocks. The tension of the fabric pulled tightly across her knees serves to highlight her shapely legs as well as give the figure its pronounced hour-glass silhouette. An Aphrodite Pudica with similar drapery is in the Museo Archeologico di Napoli.
The Grajal Retable, 1410–12
Juan de Sevilla (active c. 1420–50)
Tempera on panel, 92.5×56cm
The Matthiesen Gallery, price on request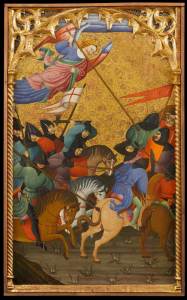 Four narrative panels (among them The Battle at Siponto, pictured) and six panels of individual saints from the Grajal Retable in the Catedral de Sigüenza are on offer as a single group. Juan González Grajal, who served as dean and then bishop at the cathedral, commissioned a large altarpiece from the artist for a short-lived chapel to St Michael. These brilliantly hued, gold-ground panels exhibit a naive exuberance and charm characteristic of early painting in Aragon and Catalonia, much of which was destroyed during the Spanish Civil War. Grajal chose episodes of St Michael's life as recounted in the Golden Legend. Here the flying Archangel has come to the aid of the Lombard Christians of Siponto who are threatened by pagan invaders – possibly Islamic infidels.
Vajradhara, c. 16th century
Nepal or Tibet
Gilt and cast copper repoussé, ht 94cm
Rossi & Rossi, around $2m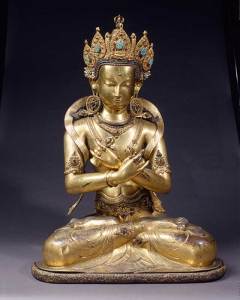 One of the largest known Himalayan metal sculptures of any period, this serene and imposing figure is a remarkable example of Nepalese repoussé, which reached its apogee during the 15th and 16th centuries. This difficult and time-consuming technique was a speciality of the Newar artists based in the ancient metalworking city of Patan, but this Vajradhara – the founder of Vajrayana or Tantric Buddhism – was probably made either in Tibet or for a Tibetan patron. Typically, the entire figure is worked in repoussé, except for the hands which are cast and attached. With the exception of the back, it is also completely gilded. The bell held in his left hand, the very top layer of his crown and the half-vajra above are later restorations.
Protestant Prayer Book, assembled c. 1600
German, Nuremberg?
Albrecht Dürer (1471–1528) and others
Illuminated manuscript on paper and parchment
Hand-coloured engravings with watercolour and gouache with gold and silver highlighting 16×11.5cm
Les Enluminures, price on request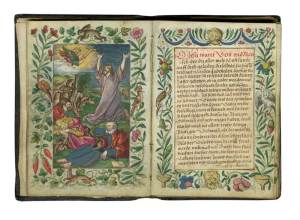 This German prayer book survives as the only complete or near-complete manuscript of the 'Dürer Renaissance'. It is a fascinating example of a hybrid manuscript containing inserted prints and illuminated borders. Of the 20 full-plate, hand-coloured engravings, 14 are by Dürer (pictured), and these comprise all but two prints from his Engraved Passion series, published in 1513. It is likely that the extravagant colouring was applied by the Mack family in Nuremberg. The prayer book may have been assembled to complement a pre-existing collection of prints.
Winter Landscape with Skaters, early 16th century
Hendrick Avercamp, (1585–1634)
Watercolour, 19.1×30.6cm
Collection Teylers Museum, Haarlem
Part of the loan exhibition, 'Teylers Legacy'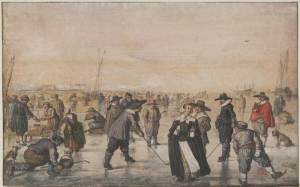 Avercamp invented the genre of the ice scene soon after 1600, his keen eye for anecdote recording the pleasures as well as the harsh realities of frozen canals, rivers and lakes. Gentlemen play colf, boys sled, and those with no time for leisure continue their working lives. This substantial sheet is one of 28 works on paper on loan from the Teylers Museum in Haarlem, the oldest museum in the Netherlands and little changed since the late 18th century. The centrepiece of TEFAF's Paper section, the show covers everything from red chalk drawings by Raphael to contemporary works by Penone and Dumas.
Portrait of Pieter Blaeu, 1671
Wallerant Vaillant (1623–77)
Oil on canvas, 109×92cm
Kunsthandel Jacques Fijnaut, €75,000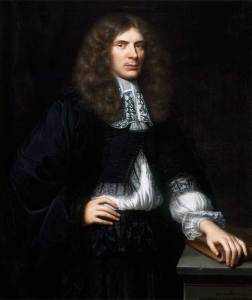 Vaillant is best known as the first professional mezzotint-engraver, a technique he helped develop, but he was also a portrait painter. After training with Jan Erasmus Quellinus in Antwerp, he spent most of his career in Amsterdam, painting the likes of Jan Six and the Dutch Golden Age painter Maria van Oosterwijck. Pieter Blaeu was the son of the cartographer and publisher Johannes Blaeu – and grandson of the even more celebrated Willem – who was sent from the Netherlands to Italy to develop the firm's business. The result was a multi-volume atlas of Italian monuments and towns, and the establishment of Blaeu as a kind of cultural mediator between the two countries. Antonio Magliabechi, librarian to the Medici court, described him as 'polite, beautiful and very intelligent'.
A pair of horseman's flintlock holster pistols, c. 1675
Locks signed L. van Mersen, Maastricht
Ivory stocks with carved warriors' head pommels, length 48cm
Peter Finer, price on request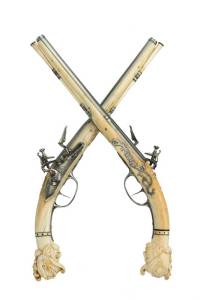 Imported into the Republic by the Dutch East India Company, ivory fuelled the European luxury market in the 17th century. This previously unrecorded pair of ivory-stocked pistols is characteristic of the Maastricht school of ivory working, active around 1650–90. In the firearms industry, given the expense of the material, solid ivory was usually the preserve of small gunpowder flasks and the hilts of dress swords, with veneered panels used for decorating stocks and crossbows. Solid ivory stocks were relatively rare and only around 100 such examples are known to survive. These pistols are carved with acanthus leaves and masks, the separate pommels carved in high relief with warriors' heads inlaid with ebony eyes. The helmets, echoing 16th-century Italian parade armour, are ornamented with entwined serpents. The Maastricht carvers no doubt worked in association with the gunmakers of nearby Liège.
Umpan (Zen temple gong)
18th or 19th century
Japan, Edo period (1615–1868)
Bronze, 46.5×43.5cm
Gregg Baker Asian Art, £9,800
There are no spoken instructions in a Zen monastery, and monks respond to the sounds of different instruments. An umpan – literally cloud plate – is a flat gong struck to signal the beginning or end of a period of zazen (the seated meditation at the heart of Zen Buddhist practice), or to announce mealtimes. This Edo-period bronze example bears a poetic inscription which begins: 'One strike of the gong will break illusions, and the sound will last for ten thousand years, echoing over the great rivers under the moon.' These words were 'written by the old man To¯zan abbot of the Ko¯koku Zen Temple', which is still a thriving place of worship in Hyogo Prefecture, Osaka.
One of a pair of portrait miniatures depicting Prince Charles Edward Stuart (1720–88) and Prince Henry Benedict Stuart (1725–1807), 1736–38
Jean-Étienne Liotard (1702–89)
Watercolour and gouache on vellum 7.4×5.5cm each
Tomasso Brothers Fine Art, €275,000 pair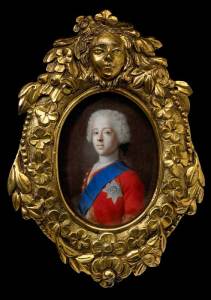 While in Rome in 1736–38, the Swiss-born Liotard was commissioned by James Edward Stuart, the exiled Old Pretender to the English throne, to paint portraits of his young sons, Charles, illustrated here, and Henry (depicted in the pendant). Such Stuart propaganda images were dispatched throughout the Catholic courts of Europe to raise support for the Jacobite cause. Sadly, the Bonnie Prince Charlie of popular legend ended his days no longer bonnie. He died in Rome in 1788, embittered, overweight and alcoholic.
Louis XV commode, 1755–60
Adrien Delorme (Master 1748–d. 1768)
Amaranth, rosewood and gilded bronze
Ht 86.5cm
Aveline, price on request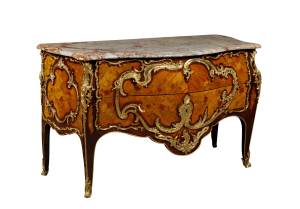 This sinuous floral marquetry commode belongs to a group of highly similar examples that feature large asymmetrical cartouche-shaped ormolu mounts on the front and echoing panels on the sides, plus spectacular drawer handles in the form of writhing dragons. They are attributed to Adrien Delorme on the basis of the signed example in the Petit Palais. Restoration has revealed that the commode bears the stamp of maître-ébéniste Pierre Roussel, which may suggests that Delorme, acting as a marchand-ébéniste, was the designer of this model while the execution was carried out by other cabinetmakers. The piece comes with a long Rothschild provenance.
The Virgin hushing the infant John the Baptist, 1799
William Blake (1757–1827)
Pen and ink and tempera on paper laid on canvas, 27×38cm
Lowell Libson Ltd, price on request
One of the most remarkable works by this most idiosyncratic of British artists to come to the market in recent years, this is one of a series of 50 small paintings of Biblical subjects commissioned by Blake's most important patron, Thomas Butts. Characteristically, the artist has chosen a subject from the Apocrypha, popular with Italian Renaissance artists, and given it his own pagan gloss. An impish infant John the Baptist has come to show the sleeping Christ a butterfly, but with one gesture the Virgin admonishes him to be quiet while pointing to another butterfly in the sky. For the poet, the butterfly was a symbol of the resurrection of the soul. For one of Blake's so-called 'tempera' paintings, the palette is unusually rich.
Portrait of Étienne Vincent de Marniola, c. 1809
Joseph Chinard (1756–1813)
Marble, ht 78cm
Daniel Katz, price on request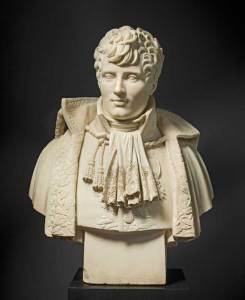 Chinard's terracotta bust of the same subject turned up in France in 2004 and was acquired by the Frick Collection. Terracottas usually predate a finished marble, but it was assumed that the latter was never realised, not least because of Vincent de Marniola's sudden death from pneumonia. Now this, too, resurfaced in France last year, from the family of his cousin. It was probably commissioned when the sitter was appointed Conseiller d'État in 1809. The idealised neoclassicism of this portrait of a statesman is tempered by an almost Romantic profusion of curling locks, and the liveliness of the carving of his lace jabot and the tasselled ropes securing an elaborately embroidered cloak.
Rivals, c. 1878
James Tissot (1836–1902)
Oil on canvas, 92×68cm
Stair Sainty, price on request
Known only from old photographs, this painting has been in private collections in Italy since 1913. In it, Tissot portrays not only his beloved mistress Mrs Newton in the guise of a young widow being courted by two admirers over afternoon tea but, no less importantly, the spectacular conservatory he had built adjacent to his St John's Wood studio. The hothouse palms and blooms, the Chinese and Japanese works of art and the tiger skin give the scene its opulent exoticism, but also provide the artist with an opportunity to demonstrate his skill as a painter of surface and texture, whether lustrous porcelain, soft pelt or the dazzling reflections cast in the Christopher Dresser tea kettle or in the window panes above. The canvas is unlined and the painting is in pristine condition.
A Study of the Cenci, 1868
Julia Margaret Cameron (1815–79)
Albumen print, 32.7×25.4cm
Hans P. Kraus, Jr. Fine Photographs
Price on request
Here Cameron reveals her fascination with the story of Beatrice Cenci, the daughter of a 16th-century Florentine count who conspired with her stepmother and brothers to have her tyrannical father killed after he raped her. Despite public sympathy, the family was executed. Beatrice was the central figure of Shelley's controversial play, The Cenci, and is one of several photographic studies undertaken by Cameron based on the story. This typically atmospheric soft-focus print – one of only two known – features a Madonna-like Kate Keown, one of Cameron's young neighbours on the Isle of Wight, in the role of Beatrice resigned to her tragic fate.
Caviar scoop, c. 1890
Fabergé, chief workmaster Erik Kollin (1836–1901)
Agate, gold and sapphires, 13.5×6.3cm
Wartski, price on request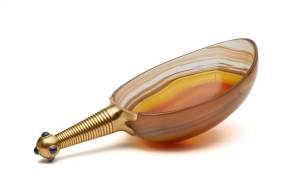 Until seeing this object, one might have thought that nothing could make the experience of eating good caviar more enjoyable. Although hardly utilitarian, this caviar scoop is a tour de force of refined understatement and judicious choice of materials. Its generous hardstone bowl is carved from a particularly finely figured piece of orange agate. Born in Finland, Erik Kollin was Fabergé's first chief workmaster, and as such was in charge of all the company's workshops until 1886. Known for the richness of colour of his materials, he also specialised in objects in the archaeological taste and the reeded gold handle and prominent settings of the sapphires here have a distinctly ancient look.
Concetto Spaziale, 1960
Lucio Fontana (1899–1968)
Oil on canvas, 125×165cm
Tornabuoni Art, price on request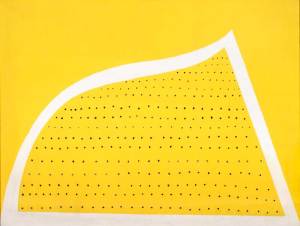 Fontana founded the Movimento Spaziale (Spatial Movement) in 1947, proposing a new form of art that extended the traditional two dimensional canvas into works of three or even four dimensions – the first by puncturing the paintings with holes or slashes, the second by the addition of time as well as space to the dynamic. His training as a sculptor is evident in this exceptionally large and widely exhibited work of 1960, where holes are punctured from both sides of the canvas. It is also rare to see a canvas of this hue punctured rather than slashed. For 45 years, the work was in the collection of Prof. Enrico Crispolti, author of the two-volume catalogue raisonné of the artist's work. He considers the white form here a precursor to the artist's Teatrini series of 1964–66.
Laocoonte, 2014
Pablo Reinoso (b. 1955)
Chestnut, 150.5×186.5×35cm
Flore-sprl FAB, €120,000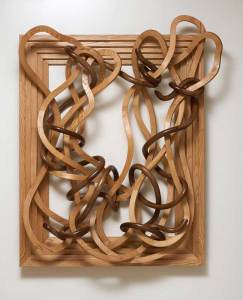 Reinoso is the French-Argentinian sculptor and designer who gave us the unravelling Spaghetti Bench whose wooden slats, once 'liberated' from their frame, twist and meander across the landscape. Works from his recent and no less elegant or whimsical Marco Firulete series similarly evolve out of the functional – this time the wooden picture frame. Some see little intervention and remain fit for purpose. This one has been transformed into a sculptural still-life, its rhythmic wooden ribbons coiling out from the frame's window.
TEFAF Maastricht is at the Maastricht Exhibition & Congress Centre from 13–22 March.
Beyond TEFAF: what else is there to see in the region this month?
Click here to buy the current issue of Apollo
Recommended for you