From the October 2022 issue of Apollo. Preview and subscribe here.
It is a cliché of British art history that Van Dyck's achievement as a portrait painter at the court of Charles I was the inspiration for many other later artists. His elegance in person and the insight, deftness and sprezzatura of his painting fired up others to be not only his heirs in visual terms but also to shape their image and practices to mirror his. That is the compelling and attractive narrative, but how true is it? Here we are offered a fascinating and complex answer, based on close scrutiny of paintings and texts in order to plot his critical fortunes.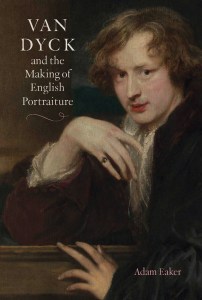 Eaker, who co-curated the brilliant exhibition on the artist at the Frick Collection in 2016, first carefully establishes Van Dyck's credentials as a portrait specialist, emerging from the orbit of Rubens with an image never merely as a craftsman painter, but as a young, elegant courtier, comfortable with his aristocratic patrons and a figure who could easily be mistaken for one of them. His self-confidence and sartorial display also place him as a descendant of artists he studied and admired, such as Titian. This all means that later Van Dyckian artists certainly sought to emulate his stunning, bravura renderings of fabric or flesh, but also engineered reputations that mimicked his renowned elegance of speech and imagined elite lifestyle. Eaker then explores how such modes of art and existence sometimes sat comfortably, and at other moments were criticised in later less deferential contexts. The evidence drawn on is wide-ranging and includes anecdotal as well as published sources.
An enduring aspect of this reception history is emphasised: the way in which the perception of the artist's work has been gendered and often considered 'feminine'. This is bound up with a number of complex and over- lapping models of interpretation, including the disegno versus colore debate (the latter being categorised as feminine) and the contrast critics have drawn between the careers of Rubens and Van Dyck, which have been characterised, respectively, in male and female terms. Eaker also brings to his narrative a subtle queer reading of Van Dyck and his reception – which, he emphasises, does not involve speculation about the irrecoverable sexual practices of historical figures. The novelty of this contrasts with much scholarship around the artist that has been connoisseurial and documentary. There are limits to the study that follows, as it focuses on London and does not explore the wider dissemination of Van Dyckian style and modes of work, and concludes in the 18th century. Only in a short 'Afterword' are we given a taste of John Singer Sargent's sparkling brilliance, his homages to Van Dyck and Roger Fry's curt damnation of both.
The detailed survey starts with literary responses from contemporaries, drawing on plays (such as James Shirley's The Lady of Pleasure of 1637) and poetry (including Ben Jonson's Eupheme) that place the experience of sitting for a painter like Van Dyck as an intimate, cosmopolitan luxury. The processes he employed with wit, speed and finishing touches become a form of performance. The parallels made here between the studio and stage or a page of verse are compelling. How these issues connect with the most intimate of the artist's relationships, with the courtesan Margaret Lemon and his wife Lady Mary Ruthven, is then considered. The complexity of double or friendship portraits is also explored and there is an interesting discussion around the fact that unlike some other – usually later 17th-century – Dutch, French and Spanish artists, Van Dyck did not depict his own studio or the practice of painting: hence the need to rely on written accounts to recapture a sense of it and its reputation.
We then move to the artist's posthumous profile and in particular the responses of female painters such as Joan Carlile (c. 1606– 79) and Anne Kelligrew (1660–85). Van Dyck's role in making the practice of art 'genteel', it is argued, made it to some extent available as a profession to both sexes. Written responses in the 18th century to Van Dyck's achievement are contrasted, using the works of the writers Jonathan Richardson the Elder and the 3rd Earl of Shaftesbury. Richardson owned examples of Van Dyck's work and extolled the virtues not only of his skills of representation but also his ability to construct a 'Picture of the Mind'; whereas Shaftesbury was dismissive of the merits of the art of portrait painters. As the pendulum of taste swings backwards and forwards, so the artist continued to receive mixed fortunes: William Hogarth's repudiation of Van Dyck as part of the crafting of his own status as the founder of a distinctly home-grown English school of painting is clear. The benefits that accrued for both Gainsborough and Reynolds from Van Dyckian precedents are, however, shown to be far more nuanced than might be lazily supposed.
From ambiguity the discussion progresses to adulation, with the flamboyance of Maria and Richard Cosway (1760–1838 and 1742–1821), whose fashionable practice was actively modelled on the precedent of Van Dyck (and Rubens) and whose love of collecting and luxury also places them in a line of descent from him. They exploited effectively the vogue for reviving 17th-century costumes in their work, and cleverly played to the attention that celebrity subjects, such as Georgiana, Duchess of Devonshire, might accrue, when working in a Van Dyckian mode.
The ripples that Van Dyck sent across the pond of British art for many decades after his death in 1641 are deftly explored here, and many absorbing details and subtleties are exhumed. Those reading them, however, may well have in the back of their minds the experience of projects such as the exhibition 'Van Dyck and Britain' at the Tate, which explored with a more extensive cast of artists the long-term nature of his influence. Arguably, it is still sometimes felt today among portrait painters who are conscious of the histories of their art.
Van Dyck and the Making of English Portraiture by Adam Eaker is published by Paul Mellon Centre for Studies in British Art.
From the October 2022 issue of Apollo. Preview and subscribe here.
Unlimited access from just $16 every 3 months
Subscribe to get unlimited and exclusive access to the top art stories, interviews and exhibition reviews.
Recommended for you