A round-up of recent news and comment from The Muse Room
Art and aviation: the British modernists inspired by flight
The advent of modern aviation played a decisive part in the emergence of abstract art. For British modernists, flight came to have specifically national resonances – pushing the landscape tradition towards abstraction while encapsulating the military threat to the nation.
James Bridle and the rise of the drone
These days the aerial view has taken on a different aspect again, as unmanned satellites and drones take to the heavens in order to monitor and intervene in life on the ground. James Bridle is one of a growing number of artists who deliberately draw attention to the surveillance systems that structure our lives. Kasia Maciejowska discusses his work and its significance.
Acquisitions of the month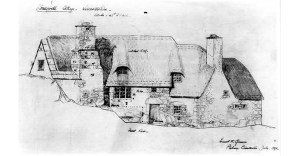 Various museums and institutions have kicked off the year on a high. We celebrate some of the most significant acquisitions made this month, from an Arts and Crafts cottage in Leicestershire, to contemporary Scottish art, to Jérôme Bonaparte's elegant spiral chandelier.
Black Friday sale: 6 months for the price of 3
Subscribe using our Black Friday sale to get six months of the most incisive art writing available for the price of three.
Recommended for you