New year, new acquistions: we take a look at some of the most significant artworks and objects to enter museum collections in 2015.
National Trust
Stoneywell Arts and Crafts Cottage
The Grade II listed Stoneywell cottage in Charnwood Forest was designed in 1899 by the influential Arts and Crafts architect Ernest Gimson. Constructed of rough-hewn local stone, it is the only building of its kind left in Leicestershire, and still contains much of its original furniture. The Monument Trust, the J Paul Getty Jnr Charitable Trust and the Gimson family were among those who supported the National Trust's fundraising campaign: it's still seeking donations to pay for repairs and conservation work in advance of the cottage's public opening.
Art Institute of Chicago
394 Buddhist ritual objects and Asian ethnic jewellery items
This important collection of Asian objects was given – along with 12 items of African jewellery – by the museum's life trustee Barbara Levy Kipper. Kipper has already donated items from her broad collection to the departments of Photography, Prints and Drawings, and Asian Art. An exhibition will be staged in the summer of 2016.
Scottish National Gallery of Modern Art
Works by Claire Barclay, Henry Coombes, Alex Dordoy, Torsten Lauschmann and David Shrigley

Last year's nationwide showcase of Scottish contemporary art, 'GENERATION', drew attention to the country's wealth of talent. The Scottish National Gallery of Modern Art has followed up by acquiring the work of five artists from its own display. The chosen works are: Clare Barclay's major installation Trappings (2014), Alex Dordoy's installation Sleepwalker (2014), Henry Coombes's film The Bedfords (2009), Torsten Lauschmann's Growing Zeros (Digital Clock) (2010) and two portfolios of David Shrigley's woodcut prints.
Fine Arts Museums of San Francisco (Legion of Honour)
Portrait of Charles de Verninac (c. 1826), Eugène Delacroix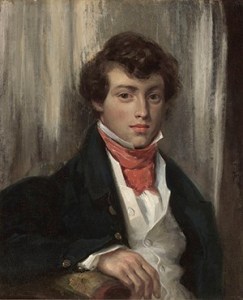 Delacroix enjoyed a close friendship with his nephew, Charles Étienne Raymond Victor de Verninac, who was just five years his junior. The young diplomat contracted yellow fever while serving as vice-consul to Chile in 1834, dying a few months later at just 30 years of age. This portrait of de Verninac was of personal significance to Delacroix, who hung it above his bed. It's the first work by the artist to enter the museums' holdings, and adds to the Legion of Honour's already impressive collection of French art.
North Carolina Museum of Art
100 works of 20th-century American art
Jim and Mary Patton's collection includes art by some of the major figures of post-war and late 20th-century abstraction including Milton Avery, Richard Diebenkorn, Helen Frankenthaler and Ellsworth Kelly. The museum's Board of Trustees accepted 81 of the works at the end of last year; two were donated in 2013, and a further 17 are promised gifts that will enter the collection at a later date. An exhibition, 'The Patton Collection: A Gift to North Carolina', opens on 28 March to celebrate the acquisition.
Gemeentemuseum, the Hague
Two New Babylon dioramas by Constant Nieuwenhuys
In the post-war decades, the Dutch artist Constant Nieuwenhuys began to imagine a new type of society in which modern automation made it possible for people to stop work and pursue nomadic, creative lives. Between 1959 and 1974 he brought the idea to life in the form of maquettes, drawings and dioramas – though he always insisted that New Babylon was an illustrated hypothesis, rather than a specific plan for the future. The Gemeentemuseum already owns 19 maquettes and 72 drawings of New Babylon; now it adds two of just three dioramas created by the artist over the course of the project.
The Frick Collection
View of Dieppe Harbour (1873), Antoine Vollon
This gift from Vollon scholar Carol Forman Tabler (in memory of her parents, Mr and Mrs Alexander A. Forman III) joins two view of Dieppe by Daubigny and Turner already in the collection. It will feature in an exhibition of the Frick's landscape drawings next summer.
Toledo Museum of Art
'Spiral Chandelier' once owned by Jérôme Bonaparte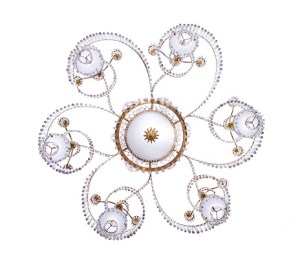 According to the director Brian Kennedy, the Toledo Museum of Art has been on the look-out for a neoclassical chandelier for some time. It's found an excellent example; this 200-year-old piece was designed for Napoleon's brother's summer palace.
Recommended for you