Mary Griggs Burke's sizeable bequest to the Metropolitan Museum of Art and the Minneapolis Institute of Art tops our list this month, but museums around the USA and Europe have also been digging deep into their acquisitions budgets to improve their collections. Among the purchases announced in recent weeks are some of last November's more controversial auction lots…
Masterworks of Japanese art from the Mary Griggs Burke Collection
The Met and the MIA have known for years that they stand to receive substantial bequests from Mary Griggs Burke (1916–2012), whose collection of over 1000 Japanese, Korean and Chinese artworks took five decades to put together and spans five millenia. The details of her gift were confirmed in late February: the Met gets 320 pieces, a major addition to the collection that coincides happily with the centenary of its Asian department. The MIA will add 700 items to its existing collection of 7,000; it's also named Andreas Marks as the Mary Griggs Burke Curator of Japanese and Korean Art, and will host an annual Mary Griggs Burke Lecture. The Burke collection is documented in a two-volume catalogue raisonné edited by Miyeko Murase, and can be viewed in its entirety online.
Thirteen photographs by Ann Ray of Alexander McQueen at work
Over a period of 13 years between 1997 and 2010, Ann Ray (also known as Ann Deniau) haunted the backstage areas of her friend Alexander McQueen's catwalk shows, snapping the busy preparations and interactions that took place there. To mark the opening of a major retrospective dedicated to the designer's work, the V&A has acquired 13 prints from Ray's fascinating series. They represent only a fraction of her output – she took some 35,000 photographs in all – and are the first to enter a museum collection. Ray's work is shaped by her interest in unusual and specialist photographic techniques: the V&A's acquisitions include brilliant blue cyanotypes from 1998 and a gum bichromate print from 2002.
Jimson Weed/ White Flower No. 1 (1932), Georgia O'Keeffe
Georgia O'Keeffe's famous painting Jimson Weed/ White Flower No. 1 made headlines in November when it fetched $44.4 million at auction, making it the most expensive work of art by a woman artist ever sold (see Wall Flowers – women in historical art collections). This month, the Crystal Bridges Museum of American Art in Bentonville came forward as its new owner. It's now on show until 10 May as a highlight of the museum's exhibition 'Georgia O'Keeffe: See What I See'.
Maya effigy vase (Late Classic, 700–900), Guatemala
This striking pre-Columbian ceramic vessel from Quirigua in Guatemala is moulded into the shape of a head, possibly that of a deity. Its sale at Bonhams also made the news last November: the Archaeological Institute of America openly criticised the decision of its St. Louis chapter to bring it and other artefacts to auction, eventually demanding the resignation of the subsidiary's entire board. At least it has found a good home: it joins the Dallas Museum's Arts of the Americas collection and will go on display this summer. '[T]he DMA deemed it important to maintain this historical vase within a public collection', claimed the museum director Maxwell L. Anderson, when he announced the acquisition at the beginning of March.
Rebuilding The Empire Cinema, Leicester Square (1962), and Summer, Tretire (1975), by Frank Auerbach
The Arts Council England recently distributed 40 paintings and drawings by Frank Auerbach to public collections across the UK. The Courtauld Institute did particularly well, acquiring his famous oil painting Rebuilding the Empire Cinema, Leicester Square (1962) – a highlight of the gallery's acclaimed Auerbach exhibition back in 2009 – as well as a major charcoal study by the artist.
Ewer, Saint-Porchaire ware, (c. 1545−65), Bernard Palissy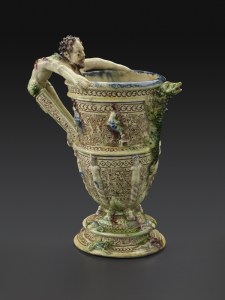 Henry Clay Frick emulated European collectors in his avid acquisition of Italian bronzes, Limoges enamels, and other exceptional decorative wares – including one of just 70 Saint-Porchaire ceramic artefacts known to survive. This month, the Frick Collection added one more to its holdings. This intricate glazed earthenware ewer, which is thought to be the creation of the famous ceramicist Bernard Palissy, sports a lizard spout and a handle in the shape of a bearded man, and was once owned by the French branch of the Rothschilds.
Bingham Family Civil War Memorial Secretary (c. 1876)
This beautiful piece of Civil War era folk art has a poignant story to tell. It was made by members of Connecticut's 16th Volunteer Infantry for Wells Bingham, in memory of his brother John who had fought and died at Antietam in 1862. The secretary is constructed from walnut, oak and maple, with symbolic decorations in bone, horn and alabone that commemorate brotherhood, heroism and sacrifice. A plaque reads: 'Presented to Wells A. Bingham by his friends. The secretary a remembrance of his brother John F. Bingham who offered up his life at Antietam, Maryland Sept. 17, 1862. The encased star a remnant of the colors carried that day by the 16th Infantry. The memory plaque made from a shard of his knife. July 4, 1876.'
Miracle Mile (2013), by Robert Irwin; and Light Reignfall (2011), by James Turrell
These two acquisitions form part of a much larger commitment by Hyundai to support LACMA's Art + Technology Lab, and a Korean art scholarship. The 10-year partnership, announced this month, will help fund exhibitions and publications in addition to acquisitions. These two works are both significant in their own right, and relevant to the wider package: Turrell and Irvin took part in LACMA's original Art & Technology programme, which ran from 1967–71 and inspired the current Art + Technology initiative that pairs artists with technology and science companies to develop new projects.
Pair of unique 1690s Royal Delft Figures of King William III and Queen Mary II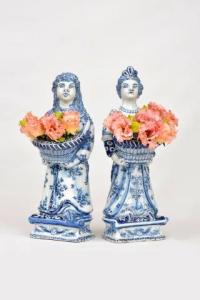 Aronson Antiquairs showed the figure of Queen Mary II, clad appropriately in flowered robes and clutching a flower basket, among the tulips at TEFAF last year – before unexpectedly discovering its partner piece at a French auction house a couple of months later. Their acquisition by the Gemeentemuseum brings the figures back to their native Netherlands, and into a collection that is already highly esteemed for its Delftware. They'll go on show at the gallery next month.
Recommended for you