The road to Somerset leads through open plains and steep chalk valleys. Sharp inclines in the path are followed by abrupt drops as the journey leads on through a terrain pocked by hundreds of ancient monuments. Neolithic long barrows, stone circles and chalk figures indicate a long creative relationship between people, their predecessors and the landscape.
Eventually, just before the town of Bruton, there is a short descent to Durslade Farm. Here, at the turn of the 20th century, a rural labourer called Josiah Jackson kept a daily journal: the Diary of a Wessex Farmer. Jackson saw potential in the farm, and wanted to turn it into a school for cheesemaking. His dream was thwarted by the proximity of the polluting piggery.
For Iwan Wirth, this history is important. This is an unexpected stance from a man who has set up clean, white-walled galleries in Zurich, London and New York – just as Hauser & Wirth Somerset, as Durslade Farm is now known, is an unexpected project. Wirth explains the move into Somerset as though it was destiny, rather than a rational decision: 'you don't pick places, places pick you'.
He and Manuela Wirth, his wife and the co-proprietor of Hauser & Wirth, bought a home in the area after migrating to Britain eight years ago. They fell in love with its countryside, people, and past – so much so that they decided to live there permanently. Visiting artists adored their bucolic bolthole, and eventually, Hauser & Wirth were persuaded to buy the dilapidated site at Durslade Farm with nothing more than a sketchy idea of turning it into a space for the creation and display of art.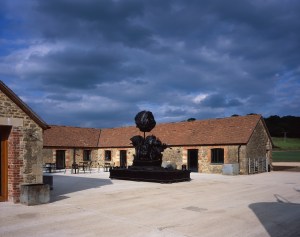 Now, the neo-Gothic stone farmhouse is fronted by a neon sign which reads 'EVERYTHING IS GOING TO BE ALRIGHT', a three-storey stainless-steel milk pail stands on the lawn, and an enormous, grotesque bronze by Paul McCarthy dominates the entrance to the courtyard. These objects are an unusual sight in an 18th-century farmyard, but, somehow, they fit. Hauser and Wirth intend their new gallery to complement its locality: the works and artists they have chosen to take up residency reflect this commitment.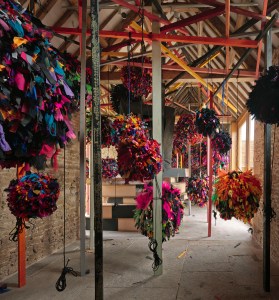 Phyllida Barlow, whose 'GIG' forms the first major exhibition at the gallery, admits that she is more at home in an urban environment, but describes how she took inspiration from the surrounding landscape and actively engaged with the odd angles, spaces and structures of the farm buildings. The result is a series of colourful, textured pieces that dangle from the ceilings and fill every cranny of the unusual rooms – and which force the viewer to duck and squeeze between them. Inside the farmhouse, Pipilotti Rist, the gallery's first resident artist, projects video through a chandelier of glassware exhumed from a nearby Victorian rubbish tip.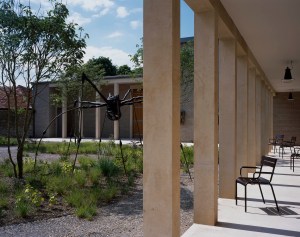 Changes to the internal and external structure of the farm have also been carefully planned with reference to the area's history and character. The ruined ecclesiastical buildings of Bruton Abbey are recalled in Luis Laplace's peaceful central cloister; its stark corners are offset by flowers that Piet Oudolf has planted to push up from between the flagstones. When I visited, the one classic 'White Cube'-style space echoed with the sound of fluttering wings – a bird had broken in, and was flying among Phyllida Barlow's bright sculptural palisades. Nature seemed as at home with the gallery as the gallery did with nature. In this, Hauser & Wirth Somerset follows in the tradition of the ancient monuments of the surrounding landscape. It may not last quite as long as those, but it will surely prove as inspiring to those that visit it, and the artists that work within it.
Hauser & Wirth Somerset is a gallery and arts centre, which in addition to its exhibition programme runs community events and learning programmes, and houses The Roth Bar & Grill.
Unlimited access from just $16 every 3 months
Subscribe to get unlimited and exclusive access to the top art stories, interviews and exhibition reviews.
Recommended for you