Ashmolean Museum, Oxford
The Sullivan Collection of Modern and Contemporary Chinese Art
1940s–present | Bequest of Professor Michael Sullivan
View the Shortlist
Apollo Award Winners 2014
Personality | Artist | Museum Opening | Exhibition | Book | Digital Innovation | Acquisition
University museums and galleries owe much of their distinctive character to accident, since their collections have almost always been built up by gifts and bequests. Yale University, for example, haas a world-famous collection of British painting simply because its creator, Paul Mellon, had been an undergraduate there. The Ashmolean Museum in Oxford has now become the major centre in the west for the study of 20th-century Chinese painting, thanks to the bequest late last year by Michael Sullivan of some 400 works that he and his wife, Khoan, had assembled over more than 60 years. Although the collection of a leading art historian, and of consistently high standard, it was not put together with any academic intention of forming a survey of its subject; instead, it was built up by gifts from Chinese artists that were the result of friendships sustained by the Sullivans over many decades.
Sullivan (1916–2013) was the son of a Canadian mining engineer who moved to Britain largely for the sake of his son's education. Having trained as an architect at Cambridge without much enthusiasm, Sullivan – a pacifist – volunteered in 1939 to serve with a Quaker group working as truck drivers in China for the International Red Cross. For two years he ferried medical supplies around south-west China, often under Japanese bombardment. From 1942 he worked at the museum of the West China Union University, where he met and married Khoan, then a bacteriologist.
Sullivan's interest in Chinese art was stimulated by a friendship with the painter Pang Xunqin, who introduced him to many artists in Sichuan. After he and Khoan had returned to London in 1946 he embarked on an academic career, studying at the School of Oriental and African Studies (SOAS) and Harvard, before taking up a series of prestigious posts at universities that included Stanford and (from 1984) Oxford. His first major work, Chinese Art in the Twentieth Century, was published in 1959. The first book on the subject in any language, it was based largely on conversations with practising artists, many of whom gave him examples of their work, sometimes made especially for him or Khoan, who acted as muse and sitter to many painters.
The collection was enlarged by gifts from other collectors, notably Geoffrey Hedley, a British Council cultural officer in China in the 1940s, who bequeathed Sullivan many paintings in 1960. However, the quality of the collection is largely a result of artists choosing especially fine and characteristic paintings as gifts. The Sullivans' appreciation of their work, and determination to make it better known outside China, was of special importance to artists during the repressive years of the Cultural Revolution.
Josh Yiu, a student of Michael Sullivan, surveyed some of the collection's highlights in an article in Apollo in May 2008. A few of the artists represented, such as Xu Bing, have made reputations in the west, but many others are not well known. In the years to come, the display of this great collection on rotation in the Khoan and Michael Sullivan Gallery at the Ashmolean will reveal for the first time in the west the range and quality of art achieved in China over the past century, often under the most challenging circumstances imaginable.
Michael Hall is Contributing Editor, Visual Arts, of Country Life. His book on G.F. Bodley was published last month by Yale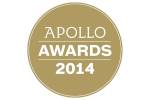 The Apollo Awards 2014
Personality | Artist | Museum Opening | Exhibition | Book | Digital Innovation | Acquisition
Recommended for you